I thought this would be a cool angle to take on my guitar.
I took the picture in the dark using my Desire Z LED flash to light up the neck for the length of the exposure.
Taken with a Canon Rebel XSi with a 18-55mm lens. 30 sec exposure, f20 ISO1600
-Kieran Crawford

This was shot at 4:45am on the morning of the 25th of November at Bondi Beach, Sydney Australia. It is a HDR photo with exposure at -2, -1, 0 +1, +2. I was using a Canon 550d with the standard 18-55mm lens on a tripod.
Me and a mate got up to shoot the sunrise from Sydney's most iconic beach and this was the best photo of the day from me.
-Kim Louey-Gung
G/O Media may get a commission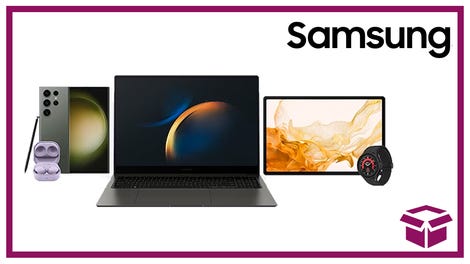 24 hour deals
Discover Samsung - Daily Deal

My aperture was F/8, with a shutter speed of 1/40 and an ISO 80. I used a Canon PowerShot SX120 IS. While my family was preparing Thanksgiving dinner, my aunt accidently dropped a large amount of foil on the floor, I ended up using it as my background for the picture.
-Lawrence Rodriguez

Title: Tower of Green
By: Lee John Rouse
Camera: Canon EOS 5D Mark II
Shutter Speed: 1/60 sec
Exposure Program: Manual
Aperture: f/18
ISO Rating: 250
Focal Length: 180mm
Lens: EF180mm f/3.5L Macro USM
Additional Details and products used: x2 Canon Speedlight 580mk2 Flashes, x1 Canon Speedlight 430 Flashe, Apple Ipad, Korg Ipad App.
Inspired by the amazing Canon Pixma Printer ads by Linden Gledhill, I just had to give this fun technique a go, and utilise the 'Korg' synth app on my ipad.
Setup required a plastic pipe from hardware store, black balloon cut and fitted over the plastic pipe to form a drum, I then attached with velcro two small speakers within the pipe. This was hooked up to my Apple Ipad.
Next up was to setup my Canon 5Dmk2, Canon 180mm Macro Lens, and Speedlights.
Once all this was ready it was time to break out the inks. Applying a small amount of various colours on the balloon 'drum' I was ready to make some mess. Different volumes and different frequencies and tone produced varying levels of velocity and projection.
Timing was everything on this and part of the challenge was really nailing this. A sound trigger would have made life easier, but for me the random nature of this along with the delay of mental and physical human reaction made the exercise and ultimate results maybe more satisfying and random.
-Lee Rouse

Olympus E-PL1
f/4.3
1.3sec
ISO1250
23mm
Ever since I got my E-PL1, I wanted to take a picture of it with my old point-and-shoot. and here it is!
For the edit, I used "I'm feeling lucky" in Picasa3. Then "Frosty Bites" (an edit similar to cross process) in Picnik.
-Linlin Li

Taken with a Nikon D3000, with a 55 mm f/1.8D AF Nikkor lens. Iso was set to 200.
This was one of the last photos I took before leaving my sisters house to come home after Thanksgiving. I was putting my things in the car when I noticed the dew all over the car, so I pulled out my camera and started taking pictures. It was pretty cold that morning and I didn't have a jacket (or shoes) on but there I was, snapping away at water on a car.
-Lucas Stanley

I shot this with my Nikon D90 and my newly acquired Tokina AT-X 100mm Pro D f/2.8 macro lens! Settings were as follows: No flash, ISO 800, f/8, exposed for 1/500 in Aperture priority mode. Snow came pretty early this year in Denmark, and I've never taken pictures of snow before (not with a DSLR anyway) - so I rushed out the morning of the first snow and shot some. Depth of field is pretty tricky when doing hand held macro photography so I didn't manage to get the snow flake on the tip of the beech leaf in focus, but this is the best I could do! Pretty pleased with the result. Did some post-processing in Photoshop CS5 and in Aperture. Played with NIK Software's plug-in suite as well.
-Mads Færch

HTC Dream via Camera 360 Ultimate
I heard about the Gizmodo Shooting Challenge and was thinking of doing my first ever entry. It was 6 30 am in the morning and I was picking up my mom from the airport when I took it from my car. I thought the picture would be blur as the car was moving but it turned out to be great and I just had to show it.
-Mahroze Ali

Camera: Nikon D90 with the normal lens
Exposure time: 1/6 sec
F-stop: f/5
ISO speed: ISO-1600
Its not such an interesting story but I'll tell it anyways. I was on my way home at night & was trying to get the light streaks effect. I got that effect in my pics & then was thinking of some other idea when I remembered that changing the depth & focus can produce different results. So I put my lens on manual focus & unfocussed it as much as I could & got this pic.
-Mariya Butt

I wish I had my Nikon D60 for this shot but unfortunately all I had was my iphone 3gs. I felt like I still had to take this shot of a tiki torch we put up for our Christmas party. I love how it came out in the end and thought it would be great for the free-for-all.
-Matt Diamond

Nikon D40
Shutter: 4sec
ƒ/3.5
A fraction of my record collection. Lighting provided by the reflection of my TV, which happen to be showing the Soul Train awards.
-Matthew Desrameaux

This photo was taken at my Grandpa's thanksgiving party in San Clemente, California. I was walking around outside and realized that this was a pretty cool shot. I got the idea when I walked past this mirrored ball that my grandma had just tossed a flower onto. All I was using was my old iPhone 3G. I was quite surprised with the results.
-Max Rosenberg

I never seem to have my DSLR handy when those great photographic moments come along. Thanksgiving day my stepdaughter was playing in the back yard at a relative's house. As she was dreamily walking down a path lost in her own thoughts I managed to get out my iPhone and capture the moment. Photographed on my iPhone 4, cropped and color enhanced in Photoshop Express for iPhone, then processed in TiltShift Generator to soften the edges. all editing done on the iPhone.
-Michael Drewry

"Snow-Laden Tree at Snoqualmie"
November in Washington state doesn't often bring with it much snow to the low passes through the mountains, and usually not enough to ski anyway. This winter, due to La Niña, snow has fallen in Seattle itself. On Thanksgiving Day, my home hill (The Summit at Snoqualmie), opened due to a storm that has been dumping snow in the mountains since Monday. Totals having reached more than 35 inches, and another foot or so in the forecast for Thursday night, means that ski season is officially on for me. This big dump allowed Snoqualmie to open. It was nice to get up to the mountains. I am a long way from home. I didn't go back for thanksgiving, so I had the day free to get some early-season tracks in the fresh snow that had fallen in the Cascades.
This is my first winter out in the West, so getting to experience my first opening day at a western ski area has just has made 2010 that much sweeter for me.
This photo is a picture of one of the trees on the mountain, heavy with snow. You know it's going to be good when the trees are loaded like that. Winter is my favorite season, and I feel like this is one of my best photos. I snapped it and it just came out awesome. Didn't need to crop it, just touched on its levels lightly to bring it out a little from the flat light.
-Michael Stolp-Smith

"Turbulence"
Friday night was not a good night to fly into Atlanta.
Fujifilm s100fs / 1/3.2" / F4.4 / ISO400 / 44.6mm
-Mike Case

The Plaza is a large outdoor shopping district in Kansas City, MO that is completely lit up with Christmas lights every year from Thanksgiving to early January. Armed with nothing but a Canon Rebel XS, tripod, stock lens and an external shutter release I set out to take some long exposures. This shot was taken a day after the lighting ceremony, across the street from one the nicer restaurants and one of the busiest intersections. I set up, focused manually and took a few shots. This one was a 3 second exposure (with the ISO at 100 and the aperture wide open) done of the cars sitting at the red light and I caught them moving as the light turned green, which created a nice streaking effect. I took shots all over the Plaza (including a few sweeping panoramas) but this one remains my favorite.
-Mike Zuniga

Canon T2i with 50 mm prime lens. Aperture: 1.8 Shutter: 1/50 ISO: 400
I got bored during a band rehearsal so I decided to start taking pictures of some of the equipment. I had borrowed a friends 50 mm lens so I decided to see what it could do. I made the aperture as low as possible to get the smallest depth of field and this is what I got.
-Nate Holland

Camera: Canon EOS 20D
Lens: Canon 18-55mm
Aperture: 5.6
ISO:1600
Shutter Speed: 1/800
Over the holiday, I was photographing my dad woodturning. I never appreciated how truly unique and spectacular his pieces were until recently. Observing and photographing the process is incredible - watching something with so much difficulty, precision and concentration involved seem to come so naturally.
-Nick Switzer

"Wayne America"
Sony DSC-T90
f/3.5
1/200 sec. exposure
ISO 80
I have been stuck in my college town all Thankgiving Break and decided I'd go out and see what i could shoot while i was here. I found this old truck behind the local Grain and Feed store and this ended up being on of my last pictures of the day because the sun was setting soon.
-Nic Peters

Nikon D90
ISO 200
55-105 kit lens starting at 105 down to 55 during a 0.8 second exposure at f9.0
Taken on Bahnhofstrasse here in Zürich.
Wanted to capture the beautiful Christmas lights the city has put up but unfortunately there were many many people today as it was the "erste advent" and there was a parade.
This was an attempt at somthing less boring and I pretty much like the effect.
-Nils Rohwer

Shot with a Nikon D700, stock lens 24-120mm, ISO 400, F 5.6 @ 1/60 Raw. Lighting was the two side lamps of the mirror and a little daylight for fill. Photoshopped for color and digital effect.
I shot this the morning of the announcement of the competition. I got my BA in photography a little over a year ago now and have been working full time for a tech support company from home to provide for myself. I just recently bought this house from a old lady (hence the pink paint) and today (coldest day of the year) my furnace has gone out.
I am without heat and it's under 50 degrees in my house, which isn't bad if you don't consider I just sit at my desk for a solid 6-8 hours a day. Decided to capture the story of my ridiculous work uniform for these next few days until the furnace is operational and I can browse Gizmodo at a reasonable temperature.
-Piero Taico

Nikon D3000, Kit Lens, ISO 200. Visiting my husband who is stationed in San Angelo TX, This was taken of one of the historic United States Air Force Fire trucks in the Fallen Fire Fighter museum. Truck is from 1972 and is the Ford Telesquirt.
-Rachel Blair

I took this shot on my Nikon D3000- I wanted to do some work with the oil on water theme, because I missed it the first time. I put some olive oil in a clear glass, a couple drops of water, and finally some orange food coloring. Then, I balanced the glass on top of a hefty Maglite, and shot using my lens reverser, getting some pretty cool macro. Obviously aperture was at 0 because the lens wasn't attached, shutter speed was 1/250 sec.
-Rachel Weiss

I took this picture when I went home to see my family for Thanksgiving. On a gorgeous afternoon I traveled up the Loxahatchee River in Jonathan Dickenson State Park. I spotted an alligator sunbathing in the distance, which is typical on the Loxahatchee. In the distance I could see an anomaly on the gator's face. It looked as though it was missing its eye but I couldn't make it out. My curiosity peaked so I wanted to get closer. Feeling my approaching presence it slipped into the water and took an offensive position towards me. As it stalked closer I could see this alligator had a pink left eye, known as ocular albinism. I had enough time to capture its exotic piercing stare but I eventually ceded to its aggressive posture and proximity.
In the limited amount of time I've had to talk to people it seems this was a rare encounter. Full albino alligators can't survive in the wild but this a rare exception. Perhaps some knowledgable Giz readers can share their knowledge because what I have found has been limited and would love to know more.
The picture was taken with a Canon 7D and a Canon 70-200 2.8L IS @ 200mm 11.5' from the subject at the following settings: 1/500, 2.8, ISO 100.
-Rick Hyland

Nikon D300
F number: 4.5
Exposure: 1/5
I took this picture while smoking a pipe with my friend. We were waiting for some pork chops to finish on the BBQ, and I suddenly saw this setup in front of me. I told him not to move and grabbed my camera.
-Rico Nolan

Nikon s630
ISO 64
Color Options: Vivid color
Gorillapod
My brother was cleaning out his room and found an old soldering project from middle school. It has red, white and blue flashing LEDs that create a cool shadow of an object. After an hour of trying to keep my hand still I finally got a clear shot.
-Riley Crowell

My daughter convinced me to try this contest out, because an 87 year old man can still be current in technology, like to take photographs and enjoy Gizmodo. I took this photo on Thanksgiving. The Fall had been long and mild for Colorado Rockies and my favorite mums were still blooming despite the severe cold of the morning. I had admired the sun brought out the red color in the early afternoon, when the sunlight hit them just right. Before I brought some in to grace the table, I snapped this photograph of sunlight on these hardy blooms. I used my daughter's Canon Powershot. After I came inside and looked at the photo, I decided to leave the flowers on the chrysanthemum plant and keep the photo. The plant had worked too hard to create this beauty for me to casually pick the flowers.
-Robert Austin

This picture was taken as me and my wife were driving. We said "kool trees" and snapped a few pics. I guess the real kicker here is that they were taken on my NOKIA N900!!! That's right!! 5MP (but set at 3 MP) carl zeiss… I don't know I'm not a photographer. Lol.
-Roger Tristan

I took this photo using a Canon Xs Rebel and the standard lens. I don't have a remote for my camera so i had to manually focus, put on the timer and run to my position. My iso was at 1600 and I took the photo in the dark at 1 AM. I wanted to have it look as if light was draining from my chest so I used a spiral energy lightbulb and put it in front of me. I then proceeded to edit the picture using Gimp on my iMac G5.
-Ryan Caruthers

Shot on a Canon Powershot. auto ISO. My friend Colby was looking after my buddy dave, who passed out after a night of partying. When suddenly, superman striked, and Colby was forced to defend his oldest pal.
-Ryan Markkula

It was the day after Thanksgiving, and I wanted to photograph something peaceful as a contrast to the Black Friday shopping crowds. Walking down to the river, I noticed the frigid temps from Thanksgiving (low of 4 degrees F) had created crystaline patterns in the river ice and snow. I liked the contrasts of light and dark, water and ice, solid rock and delicate crystals, frozen and moving elements. Trying to balance and not fall in, I carefully climbed over rocks to reach this section of river to get this shot. Stood very still, held breath, clicked my Canon Powershot 720a set on automatic, nice and easy. Peaceful photo for a customarily frazzled day.
-Sally Austin

Camera: Canon XTi
Lens: Kit lens 18-55mm
ISO: 800
f/4 , 1/15 sec
Downtown LA, I super love you. Your bright lights never fail to amaze me, and tonight was no exception. I was lucky enough to have my camera on me to capture your radiance, and I must say, this has to be my best one to date.
-Sharon Kim

"Snow Fight"
Nikon D700, Nikon 50mm F/1.4, F-stop 1.4, 1 /13, ISO 5000,50 mm
When I saw it was beginning to snow this day, I took my camera and went outside with a friend. After a few landscape shots we decided to throw snowballs against a wall and take photos of it. This is by far the best one. The light comes from a streetlamp and a small torch placed on the ground. Boosted the contrast in Photoshop.
-Stefan Jasisch

My shooting challenge came from a recent trip to MT Vernon. We got the chance to do a candle light tour of the historic grounds so I figured it would be a good chance to get some good shots.
This particular shot was taken out in front of the main entrance where they had set up some small candle lanterns to highlight the path. I imported it into my iPad and used the ZAGG photo app to tweak the settings a bit and remove the color from all but the light. I am often impressed with some of the quick tweaks I can do with the iPad so it's become a part of my photography gear now. My settings were: NIKON D3000 – 35 mm – f/1.8 – 1/40 sec – 400 ISO. I wish I had more time to take a few better shots. Unfortunately because of the nature of the tour, I only had a minute or two to set up, snap a few shots, and move on.
-Steve Petrucelli

Taken Sunday, November 28th at Lake Ronkonkoma, NY
I took a ride into Long Island from Queens to enjoy the sunny day. I stopped at a park to check out the scenery and decided to shoot a bit
Nikon D300 with Nikkor 14-24mm 2.8
f22 @1/250
ISO 800
Fill light provided by off-camera flash unit SB-900 sitting on floor camera right @ 1/4 Power
Triggered via on-camera flash in commander mode @1/20 Power for additional on-axis fill.
-Thanassi Karageorgiou

I came across this trio of red jerrycans resting under a tree in the Hahamonga Watershed Park, next to a horse ranch. I liked the color composition, so I snapped a quick shot with my Canon PowerShot SX210 IS. The ISO was set to 80, but the camera determined the other settings.
-Tom Fassbender

Title: Neither Here or There
Camera: Canon EOS 7D
Lens: Canon 24-70L
Description: I traveled to New York recently and did a whole HDR photo series (30 total shots) there mainly of Central Park and Times Square but also a few other shots as well. This was my favorite from the series. It was my first time working with HDR, but I found that the technique helped to bring out the colors and give the photo this really surreal, painterly quality. The subject matter deals with this surreal nature of being in Central Park where you have this beautiful nature (albeit man-made) that is surrounded by all this beautiful civilization.
-Travis Do

I used a Canon 7D. It is an HDR shot so I followed standard procedure for that ie three auto bracketed shots my aperture was at 22 etc. See Trey Ratcliff's tutorial he's the man.
I was looking out from my window in the nice warm living room debating if I should venture out for a shot of the landscape while it was snowing. It was not an easy decision but eventually curiosity won out and I grabbed this shot. I'm still not sure how much those conditions lend themselves to HDR but I had fun playing around with it thanks for the opportunity.
-Trevor Driscoll

Nikon D300 with a NIKKOR 18-200mm
So every year my family decides that Thanksgiving is too traditional, ergo boring, if we have it in the USA so, inevitably, I and my family find ourselves celebrating 'tradition' in different parts of the world that, more often than not, have no idea what we're saying or for that matter, what Thanksgiving is.
Anyway...a week in Rome for Thanksgiving...that's traditional, right?
My family are such a great bunch but I need to get away sometimes...family tour day?...eh, not so much. Having been to Rome quite a few times before I knew my way around (more or less) and eventual found/lost my way back to the Pantheon. It was sunny for about an hour or two (unlike today, "When the rain comes, they run and hide their heads") and the light broke through the clouds and shown in through the ceiling and I found myself wanting to share what I was seeing.
-Tristan Marshall

Cannon SD90
ISO: unknown Lens (I was in the zone...Not Autozone)
Lens: Built In
Riding my green accord in a drive through car wash on Ventura Blvd on a Sunday Afternoon...Every couple of seconds I clenched my teeth as these metal prods looked like they we're gonna pierce right through my windshield, impale me and then the soapy rollers would clean up all the blood.
I couldn't help kept thinking, that if you wanted to commit 'the perfect murder,' Hitchcock-style, what better a place. So, I whipped out my Trusty Canon SD90 and starting shooting at whatever worried me might come flying through the windshield.
Finally, when the smoke had settled and the eye of the storm had cleared, a calm warm air began to bead the water drops off my car. "The Aftermath"
-Turi Haim

Hey I know I am late on this, but I wanted to start sending in submissions for these photo contest so I figured I'd send this one in anyway. We had our first snow day this weekend so I let the dog out and grabbed my camera to shoot her reaction. She loves the snow apparently.
This was shot on a 5D Mk ii. 50 mm 1.4 lens. The ISO was set to 100 and the shutter speed was 1250 I believe.
-Tyler Alexis

Well I am currently on my second deployment and have spent this thanksgiving weekend kind of bummed out I was not at home, and that I couldn't find something to shoot for the contest. While I was walking back to my room one night I happened to look up at the flag flying against a nearly dead tree in the background. To me it kind of symbolized the perserverance of not only our country but the human spirit. The only post photo editing was a slight crop along the bottom edge to removed the top of a concrete barrier. Shot with a Nikon D3100 F/13 1600ISO and a 5 Sec exposure.
-Tyler Kerr

Camera : KODAK EASYSHARE C140 DIGITAL CAMERA
It was really fun & at the same time tedious capturing this image. To capture that perfect movement i had to capture around 20 - 25 images. At the same time i had to be careful not to let any water on my camera.
-Vivek Kabra

For today's supplement, I used a Nikon D300, with attached Rokinon AE 85mm f/1.4 AS IF UMC. I tried to think of more acronyms to add, but could not :( Two photos stacked, one for the kitty, one for the delicious beer (now empty).
ISO 200, light by sb600 w/beauty dish thing.
-Wade Saathoff

The photo was taken on my fourth generation iPhone.
I had quite a bit of trouble selecting this image, but I was inspired by a photo featured in the last free for all. It was simple enough, I bought a door peephole at home depot and took an up close picture thru the peephole at a candle lit on my desk after I dunked the peephole in water to get a little distortion in the image.
-William Palin

Saw the contest bulletin, grabbed the camera - decided to take/send a picture of the first thing I saw outside. Saw this little bee chilling on top of a scrap metal dog yard art thing. The weather is changing tomorrow, going to get cold. He knows it's coming I guess. Olympus E-PL1, 1/100 sec, ISO 640, Gimp post processing.
-Will Thornhill