Some friends and I went hiking up to Kennedy's Peak in the Blue Ridge Mountains of Virginia. The overlook platform at the top offers the best view of the valley I've ever seen, well worth the hour and a half hike up. Picture taken un-posed with a Casio EX-FH25 on auto settings.
-Alec Sparks

Camera:D300s
Lens:18 - 200mm Nikon
ISO: 200
Aperture: Not sure
Shutter Speed: very quick!
I was watching the UK's Royal Airforce Red Arrows perform in Falmouth in the UK. I was in my boat in the middle of the harbour directly underneath where the jet planes were flying around 60ft overhead. The planes would take it in turns to fly at each other on an apparent collision course. Obviusly the planes would miss each other but the distances between them left no room for error. I managed to capture one of these moments in the display and because the sun was directly behind the flight paths the planes came out in a silhoutted fashion.
-Alex Bridle
G/O Media may get a commission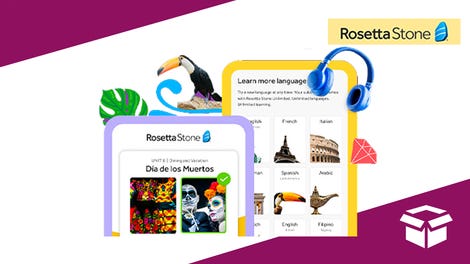 Extra 20% off
Rosetta Stone Lifetime Subscription - All Languages

Canon 550D + EF 100mm macro, f/25 @ 1/160, post-production in Aperture
No Photoshop! My Ikea window shade (Enje) is a great projection surface and interlacing filter at the same time. I put a buddha statue and two accompanying kokeshi on the window ledge as we all were staring at the sun. The prism effect is real btw.
-Andreas Trapper

Shot with a Nikon D90 with a 50mm prime lens.
My wife has had this dragon puppet boxed up that has not seen the light of day for several years. We recently unpacked all of her stuffed animals to decorate our soon to be born sons room. I noticed this guy sitting around and figured he would make a good subject for a photo.
This was my first attempt at taking silhouette photos. It took a bunch of playing with settings, but I finally settled on using an f-stop of 5 and a 1/500 shutter speed.
-Andrew Carrigo

Camera: Nikon D90
Lens: Nikon VR DX AF-S Nikkor 18-105mm 1:3.5-5.6G ED
Focal Length: 18mm
Shutter Speed: 1/1250
F Number: 13
ISO: 200
I first passed by this substation on my way home the day before taken and thought it would make a good subject as I drove by. Then the day of, I took a look at the day's sunset information and drove out about an hour before sunset to take photos at varying times of height. I parked about a quarter mile down the road, when there was enough room for me to park next to where I took the photos. Once set up using a Nikon D90 with hat, sun filter lens and Manfrotto tripod, I took 84 shots in both portrait and landscape over the course of 40 minutes. I tried a couple different angles, but I felt my initial choice was best in the end. Minor tweaks to the exposure, light levels, and contrast, but no adjustments to color or saturation.
-Andrew Thill

One of these things is not like the others. Here's a hint, it's actually flat while everything else is three-dimensional. Can you figure out which one? This shot was inspired while having lunch at a local sushi restaurant, but staged in my living room. I set up the sake bottle and cups on an end table in front of a hastily hung backdrop. I think the way everything looks like a paper cutout fits with the Japanese restaurant concept. By the way, the chopsticks are real, but the sashimi is made of masking tape. Canon T1i, 55mm, f5.6, 1/100 sec.
-B. Drew Collier

Camera: Canon EOS 20D
Date Time: 2nd October 2010 - 6:45PM
Shutter Speed: 1/500sec
F-Stop: f/18
Aperture Value: f/18
ISO Speed Ratings: 320
Focal Length: 55mm
Flash: Did Not Fire, No strobe return detection (0), Compulsory flash suppression (2), Flash function present, No red-eye reduction
Metering Mode: Pattern
This shot was taken on a cargo ship that had run aground next to a small airfield in Tooradin, Victoria, Australia. I was told it's been there from the late 80's, and has just been sitting there collecting rust and is a great setting for shots like these. There's no other way to access the ship except by crossing the main runway with one of the airfield employees when there's no planes landing or taking off. The shot itself was taken during the filming of a short film (camera crew is just left out of frame) as the character gets drunk in the seclusion of the empty cargo hold and bridge. I was aiming to get this shot just the way it came out so I used a quick shutter speed and amazingly captured it spot on with the light from the setting sun giving the subject a 'halo' effect. I especially like the bit of highlight reflection from the sun on the subject's jacket zipper. I'm not sure why I ditched the 5D for this entire shoot and went with the 20D instead, but it would've been a far better shot as you can see on the full sized image there is a bit of distortion in the darker areas and some dust on the sensor.
-Borko Veselinov

Near the end of an already stressful day, my van broke down and left me stranded. While I was waiting for help, I had the opportunity to enjoy an amazing sunset.
Captured with an iPhone4 in HDR mode. A bot of color correction and noise reduction was done using Lightroom.
-Brad Dudenhoffer

I took this picture with a Sony Cyber-shot DSC-HX1. The camera was brand new, and I was extremely excited to get the chance to use it. Initially, I found it challenging to capture a silhouette, until I thought of using a window. I ended up having quite a complex setup: First, I closed every door and shade in the room, except for one, so that the inside of the house would be darker than the outside. I then hung up a sheet in front of the window, to avoid capturing the trees in the background, and placed a model sailboat on the windowsill. And then of course, I had to wait for the wind to die down so that the sheet would stop blowing in the way. Once the lighting and wind were just right, I took the picture. The picture was edited a little (within the guidelines), just to make the sailboat stand out a little more.
-Bradley Koval

Camera: Nikon D90 with 18-200mm Nikkor lens
Exposure Time: 1/1600 sec
F-Number: f/20.0
ISO Speed Rating: 640
Exposure Bias: -1/3 EV
Light Source: Cloudy Weather
Focal Length: 38mm
Like many others, I was quite aware the sunshine or direct lighting
produces the best silhouettes. I was going for a "nature walk" in a
nearby forrest and some farmland near my wife's school (yeah, her
school is out in the boonies), when I came across this withering corn
field. I figured most people are used to seeing the tall, green stalks
of corn in the prime of summer, not so much when the unharvested corn
fields start to die at the onset of fall. So I just walked a few
steps in to the field, turned around and pointed my lens up towards
the sky. I was pretty happy with the result (I only did a touch of
post-processing to enhance the richness of the blue sky that day).
-Brendon Klassen

Canon 5D MKII
Canon 50mm 1.4
This weekend in Toronto was the annual Nuit Blanche art festival. Its a citywide festival of art that goes from sundown to sunrise. This was the last exhibit that I came across at around 4am. Its not much more than a bunch of LEDs and a smoke machine but the street (Toronto's busiest) was darkened for effect. I thought shooting a silhouette would be pretty easy, but it was really hard to get focus since their were no clear edges and I'd had enough to make it hard for me to focus on anything. I just kept shooting and adjusting.
-Brian Chambers

Camera: Nikon D1x (hand held)
Lens: Nikon 75-300 AF f4.5-5.6
Focal Length: 300mm
Aperture: F/13
Shutter: 1/250s
ISO: 200
I wanted to snap a few shots of Southern California's great sunsets after dinner, so I ran outside to check the position of the sun. As I walked out onto our balcony, I saw this row of palm trees silhouetted against the Hollywood Hills with just a hint of fog spilling over. I wanted to preserve the texture and details of the sky and mist while trying to keep the foreground silhouetted by the setting sun, so I kept a relatively open aperture and boosted the ISO a bit, and set a relatively high shutter speed to minimize motion blur.
-Brian Ikei

Nikon Coolpix 100
Settings - Auto ( the changing conditions caught me by surprise and I was to wrapped up in the moment to think about working the photo! Afterwards I kicked myself for a missed opportunity!)
What was a mild hurricane season had started to heat up in late August and into September, thankfully for South FLorida and unfortunate for Bermuda all of the storms tracked offshore from my location (Delray Beach FL) and made a bee line to Bermuda.
Starting on Sept. 27th we started to prepare for any ill effects at the shipyard where I am employed in Palm Beach FL. as tropical depression #16 had turned into tropical storm Nicole.
As things developed there was the usual be prepared for the worst which is needed but as the system weakened it was clearly evident that we were in for a weak rain event.
So onto the photo - 48hrs. of nonstop rain and gray skies, after arrival home while watching the local news I noticed that all around the perimeter's of my windows it was glowing orange (9/29/10). If I were in California I would have thought that the mountains were on fire, it was that intense - the color.
I was amazed at what I saw when I pulled back the curtains, immediately I grab a camera and ran outside and started shooting. I wanted to be at the beach but I did not know how long this was going to last so I kept shooting. As it was raining at the time it was a challenge to get an image with a clean lens. This was the cleanest shot from the group.
Enjoy mother nature and the free concert in the sky.
-Christopher Wright

Canon Rebel XSI
shutter speed: 1/395 second
Aperture: F/14.0
Focal Length: 31 mm
ISO Speed: 200
I was at the park in The Hague, taking pictures of a friend of mine and my cousin, when I noticed how beautiful the landscape was looking in the sunlight. It was late in the afternoon and the sun was going down. I don't exactly know what it is, but something in this photo makes me smile :)
-Crystal Boomgaart

Taken with my D5000 using the kit lens at 18mm, Raw Image Processed
using Bibble 5. The Image was then straightened in gimp.
This was taken at Kauffman Stadium during the last weekend of the
Baseball Season. I like the Shadow of Frank White's Statue for this
picture. The KC Royals have been a mere shadow of their former glory
for the last twenty years. It also seemed fitting as the sun set on
yet another baseball season for my team.
-Dan Cocking

D300s
Nikkor 50 1.8
F18
1/800
ISO 640
While drinking beer on the patio I noticed the bottles against the sunlight. I tried a few angles before this one, the bottles helped hide a few distracting silhouettes in the background and I thought the power lines added an interesting element.
-Daniel Dovalina

This was just a quick shot with a Samsung Vibrant using the stock camera app. No alterations were made with the picture. I chose to leave it this way because it helps add to what the feeling is like when the door and ramp first open. I didn't have much time. Also my camera was in my bag strapped down in the back while I was in the front. This is the cargo compartment of a C-130 Hercules. We had just landed on our flight home, a bit of turbulence I might add. The aircraft was just dropping us off and taking back off, so the loadmaster opens the ramp and door and we exit the rear with all four engines still turning.
-Daniel Thompson

My first photo submission! Photography is always been a hobby, which I probably got from my grandfather, and while I'm not very well-learned in techniques and technology, I've been following the photo challenges and posts on Gizmodo for months now. Unfortunately, my camera had been dead until today (the last day for this week's submissions) when it made a miraculous recovery. But living in the Pacific Northwest, it was overcast as usual which made capturing a silhouette difficult, and I had my heart set on an outdoor shot for my image.
The subjects I chose for the picture are the Spartans of Noble Team from Halo: Reach, using the statue that came with the Legendary Edition of the game. Originally I was going to do a straight-on shot to mimic the promotional materials, but ultimately I went with this angle on a whim for a more natural and dynamic feel instead of just a standard cast line-up photo. After much discussion and fighting with my camera, I was ultimately able to capture my best silhouette with the shutter speed set to 1/1000 and f/4.5 on my Minolta DiMAGE Z1, and adjusting the color afterwards for a dramatic mood.
-Dan Valenzuela

I've been stuck in bed sick the last few days and didn't think I would be able to get out and shoot this challenge. As I was tearing through a box of Kleenex I witness what seems to be a snake coming out of the water of the little lake (retention pond) behind our apartment. This snake was actually the neck of some crazy shore bird emerging from the water. The bird then hopped awkwardly up a tree and started flapping it's wings like it was drying itself off. I grabbed my Canon 20d with my Canon fixed 200mm lens which was already strapped to my tripod from the Composite Shooting Challenge:) shot off about 30 shots and the rest is history.
-David Nemerson

Canon T2i, 1/500, F6.0
This picture reminded me of the default Windows XP desktop image... If you stare at it for long, I swear you'll see the recycle bin icon in the low right corner. This is the Chestnut Hill reservoir in Brookline, MA.
-Diego Jimenez

Originally, I was intending to take pictures of my dog, Ella, going after bubbles (one of her favorite pastimes). However, in the end, I decided to capture my girlfriend blowing the bubbles, instead. The 70s motif in the house really added character. This was shot with a Canon Powershot SD1100 IS Elph using the auto-setting technique.
-Dimitri Tcherkassov

This shot was done using an iPhone 3Gs camera, no special setting was used. I applied just little Photoshop level tweak.
I was walking enjoying the 2010 Kern County Fair Carnival in Bakersfield, California, when I saw this people taking this high ride. Sun was just falling painting the sky with nice colors. I got my iPhone and took this picture very fast, when I reviewed this shot I noticed this wonderful silhouettes flying around this rotating tower.
-Eduardo Arenas

Nikon D90 w/ Nikon 18-200 VR lens
f/5
1/100 sec
ISO 2000
My cousin got married at the Tennessee Aquarium on Friday night. After the wedding, we were allowed to go around the aquarium after it had closed to the public. It was really neat to see the place without a large crowd there. I came to the main saltwater tank where you can go into a lower level to look up into the tank. It is an amazing view of the sharks and other fish swimming around. The lights shining from above made a great silhouette of the sharks swimming above.
-Grant Dopson

Lumix DMC-LX3
ISO: 100
Aperture: f/4
I attended one of my best friend's wedding near sunset in a field on Saturday. When I saw the sun going down, I remembered the Giz shooting challenge for the week, and thought this was the perfect opportunity to get something to enter. All I had with me was my Lumix DMC-LX3, so I snapped this as we were walking up the hill to the ceremony. Even though the silhouette isn't really prominent, I liked the sunbeam and long shadows, so I thought I would send it in.
-Greg Thorne

Panasonic ZS3 Auto Mode = o )
This photograph was taken the day after Tropical Storm Nicole dumped rain on us here in Florida non-stop from morning till late evening. We were blessed with a beautiful evening the next day. This was taken in my backyard with all my prized plants and trees framing the shot. Enjoy
-Ivan Capaz

"Blackbird"
Equipment: NIKON D5000, AF-S 18-105, circular polariser
Settings: f/8, 1/200 s, 105 mm, ISO 200
Location: Mala Mojstrovka, Slovenia
I went climbing on Sunday and these kind of birds are very common atop our mountains, where they wait for our leftovers to eat. They are not shy and like people so they are easy to photograph.
-Janez Kos
"Preaching to the city at mid day"
Equipment: Canon450D 18-55mm lens
Setting :
Aperture F/8
shutter speed 1/4000sec
ISO rating 200
Taken at St Mary's Cathedral in Sydney at midday. The person standing infront of the catherdral appears to be preaching to a congregation. However there is no concregagion, the "person" is one of the two stone statue infront of the cathedral.
-Jasper Wong

Camera specs:
Camera: iphone 3gs
Post-Process: iPhoto - just boosted some of the colour
Time: I took this shot just as the sun had set behind the treeline.
Taken at Trent University in Peterborough, Ontario.
I was walking from class towards a grueling 4 hour meeting, and noticed the sky was something fiercely awesome. So I pulled out my iphone and took some shots of where the clouds were most awesome.
-Javin Lau

Canon 7D, and a Canon 10-22mm f3.5 lens.
The photo was taken on Oct. 2nd, 2010 during a wedding for which I (and 2 asst. photographers) was hired to shoot video. The wedding was full of vibrant colors, from vivid orange bridesmaids dresses to the hot pink umbrellas. This shot was taken during a portrait session (directed by my asst. photographers) and when they were told to kiss, I had to stop the video and quickly steal the shot under the sun and umbrella.
-JC Encarnacion

Camera: Canon Digital Rebel XTi
Lens: Canon 75-300mm w/ Image Stabilization
Aperture: f/5.0
Shutter: 1/3999
ISO: 200
I'm a pilot for a small helicopter company in northern Alberta, Canada and I figured what better place to score some great shots for this photo challenge! I had originally brought my "good" camera to work in order to try and get some shots while the sun was rising, as we have a fortunate combination of wheat fields, local wildlife, and morning fog on most days. When the early morning wildlife photo shoot didn't pan out, I'd switched my mind over to other tasks for the day. However, when one of our helicopters fired up for a job I scrambled for my camera and my coworker's telephoto lens. I made it outside just as he was taking off, and managed to snap a quick dozen shots. Several of them turned out great! I had managed to capture the cloud of blowing yellow aspen leafs in the foreground of several photos! Unfortunately, they're not in this photo, as it was one of the last ones taken and the chopper was getting high over the field by this point, but I love the combination of the machine set against the bold autumn sky. I hope you guys like it too!
-Jeffrey Kvist

Taken in Brussel (Belgium) 03/10/2010 00:39am
HTC Wildfire camera (5 megapixel color camera )
Yesterday night, we headed with my girlfriend to the "Nuit Blanche 2010" in Brussel. My girlfriend hesitated and finally did not take along her sweet brand new Nikon D90. At the end we were quite glad with that decision because rather than gentle art lovers, the event was crowded with drunk, sometimes potentially violent and most of the time just dangerous through plain stupidity.
Anyway, one of the installation called " Souffle des mots" was a square made of four luminescent walls. The effect was really cool with people having fun posing and taking pictures. It was perfect for your Shooting Challenge. We were quite frustrated not to have the D90 but...what the hell...I finally gave it try taking several pictures with my HTC wildfire smart phone. Here's the most decent of the shots.
-Jeremy Hernalesteen

Taken with a Nikon D80 in manual mode with an ISO of 100 and a 28-105 Nikkor that I've had since the 90's. Shot at f/29 for 1/10 seconds with a white shopping bag taped to the window in direct sun, tweaked the tones in PS.
-Joe Pavelsek

Canon 7d
EF28-135mm f/3.5-5.6 IS USM
ISO 100
Focal Length 70mm
Aperture f/20
Shutter 1/60
This shot is something that has been in the back of my mind, and I have been in a moderate hurry to get it before something gets built in its place. Finally between this challenge and the weather and actually being up in time I hopped in the truck and got the shot I have wanted for months. Good excuse to get up early on a Sunday morning.
-John Ward

Canon t2i 50mm lens f/5 @ t 1/80 with ISO 320.
My dear friend got married this weekend in vancouver on an unseasonably warm and sunny october saturday. their story is one of magic & "meant to be" - a love that grew with time and distance. it was a joy & pleasure to be able to share their day with them as they said their vows and began their happily ever after.
-Joanna Law

Olympus E-Pl1
f/11
1/1000sec
ISO 400
What fun - I finally found a use for my two wooden friends. - Putting
them on a ladder, then trying to get the right angle was a little tricky.
I kept getting trees in the background. I finally found a clear spot.
-Kay Owens

Pinhole camera (same as the one from the pinhole challenge) on expired ilford BW paper. About 10 min exposure of my job's backjard.
-Omar Kuwas
Venue: A corner of Norway Pavilion in Shanghai World Expo 2010, China
(its actually top of the partition which use to divide the restaurant and the pathway...)
Camera: EOS 5D MKII
-Lau Jamie

Nikon D90 with a Tamron 17-50mm(F/2.8) using an aperture F/8, a speed of 1/60 and ISO 250 (FULL manual).
The little story:
In Belgium every year we have what we call "NUIT BLANCHE". During one evening/night, Brussels is invaded by a lot of artists from different styles and this attracts a lot a lot of people in the street.
I was with a friend outside (Gil) with the idea to shoot some events when we found a very special one : A huge rectangle parallelepiped is illuminated and reacts on some answers people gives through internet. Waw! Hey ... this is really great for the Gizmodo's Contest!
The group of people in the picture are just some tourists doing funny constructions. We didn't interact with them, we took the instant as it was.
-Laurent Timmermans

This photo was taken on my iPhone camera after waking up early morning on October 1st right on my neighbor's doorstep. We were already having pre-Halloween partying before October rolled around and I passed out on their steps. At some point in the night someone must've drunkingly decorated because I don't remember seeing this skeleton hanging at any point during the party. The smiling skeleton just hanging their smiling back at me felt like it was saying back "keep partying".
-Leroy James

Canon 7D
Tokina 11-16mm @16mm
Manual mode
1/200s
f/5.0
ISO 100
A conversation between man and his best friend.
-Lin Dunsmore

This is one of the griffins (part lion, part eagle) that sit atop the four corners of the Parthenon replica in Nashville, Tennessee. In Greek mythology, griffins were companions of the goddess Athena, whose 42-foot tall (12.8m) statue resides inside.
Nikon D70s with Nikkor 70-300mm @ 220mm, ISO 200, exposure 1/500sec @ f/16.
-Mark Reddick

Camera: Canon Rebel T2i w/ EF 50mm f/1.4 USM and Tiffen Circular Polarizer
Shot at f/8 1/60 ISO200 - no alterations with Photoshop at all
I was trying to get an idea of what to shoot all week. Tried some boats on a marina but didn't like it.
This shot happened on the way back from a concert my friend in the picture and I attended in Chicago.
I didn't tell him about the challenge but he wanted to show me this beautiful shore on Lake Mendota, Madison.
Didn't hesitate and took the chance!
-Max Stiebling

Panasonic GF1 with the 20mm Panasonic lens.
Exposure was 1/1250 at f/5.6 at ISO 160.
The strange weather this year in Vancouver continous, normally in October I would expect cooler temperatures and a few more clouds, but instead the last two weeks were almost like summer with temperatures in their 20s and lots of sun. It is easy in Vancouver to "get away" if you want, a variety of beaches along English Bay and this one was taken at 3rd Beach in Stanley Park. The ships in the background are mostly empty bulk freighters that wait to get into port in order to load and then take off to far away places like China. The man in the photo was probably doing what I was doing: contemplating the sight and enjoying the last of the sun before we enter the rain season.
-Michael Kalus

Getting a little chilly here in the Northeast, so we decided to char up the chimney a bit. Almost missed the chance as the fire was winding down. Managed to catch a few good coals. Taken with a Nikon D90 and the venerable 35mm 1.8G. About 4 seconds of exposure at f/16.
-Michael Masone

Camera: Nikon D90
Lens: Nikkor 18-200 f/3.5-5.6G IF-ED
ISO: ISO 1600
Focal Length: 200mm
Aperture: f5.6
Shutter Speed: 1/160
While on a quick visit to Wikiki Beach after a long business conference inside the hotel, I witnessed this the particular scene. A surfer at sundown, ostensibly heading home after a long day of hitting the surf. An easy guess to who had a more exciting day.
-Michael Sibbernsen

I was going for getting the silhouette while still having a shot with colors when I set out Friday. This one fell into my lap with the chairs, spot lights, and people just watching through the windows. Shot in Kansas City during an art gallery opening at The Living Room and thanks go to Chico for having his show. For those that don't know, the first Friday of the month are the gallery openings in Kansas City in the Crossroads district.
Shot with a Canon t1i with a 16-35mm f/2.8L lens, ISO 400, f/4.6, .6 sec and spot metering at 16mm, no flash. Minor color correction was done out of the camera but no exposure correction.
-Mick Brazeale

Fuji S100FS / 1/500" / F5.2 / FL 96.6mm / ISO 100
Crop, resize, and an unsharp filter pass in GIMP. No other changes.
I spent most of yesterday on my bicycle looking for silhouette photo opportunities. I had had very little luck and was on my way home when I spotted a pelican flying toward me. Somehow, I managed to get the camera out of my cargo bag and get a few pictures without dropping the anything *and* without falling into traffic.
-Mike Case

Photo was taken with a Lumix DMC-TZ10 digital camera, with manual settings. Aperture was f/4.3 and shutter speed 20 seconds. The subject in the picture is my brothers Lego lion and a minifig riding it. I opened my rooms window and placed the lion on the windowsill to get the background of a park near my house. The park has a road behind it so the streetlights were illuminating the whole park with a mysterious look. That combined to the lion rider makes everyone remember their childhood dreams. (Everyone has dreamed about riding a lion eh?)
-Mikko Impiö

The photo was taken yesterday from my front yard. I used my Fujifilm Finepix S1000fd set on "Auto" as the sun was going down fast and I didn't have time to play around with settings to get the best shot. I had taken several shots throughout the day and found this one to be my favorite. You can see all the branches on the tree and the beautiful sunset in the background. As you can see, the leaves have already fallen off many of the trees.
-Nick Johnson

Camera: Canon 7D
Lens: EF-S 55-250 IS
Shutter:1/20
F/ Stop: 6.3
ISO: 100
I was siting at my computer and thinking what picture to make when I saw a silhouette of my dragon, so I grabbed my camera and made a couple of pictures and this one was the best :)
-Paulius Barakauskas

Canon EOS 400D - kit lens
1/6th second exposure at F/4
Iso 1600
Model: Bart T
We had decided to go take some shots at the pool hall, but unfortunately it
was closed. So instead we went and made a bunch of pictures outside. Taking the picture was straightforward: Bart stood in front of a bright light, I kneeled to get a nice rimlight in the puddle reflection and clicked the button.
Post consisted of a couple of curves adjustments and an overlay layer to pump up the contrast, turning the image into greyscale, and lastly adding a purple-and-orange gradient ramp.
-PixelSnader

Camera: Canon Rebel T2i / 550D
Lens: Kit Lens - 18-55mm
ISO: 200 , f/4.5 , 1/1000 sec.
Long story short, my friend and I decided to take a walk Thursday evening and I insisted on going past the new Venice skate park just for the chance to get a beautiful sunset for my very first Gizmodo photo challenge entry.There were several skaters that could really catch air so I was super excited and the sunset was incredible. I doubted I'd get anything good but when I got home and saw this image, to me, it was the one and only to send in. I pretty much just shot straight into the sun, very minor contrast and levels adjustment to help the colors pop. I'm very satisfied with the shoot in general.
-Rachael Campbell

I took this in Winchester, England whilst out on Saturday afternoon. It was quite a dreary overcast day, and I was struggling to get a good silhouette photo. It wasn't until later that I realised that I had this one, which, with a bit of a crop and a tweak in Picasa, I think I have made half decent. I used my Canon EOS 550d with the kit 18-55mm lens on ISO 100, aperture f/29 and a shutter speed of 1/80s.
-Richard Breen

Canon Eos 500D with 18-55mm kit lens @ 55mm.
Iso 100; 1/4 sec; f 36. Adjusted brightness in Photoshop that´s it.
Beep. Oh Nothing, just cruising around and searching for Obi Wan. Brrrr,Beep. Hope there are no Sandpeople around. Beep.
-Roland Renne

I took this picture with my Sony Cybershot W290, Carl Zeiss 5x optical zoom wide (28mm) lens, ISO 1600. I'm not a photographer, and I am still learning about my camera, but being pressed by a friend to try the challenge, I decided to do it. Using the Digital Photography School method mentioned on the challenge, I set out to find my muse. I tried various light sources for background: table lamp, flash light, and finally the lava lamp. Then it was out to find a subject for my picture, abstract cat art was not a good option. Neither were big head dog figures, bell shaped dolls, or Pokemon. After placing various of my daughters figurines in front of the lava lamp, and taking pictures at different angles, I found a keeper, Dragon Ball Z's Goku in a blaze of fury!
-Rosa Salgado

Gear: Nikon D90, Nikon 18-200 VR
Settings: 24mm, 1/60 sec. f/8, ISO200
An Electric Highway. You see these everywhere. They go on for hundreds of miles without turning. A channel cut right across the land. This is actually a recreation of a shot I took several years ago. I knew I liked the shot for silhouetting, and I still have the original. I knew where to take the shot and when. A problem arose when I realized brush had grown much higher over the years. I ended up standing on the support for a light post to get the shot up above the brush. Another problem was that there were now light posts (one can be seen in the shot). This just makes me realize that a scissor lift would be an awfully handing thing to have (don't remind me that high voltage overhead lines and scissor lifts don't mix well).
-Ryan Powers

I figured I'd get something against the sunset and be done. I really wanted to get a shot this week, but the light always seemed to be almost gone, and would then spring back up again. It caused me to rush all over, getting a shot then tearing off for another. I drove up and down country roads, sprinted along beaches, hopped fences into random yards, and wandered through fields, all trying to catch the light, which always seemed to fade and then pick up again, taunting me into thinking a better shot was around the corner. In the end I used one of the very first shots at a wharf in Victoria. It was simple and has nice elements, and didn't require any trespassing. Shot with a Sony Alpha A-200, ISO 100, f6.3 with a 1/160 shutter using the kit 18-70mm lens. Touched the black point in Aperture, but otherwise free of touch-ups.
-Sean Wylie-Toal

Took this picture of my little sister jumping on our trampoline with the sun directly behind her, giving her a heavenly glow and semi-silhouette. Picture was taken with my T2i with the Canon 28-135 USM IS lens at 28mm f 16 1/640.
-Timothy Schubert

Cannon T1i, Tamron 18-270 lens, f5.6, 1/500 , ISO 200, 109MM
Heading into work, sun was just coming up. I looked to my left and saw the birds. Swung around and parked in the coffee shops parking lot took a quick 6-8 shots jumped back in the car. I think the black speck in the top of the frame is another bird, and I would guess that is Jupiter between the lines. If quantity counts I should have this one in the bag.
-Tom Marshick

Shot in Manual Mode on a Canon 7D, Canon EF 85mm Lens, aperature of f/1.8, shutter speed of 1/200th sec, ISO at 125
Last night in NYC there was a killer sunset, as I sat in my living room I regretted being too lazy to gather my gear and shoot it, but promised to shoot the sunset on Sunday (today). At about 6pm I hiked up to my roof and waited patiently for the sunset to arrive, all the while looking for interesting subjects and angles. My original goal was to shoot the GWB, but the sun was setting too far south to give a solid silhouette. Then the sky fired up and I was running around the roof, switching lenses, trying to find the right shot. Then I saw this satellite dish and fired off some shots while playing with my exposure for a bit to get the right color detail and silhouette. In the end, it turned out nice and I had a wonderful evening on the roof.
-Zachary Tolbert