Camera: Canon
Model: Canon EOS 7D
Lens: EF 70-200mm f/2.8L IS II USM
ISO: 100
Exposure: 1/4000 sec
Aperture: 10.0
Focal Length: 70mm
I am currently in Jacksonville Florida for work, and decided to go to the beach and get some shots of the sunrise. The long grass created an amazing Silhouette with the Sun in the background.
-Abhiram Bandaru

This shot was kind of an afterthought. I was trying to get this cool detail on the railing of my balcony and noticed this fern had grown through the bars. I thought blocking the left side with the wall behind it made for a more interesting composition.
-Adam King
G/O Media may get a commission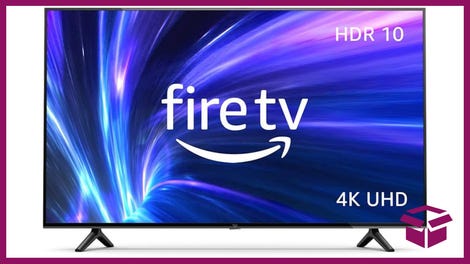 42% Off
Amazon Fire TV 50" 4K Smart TV

Rebel T1i, ISO 800, Shutter 1/60, Aperture 5.6, sRBG, lens EFS 18-55mm.
My brother in-law and I always talk about participating in the weekly gizmodo contest. Finally, this was out week to start. We had several sweet ideas, but they all involved busy highways or something similarly dangerous. For his shot, we actually wanted to capture some shots with my hands on fire. Unfortunately, none of those shots were very good. And my hands were too burnt to try it more than three times, and you only get a one or two shots per attempt (it get's real hot, real fast). So we took some shots just messing around, and this is the best of them. After my hands heal though, I want to go back and try the fire shots again, because now I know how to make it work. Number one, use a gel to light myself on fire, not rubbing alcohol. Alcohol works for quick stunts, not for posing and framing. Anyway, I'm glad we tried. It was fun learning how to take silhouettes.
-Andrew King
So on the ride home from work after a stormy day, I notice in my
rear-view that the clouds were breaking a bit to the west and the
sunset was starting to light up the sky. I hurried to Seaside Park in
Bridgeport with the ol' light house in mind. Made the short hike down
the wet rocks of the jetty to get to the lighthouse and started taking
pictures. Really my first serious shot taken with a DSLR, my new Canon
400D using a borrowed EF 28-80mm kit lens from my buddy's 35mm film
Rebel (I'm saving up for a lens). Tripod, f/8.0, exposure 1.6 seconds,
ISO400 at 77mm.
-Brendan Dunne

For this shot I used a Nikon D300 with a 17-55mm f2.8 lens. I got into lightning photography about 3yrs ago when I was struck by lightning working on my truck; after having a beer I decided I really wanted pictures of the storm that got me, so I grabbed my camera and headed out. I have been addicted ever since, though it can be difficult to be in the right place at the right time. This weekend I was having a beer with some friends when a good Thunder Storm blew in, so we all loaded up into my truck and headed up to a good vantage point. This shot is a compilation of 7 different photos. This particular shoot ended as I frantically threw all my gear back in the truck, stomped out my cigar on the floor boards, and wheeled off the the hill amongst heavy hail and lightning strikes within a mile of our position. Probably pushed my luck a little farther then I should have, but the images I have are well worth it to me.
-Clark White

Canon EOS 350D DIGITAL, using the Canon 18-55 / F3,5-5.6 objective.
Picture exif data: 18.0mm, 1/60 (-1.33 EV), f/5.0, ISO 1600, RAW format.
The shot shows the Boğaziçi Köprüsü (bridge in Istanbul over the Bosporus). I have recently discovered the shooting challenge on Gizmodo and wanted to participate. So this shot is from my vacation in Istanbul last week.
Me and my Girlfriend went spontanously on a tourist tour through the Bosporus, and this bridge is the strongest landmark of Istanbul due to its special lighting which slowly changes color (for gadgets a meanwhile quite cheap effect, for a bridge it looks nevertheless impressive). So I wanted to capture this famous bridge. As my girlfriend and I share the camera, I told her to try a shot of the bridge, hoping she would see an angle I haven't spotted, and this is the outcome.
In the uncropped picture the bridge wasn't centered (thats why the ratio is be a bit strange) but with this very geometric form of the bridge the symmetry enhances the beauty of the shot. To me, this is the most impressive shot out of the 500 pics of the last week (though not the best since it is not typical for the region).
-Damian Vogel

Camera: Nikon D3000
Lens: 18-55mm Kit Lens
ISO: 400
"Brand New Day"
I spent the first half of the week shooting silhouettes of inanimate objects against artificial light, and wasn't completely satisfied with any of my shots. So I began searching for a natural silhouette to present itself in my day to day life. Early one morning, my wife came into the room with our four month old, and began to open the drapes. As she approached a window, the lighting cast them in almost total darkness. I liked the simplicity of it. For some extra color, I added some sepia tone with iPhoto.
-David G

Nikon D90, 55-200mm f/4.5-6 G VR, Focal length: 145mm. Shutter: 1/125. Aperture: f/20. ISO: 200. I drove out to the delta, chasing the sun going down with a completely different idea in mind. Plans change, and I found myself gleefully crouching and crawling in the middle of the road focusing on the reeds growing along the levee, trying to find the right settings, trying to coax more color out of the setting sun while the wind on the levee picked up and the light went away.
-David Lou

The camera is the stock Droid X camera, no additional lens. Iso set to Auto. Taken on the Eads Bridge over the Mississippi River, near the Illinois side.
This photo is the definition of serendipity. My wife owns a tour company here in St. Louis, and as such we occasionally entertain vendors, and today (Sunday) one vendor wanted to walk across the Mississippi River on the Eads Bridge (Built 1874, first steel bridge in the world) and take some photos of the Gateway Arch and the St. Louis skyline. Reminded of the recent shooting challenge that featured many shots of the NYC skyline, which I could see from where I grew up in New Jersey, I decided to take a few shots of my new hometown skyline with my trusted Droid X. The sun was setting behind the buildings, which made for a great "city at rest" shot, and the Tom Sawyer paddle wheeler passing added that Midwestern feel. Only then did I remember that this week's shooting challenge topic was silhouettes. A slight brightness correction later, and I've made my first entry into the shooting challenge.
-Declan Rutan

Canon Rebel T1i
ISO 200
1/4000@f3.5
EF24mm Canon lens
Oct. 2, 2010
Coolidge Park in Chattanooga, TN had tethered Hot air balloon rides on a cool crisp Saturday morning. Woke up early to get some shoots and ride the balloons. They brought the balloons back that evening too. Got some great shoots, but no real silhouettes. Was never able to get the whole hot air balloon as a silhouette. Too much light comes through them. Still made for some great pictures!
-Diego Aguilera

I made this image with a Nikon D700 with the 24-70. I shot it at ISO 200 f/11 with a -2.0 exposure. I was in aperture priority and the exposre was for 1/500. I chose to crop the image in 2x1 because the location is difficult to shoot. It is near a road with several overhead powerlines. I wanted the silhouetted tree to stand out as much as possible from the tree line in the distance and the corn that is yet to be harvested. That meant positioning myself in a way that I had a powerline in the frame in the upper righthand corner. Since the sky was cloudless, I chose to crop the powerline out. I liked the late afternoon sun hitting the corn stalks and how one lone tree was in the middle of the field. I positioned myslef so that the sun was behind a branch and used exposure compensation to make sure the tree was totally black.
-Don Jeske

Canon T1i, EF 85mm, 1/40 s, f/1.8, ISO 800. My friends and I took a visit to the local aquarium in Tampa and I brought my camera along in case anything interesting presented itself. While shooting fish behind panes of glass didn't interest me, a particular section of an exhibit featured a wall of smoke as the entrance, with a projector throwing light and images on top of it. As my friends stood in the fog and played around, I took a couple of shots. The figure of a shark in the background made this one my favorite.
-Drew Coffman

Shot with a Nikon d60, 35mm prime. f1.8, 1/5s, ISO 200.
This was one of those nights where I was doing last minute 365 photo project work and decided to try out the shooting challenge. So I set up a red flashlight my roommate's mom sent us for some reason, and played around to see what shapes I could get out of various things. I had some hand shots that were actually in focus, but for some reason I liked this one the best.
-Emily Turner

I was on my way home from the train station with my brand new D90 when I decided to take a little detour to my favorite park. It's my first week with my own DSLR, so I'm still getting used to it. The shot is of the monkey bars, f22, I forget what shutter speed, and ISO 200.
-Filip Soltys

Well, I was out taking some pictures for this contest and it was a perfectly cloudy day so I was lying on my back taking pictures of the sky. I had some friends who were playing around while I was taking pictures when this tiny plane flew above. I hadn't even realized it was there until I was looking through the pictures later in the evening. The more I looked at it, the more I like it. The cloud dynamics catch the silhouetted plane between two forces, light and dark. It was shot with a Canon XSi with f/13, ISO 200 at 1/400 on a kit lens.
-Forrest Sherman

Canon EOS DIGITAL REBEL XSi
Canon 50mm "portrait" lens (EF 50mm 1:1.8)
F-Stop 2, 2.5 sec, ISO 100, 50mm
The shot can have multiple meanings of an "irrational fear" or that of a big company or government controlling the little guy through fear. But really, I just thought the idea of a small guy with a giant coming at him was cool...
-Gideon Montoya

Canon d7, 28-135mm, f 14, 1/250, ISO 200
We were at my boyfriend's new office space and his girls were running around looking out all the windows. I was there taking pictures of the new space and with the huge windows all around overlooking the city, I thought I would try for a silhouette picture. I put the girls up on the ledge and had them streak some goofy poses, but the one where they were just checking out the city and not paying attention to the camera came out the best. Tweaked the contrast/brightness a bit in Photoshop, mostly cause they were wearing white or light colored clothes and the light was coming through the material.
-Gretchen Pitluk

Sony a200 with Kit lens: 3.5-5.6/18-70
Shutter Speed 1/2000 sec, f5.6, ISO 100
We were down in the Coromandel region of New Zealand, We are just coming out of an awful winter down here but today the sun was shining and the temp was hot - first proper day of summer yeayah.. Was around 6 in the evening, Pulled off the road for a smoke, took a wander through the bush and came across a choice waterhole. I was down the bank having a smoke while my mates rigged an impromptu rope swing. As soon as the first one jumped I grabbed my cam and shot this straight off... loving the karate-kick action going on. Was a mint break in the road trip.
-James Pendergrast

Canon 7d, 24-105 L, 430 ex 11 speedlight.
This is our new beta Ralph. Thought he had a pretty cool silhouette, so we set up a speedlight on the opposite side and fired it wirelessly. I wanted to clean up the smudges on the glass SOOOO bad, but rules are rules. Shot from a tripod.
-Jason Barnetts

Taken with my iphone 4 at the Dallas Arboretum. Went on a field trip to the arboretum with my sons kindergarten class and happened to catch this freestanding waterfall silhouetted on against the sun. I thought that an inverted silhouette would be a unique and different approach to this challenge. I was a bit rushed taking the shot, chasing after 4 kindergarten children at the same time, so I wasn't able to spend as much time on the composition as I would have liked. The only adjustment I made to the original picture was a very slight adjustment to the contrast. Hope everyone enjoys it...
-Jason Kongabel

After struggling to obtain any sort of usable angle from natural sources of light available at my home, I decided that I should just move my efforts in doors. The picture is that of a quarter entering a glass of water in front of a lamp. I'm happy with the picture I took, but disappointed in my quarter for being maybe the least ridged quarter in existence. Taken with a Samsung Pixon12.
-Joe Testman

Was hoping you might take some pity on me for being late since I lost my job on Friday and was still able to muster up some creativity?
Shot with Droid Incredible using the program "Vignette" under the ToyCamera B&W setting and the 16:9 bordered attribute. Was riding back from a hike with my girlfriend and her two girls. I've always loved power lines against the sky and tree line. Great, harsh juxtaposition between nature and manmade-ness. No other changes or mods made outside of the contest requirements.
-Jonathan Keys

RPS4Life
1" shutter and f/32 aperture with ISO 200.
Struggled to get proper lighting conditions so I just put a white jpeg on my TV and started taking pictures in front of it. Level adjustments done using iPhoto.
-Jorge Jimenez

I hope I'm not too late!
I was fortunate enough to be in Utah this week, and as I was strolling back to my hotel from breakfast, I just happened to catch some hot air balloons taking off in the distance. Luckily, I had taken my Canon SX210 with me, and snapped this.
-Juan Ozuna

"Worship"
People at a church service. Taken with an iPhone 3Gs
-TC Chen
My picture is of the cityscape, taken from my balcony. I took my shot with my Canon Mark 2 5D. I believe I was shooting at 200 ISO. I do know that I bracketed a number of different aperture ranges (all well below the metering requirements), toying with the different reds that were coming out of the sunset.
-Kelvin Chen

Rebel T1i with the stock ef-s 18-55mm lens, ISO 100, f4.5, 1/160
The picture was captured as my family came to visit me on the North Shore of Oahu. My mom being the horse lover that she is befriended a lady riding her horse down the beach one day, and somehow convinced her that she needed a horse-riding partner! They went out for a sunset ride on the beach the next day and I seized the opportunity to take this silhouette photo. Used Adobe Lightroom to help darken the foreground.
-Kitt Turner

Canon 30D EX Sigma 70-200 mm.
We've taken Silhouette photos in front of Projectors before and gotten some cool rainbow effects, so I wanted to try and recreate that this time around. The subject I used in the foreground is a little wooden artist's model. I couldn't quite capture the colors and lens flare that I wanted, but I thought it was interesting how the light shaped it's outline, and how the blue looks around the helmet-like head.
-Mailani Souza

I took this picture with my brand new Canon T2i w/ 18-55mm kit lens. I was in my backyard around sunset (Northeast Ohio) and I wanted to get silhouette pictures that resembled fall. As you can see, the leaves have started to fall off the tree already. I'm not exactly sure what settings I used simply because I'm just starting to get into photography. I'm still trying to understand all the terminology and settings! I hope you enjoy the shot, it's my first entry on here! I thought it turned out neat! The only thing I was bummed about was the wallpaper had to have black borders, otherwise the tree would have been cut off!
-Matt Neidert

Camera: Kodak Easyshare C180 Digital Camera
ISO Speed: 80
Exposure Time: 1/1,000
This photo was taken on Sunday afternoon, in the gravel parking lot behind Maloney's Tavern in Tucson, AZ. Possibly the Jeep, as well as the Gremin parked nearby, were abandoned by inebriated patrons the night before... regardless the barbed wire and AT&T tower behind the vehicle seemed to lend a nice aura to the scene.
-Micah Scorcio

Canon 30D EX Sigma 70-200mm
-Michael O

My cousin and his wife recently celebrated their third anniversary, and they came to town to visit me this past weekend. We took a number of other pictures, but when sunset came, the three of us made our way to a local lake. I was trying to capture a tender moment as simply as possible, and I think this one came out well. Taken with my Nikon D50, 18-55 mm lens, ISO 800, 1/25 sec at f4.2.
-Michael Rodgers

This is my work buddy. He sits on my desk helping me get through the day. Of course you recognize the profile, right? Yes! It's Mr. Smithers holding his favorite "Malibu Stacy" doll. We hang out.
I used my Nikon D40 with the kit lens. This was shot at 1/640s at f/13. The ISO was 200 and I nearly went blind from the sun. I converted the RAW file in Photoshop and there you have it.
-Peter Berg

At the suggestion of a friend we headed to the beach Thursday afternoon after work. He was looking for clouds, I was looking for silhouettes. Arriving right at sunset we didn't have much time, so I quickly fired off several shots as we walked towards the water. Racing the sun, all shots were hand held and auto mode, using the metering trick mentioned in the challenge writeup. Potential shots included palm trees, a passing helicopter, and people along the shore, but the one I liked the best was a surfer just leaving the water. I'm not as happy with the composition as I'd like, but this one seemed to best meet the silhouette challenge along with capturing the essence of the surf and sunset. Canon PowerShot S2IS, f/3.5, 1/30.
- Russell Kavanagh

Cannon Rebel t2i, ISO 400, Apeture f/0.0
The story behind this is one of accident. I went back to the old Alma Mater for homecoming to take some photos of a friends band. I was changing lenses on my camera and being the rookie I am and the time crunch I was in didn't turn off the camera first. I was holding it and snapped a picture while removing the lens. the lens was about 1 inch away from the camera. I thought it looked pretty wicked so I decided to submit it, not your traditional silhouette, but more abstract. The subject is one of my old college roommates who was at the show with me.
-Ryan Frank

Canon T2i, 50mm at F/2.0 ISO 2500 1/60 secs.
The first thing that came to my mind when i read about this challenge is the black-on-blue silhouette action scene in Kill Bill Volume1 (Showdown At The House Of Blue Leaves). I wanted the silhouette staged and found the animal planet toy figures in my daughter's bin. I propped an old chart against the wall and set the white balance to white fluorescent to get the blue background. Then i removed the shades from a night lamp, wrapped the CFL bulb in a blue cloth and set it in front of the chart. Placed the animal figures on an end table, about a foot in front of the light source. Played with various setting and finally settled on AV mode F/2.0 to get the desired effect, mostly from trial and error. It was totally fun, thanks Giz for the learning experience!
-Senthil Kumar

Pentax K-x and kit 18-55 lens
35mm
f/4.5
1/15s
ISO 100
Was a really nice, calm night. Just after the sun went down. I was out taking pictures for this challenge. I really didn't give this shot much hope. But, with a little tweaking, it turned out. I made sure it was entirely black throughout the silhouette. Except for the lights along the boardwalk (and a few other city lights). They were consistent with the silhouette and made the picture a little more interesting so I called it good.
-Shawn Nicholas

Sony NEX5
-Sumit Kishore