Simpsons fans may remember a particular couch-gag from last month's episode, "Diggs," created by French animator Sylvain Chomet. It was a stylistically distinct, hand-drawn take on the gag and it made quite the splash. And now, the production company behind the short, Th1ng, has just released a "making-of" feature.
It's awesome to see that the art of hand-drawn animation can still find its way into mainstream media, but it's even nicer to be reminded how all this is done. The video shows the process of going from drawing out each frame to uploading and digitally coloring them before stringing everything together.
Chomet, though unknown to most people, is actually an animation legend, popular for internationally acclaimed films like The Triplets of Belleville and The Old Lady and the Pigeon.
This piece on The Beak Street Bugle chronicles the whole story behind Chomet's involvement with The Simpsons, but here's the quick version.
While he was working on his 2010 feature film The Illusionist at a studio in Scotland, Sylvain met Harry Shearer, the voice of Mr Burns, among many other characters in the show. Harry said he was a huge fan of The Triplets of Belleville and asked what his next film is.
It could be coincidence, but Sylvain next returned to France to receive a surprise from his yellow American friends. "Someone asked me how it feels to be in The Simpsons," he recalls. "I said 'what are you talking about?'" It turns out The Simpsons had made a spoof of the French animator's most recognisable work – The Triplets of Belleville – they called it The Brothers of Beauville. Sylvain was very flattered. It was quite funny, he thought.

Recently he got the chance to return the homage The Simpsons had given him when the team called him asking if he'd like to direct a special couch gag for the beginning of an episode. They'd been doing this for a few years with other famous artists and directors including Banksy, Guillermo del Torro and Bill Plympton so it was an honour to be asked.

Of course he agreed. While it wasn't a commercial project, Sylvain wanted to produce it through Th1ng. He contacted Executive Producer Dominic Buttimore, who he's worked with for over 25 years, to ask for his collaboration. "It was going to be our 50th birthday," he says, "so as a nice present to him, we were going to do The Simpsons."
G/O Media may get a commission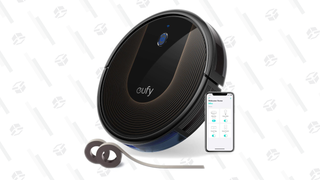 48% Off
Eufy BoostIQ RoboVac
The rest of the articles goes into more depth and is really worth checking out. And for those that haven't seen the couch gag, check it out below.
[via beakstreetbugle.com]