A brainchild of the legendary Frog Design firm, the Sinch is a small, unobtrusive earbud accessory with a single purpose: keep your headphones tangle-free and attached to your phone/media player using magnets. For the most part, it works pretty well.
Like
The biggest strength of the Sinch is that it has a high level of utility without getting the in the way of anything. It will keep your headphones in place and tangle free when not in use. It's small, light and doesn't make your device any less pocketable. The magnets which keep your headphone cabling in place are strong. They can survive a say rustling around in a bag and still maintain their vice grip.
No Like
When trying to use the Sinch to shorten your headphone cable by a length or two while listening to music, the cable didn't want cooperate with the way I tried to maneuver it. I ended up with a coil of headphone cable that wouldn't lay flat or a bulky bundle that proved more hassle than help. And with some headphone plugs, the Sinch got in the way of the plug and the jack, either causing the audio to cut in and out or requiring me to pull the Sinch up over the outer sheath of the plug. Doesn't work so well with thicker cables.
G/O Media may get a commission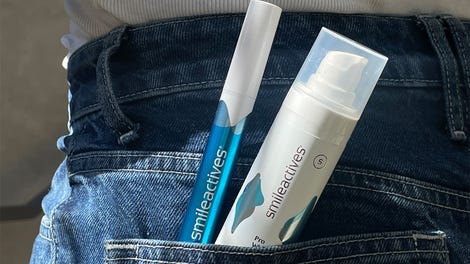 58% off
Whitening Powerhouse Pen & Gel Duo
Should I Buy This
If you walk/bike/train more than you drive and frequently find yourself with earbuds stuffed in your canals, you'll find that the Sinch serves a purpose. But this is very much a niche product that isn't essential for everyone, especially at $16. [The Sinch]