Splurging on a fancy adjustable mattress makes sense given how much of our lives is spent sleeping. But if you live in a tiny apartment, with a tiny staircase leading to your front door, it makes wrangling a big fancy mattress a nightmare. So Sleep Number designed a new adjustable mattress called the 'it bed' that arrives in an easily maneuvered cardboard box.
The it bed is far from being the first mattress that arrives compressed into an impressively compact box. Companies like Casper have made a name for themselves with high-quality foam mattresses that don't require a team of movers to get them into your bedroom. There are now quite a few companies offering similarly-smooshed products, but Sleep Number's it bed is the first that's also both adjustable, and packed with sensors to help you track your sleep.
Once opened and given time to fully expand, the it bed can be customized by adjusting its internal foam-filled air chambers to provide varying levels of support to different parts of the body, but also for a softer or firmer feel. This does mean it's the first mattress-in-a-box you'll need to plug in, but that allows the it to connect to your home's Wi-fi network and to a free accompanying smartphone app over Bluetooth.
G/O Media may get a commission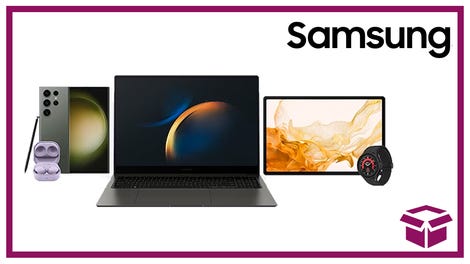 24 hour deals
Discover Samsung - Daily Deal
If you're not entirely sure if your mattress adjustments are giving you a good night's sleep, the it bed is also loaded with motion, heart rate, and breathing sensors which it uses to track the quality of your overnight sleep. That data is sent to the cloud for analysis, and through the SleepIQ app you're given a score that reflects how well you slept.
Given the accuracy limitations of the heart rate monitors built into fitness trackers that strap directly to your wrist over your arteries, the data gathered by the it bed's sensors probably isn't going to be something your doctor can rely on in lieu of regular checkups. But Sleep Number also isn't trying to diagnose a heart condition, just determine if you slept soundly through the night.
The SleepIQ app also pulls data from fitness trackers, and other sources, like a connected thermostat, to help you determine what might be causing you to toss and turn at night. Maybe going for a run before bed wasn't the best idea? Or maybe your room is just too cold for you to get truly comfortable. Over time you'll get a better idea of how to improve your sleep, so the it bed's connected features are legitimately more than just bullet points on a press release.
Available starting on September 19 through the Sleep Number website, the it bed starts at $800 for the twin-sized version, and goes up to $1,500 for the king. So it's definitely not as cheap as the mattresses you'll find at Ikea, and it doesn't include a frame. But you also don't have to worry about choosing the right level of firmness you need, because with its adjustable chambers it will always be exactly as comfy as you need it.
---
More on mattresses from G/O Media's Partner. Gizmodo is not involved in creating these articles but may receive a commission from purchases through its content:
- Best Mattresses of 2022
- Best Hyrbid Mattress
- Best Mattress for Kids