Sleepy Hollow has visibly been shaking off the ghosts of season two, and this episode offers more of everybody's favorite: "The Sisters Mills." It also presents a dental monster...and a Crane problem.
It's honestly a little strange to have an episode of Sleepy Hollow so good I have to pare down my caps of people's reaction faces, but a Mills sisters episode will do that; it's just been so long since they had a focal episode that it's hard to remember. And honestly, they share the screen with quite a bit this week for an episode titled "The Sisters Mills": there's a monstrous tooth fairy, Crane's monstrous love life, and a level of adult negligence that passes hilarious somewhere in the second act and starts to approach the bone-flute episode where a girl got marched into the woods to replace her sister as a demonic sacrifice. It could be a disaster, but with that third-season magic, most of it works! Most of it. (We'll get there.)
But first: Mills sisters! Sure, it's a gimme; this show works so well when both Mills get room that the Mills sisters could be the highlight of any episode. But this episode manages to pull off that old-school X-Files thing where the monster of the week is genuinely threatening and thematically relevant!
This is the monster of the week: the "Syrian Abyzou," which sucks the souls from children via their open wounds...like newly-lost teeth. (This episode calls it "The Tooth Fairy," complete with a call-out about treacly fairy-tale revisions: "I do not recall Disney's Cinderella featuring the wicked sisters cutting off their own feet." It doesn't work, but my heart's warmed!) It's a genuinely scary monster, not least because adults can't see it, which means little Saffron is shouting into the void about an invisible monster after her little sister falls into a coma. And you know who understands that?
G/O Media may get a commission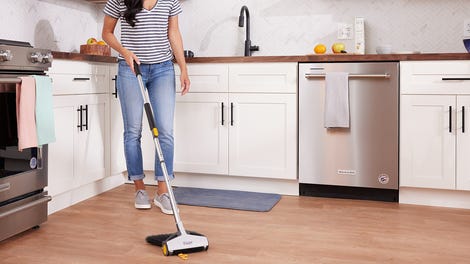 BOGO 50% Off
Flippr - BOGO 50% Off
These two. In fact, Jenny's first order of business is to tell Saffron, "We think you're very brave for telling everyone what you saw. I know how hard it is to open up about something when no one believes you." It says a lot that Jenny can say that without a cut to a really guilty Abbie. (Sisteeeers!) Overall it works really well; the monster exists to let Abbie and Jenny tentatively walk through their past before the Four White Trees, but it's all while they;re attempting to keep history from repeating itself, no pressure.
This beat also marks an episode leitmotif of oddly negligent adults. Saffron is here unaccompanied and a federal agent is just casually overseeing an interrogation (friendly, but still). Little Gregory is stalked by the monster, and that's after we realize how his mother feels about his art:
Juuuust good enough not to be entirely covered by clothes, not nearly good enough for the fridge.
Saffron's parents leave her alone for essentially the entire episode, giving strange adults unfettered access to her time: nurse!Pandora, the Mills sisters, and the oddly angular historical reenactor who marches into the backyard treehouse to try to impress her by pulling a coin out of her ear: "YOU APPEAR TO BE A LITTLE HARD OF HEARING."
Also pictured: Ichabod's level of chill with adult women.
And an elementary school teacher lets Ichabod interrupt the curriculum (which I assume based on what I hear about children's education is L'il Test Prep and thus tricky to interrupt) to tell them Washington did The Pot and ask which of them has a loose tooth right now so he can take notes and hand out talismanic gifts afterward out of sight of other adults.
This is a Call the Cops level presentation. (Jenny's filming it; she loves it all.) And we haven't even gotten to the part where the two teams spit up outside childrens' houses to stake out the Tooth Fairy.
Luckily, it's less creepy than it sounds, and everybody's car conversations are delightful despite probably being monstrous to film. (I know this show often attempts to squeeze in meaningful beats en route to punching ghosts, but this double act must have been trying, both in terms of logistics and acting.)
"Jenny finally set you up?...Don't worry, I've been through it, too. The Mills sisters are great at killing monsters, but their true passion lies in matchmaking."
Ichabod's interesting response to this is, "Master Corbin, in my experience, obfuscating a work relationship by indulging in auxiliary feelings can become rather...complicated." We'll put a pin in this.
Questions: When did these setups happen? How long has he been back in Jenny's orbit that she's setting him up? How many women does Jenny hang out with, and are they mercenaries and con artists, and can we meet them? Related: Jenny's been setting Joe up with other women? Does she not see his face about all this? Look at him. He's been flexing those muscular forearms at Jenny since he was a wendigo in a fishbowl and she emotionally waved at him; you are dragging out the inevitable. Don't wait until sweeps!
These are questions for later, though, because the Mills sisters are fighting and it's great.
You don't really sit down and think about just how much this show makes people talk about demons and the secret history of the Revolutionary War and occult dental pistol assembly until Abbie and Jenny are in a car arguing about their deadbeat dad and you realize how few mundane conversations they've had. Abbie finally fesses up to finding their dad and Jenny scoffs that she's known for five years where he's holed up with his new family. It's lovely work; the long-simmering annoyance of who's known what secret longer, the awkwardness of Abbie being the dreamer for once, the tension over whose memories are more accurate (that's gotta sting).
It's so good that it's almost a shame to switch to looking for Paul Revere's dental kit which is also a demon gun. (It's at the Colonial Raleigh museum. WHY NOT COLONIAL TIMES.) Almost, because it manages a fun beat: Abbie pulling rank on the phone and, for once, Ichabod with the save. (Mansplainy fingers, we meet again.)
He's really loving this Historical Society cover. He falls ten years back in time every time he tries it. "How do you fare? Superlative." He's three donation drives away from being back in Roanoke.
He deserved both these faces. (I love that Jenny is up for whatever works, at any time; call 1-800-JENNY-MILLS for your casual trolling needs.)
Then it's all adventure. Abbie gets hurt fighting the Tooth Fairy! Jenny's devastated even though we know Abbie will be fine!
Ichabod realizes Revere's dental tools assemble to make the demon gun!
Welp, those are awful dental tools, then, Paul Revere, Jesus Christ!
Obviously, the Tooth Fairy is vanquished thanks to Paul Revere's silver gun and Saffron being willing to play the bait with nothing but a tooth, a fireplace poker, and a dream. But the most interesting struggle of this episode for me was actually actionless: Pandora and Abbie have a sit-down.
I know, I know, a Horseman-less show still feels oddly ungainly even though they made him sit in a cabin moping for most of the second season. And Pandora's plan is still so vague. But honestly, having one person conduct monsters of the week to collect fear smells is no sillier than anything else this show has done, and Shannyn Sossamon is putting every archly Gothic breath she has into it. Here she tells Abbie she admires her for fighting like she has something to lose (ouch), and then explains that back in the day, her dad beat her until she "forgot all language" and sold her into slavery, and as soon as she got language back she convinced her owner to feed her dad to a lion.
(Even paralyzed by an evil spell, Abbie has no time for your bullshit.)
It's campy-lady-villain standard, but honestly, it's hilarious, and I am coming to accept this lackadaisically nosy creeper. It's a bonus that she seems interested in Abbie because of Abbie herself, not because of a connection to Crane. It's a dream come true! I mean, not for Abbie, but still.
And then things get weird, thanks to Ichabod's love life.
(Not a picture of his love life; just a picture of Lyndie Greenwood putting her back into exposition, and Tom Mison auditioning for Prince Hal.)
I'm going to guess Zoe's unpopular, because she's so mild as to be boring and/or she's a villain. As far as this episode goes, I'll just say that if this show hadn't killed off so many women just to make Ichabod sad last year then we'd still have Caroline instead of doing new legwork with flirty texts about the John Adams miniseries. (Ichabod replies he never agreed with tarring and feathering. He has the least finesse of any time traveler in the history of media, and he is lucky she is so warm for his form that she assumes this is historical fervor and isn't sitting in her living room with her finger hovering over the block button.)
His second problem: Betsy Ross.
I didn't cap them kissing on the likelihood of it being a fever dream/certainty of it being dull. Instead, this is Betsy Ross sobbingly pulling a silver piece out of her nephew's ear; for a moment her subplot hits the sublime.
However, every appearance of Betsy Ross asks more questions than it answers. So: hey Ichabod, here's a fun game for someone who likes multiple choice! When, in the chronology of this show, did you spend so much emotionally-compromised work time with Betsy Ross?
A ) After you faded your fiancée Mary from across the Atlantic and got involved with Katrina, the rich lady/Quaker nurse/Colonial spy
B ) Don't look here, there's no help for you here, why did you even think there would be another way out of this question for you.
His third problem is that, platonically or otherwise, he's currently married to Abbie.
Citizenship sniping!
Romantic Lead Face at the hospital!
Abbie making apologies for him at the dentist!
Abbie thinking of murdering him and hiding his body! It's everything marriage is made of. (What a scene for them. I have no words, for a number of reasons.)
His fourth problem: Pandora is apparently the Sumerian version of Pandora (you know the one), because the show just couldn't bridge that gap, I guess, and she mentioned the Destroyers thing from the tablet to Abbie, so now they have to be concerned.
They should be concerned. This is some Mrs. Danvers realness; look out.
It's sad to say this, but two enjoyable episodes in a row seems like a winning streak for a show that floundered so awfully last season. The Mills sisters were great together, each of them had something to do apart, Ichabod was delightful any time the show wasn't hurling backstory at him, and that Abyzou contortionist got paid for a full week of work! Everybody wins. Keep it up.
Amount of show minutes spent in Colonial Times: zero.