Some people just don't do mornings. You know this guy. He's always late for work, and he sleeps through the weekend. It's not laziness, it's an affliction. You love him, and he'll love these gifts.
---
1. Phillips Wake-Up Light
You know what someone who doesn't like cacophonous alarm clocks does with them? Throws the buzzing bastards across the room. This Philips light slowly gets brighter as the time to wake up approaches. It'll help take the edge off your friend's morning. $90 [Phillips]
---
G/O Media may get a commission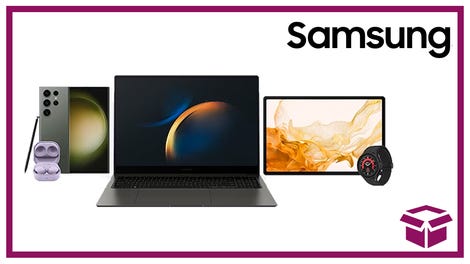 24 hour deals
Discover Samsung - Daily Deal
2. Sony Dash Alarm Clock
Wake-up light or not—your friend is going to need a back up. The Sony Dash is has access to more than 1000 apps from Facebook to weather to news. Instead of falling straight back asleep after hitting the snooze, he can slowly ingest useful information from the world of the willfully awake. $170 [Sony]
---
3. Cuisinart 12-Cup Automatic Coffee Maker and Grinder
For some people coffee is a pleasant every now and then thing. For others coffee is a necessity—if they wake up and it's not ready they fall to pieces. But just because you leave an automatic drip maker on overnight doesn't mean your coffee has to suck. This coffee maker perfectly grinds your coffee right before brewing so it tastes fresh. $200 [Cuisinart]
---
4. Braun CruZer Face 6 Shaver
Shaving is annoying. Shaving when you're late and tired is impossible. This shaver/trimmer combo will leave your slow friend looking fresh-faced even if he's definitely, definitely not. $80 [Braun]
---
5. Faberware Egg Poacher
So far you've woken, shaved, and caffeinated your friend, but if you don't put some nutrients in him, he's not going to get much further than 10AM without collapsing. But who's got time to cook? This egg poacher makes whipping up some protein-packed eggs and cleaning up afterwards a snap. $30 [Faberware]
---
6. Keys, Cellphone, Wallet Door Mat
You know what's going to really make your groggy buddy pissed off he ever got out of bed? Forgetting one of theses three essential daily objects. Life sucks without them. Help him out with a doormat reminder. If only they made one of these mats that read "cigarettes" at the bottom. $40 [Etsy]
---
7. Tempur-Pedic Pillow
Let's face it: your friend likes to stay in bed because he really really enjoys it. So why not help him enjoy it more with a fantastic pillow. Tempur-Pedic's legendary body-molding ergonomic shape induces coma like slumbers unlike any other. $100 [Tempur-Pedic]
---
8. Winsome Desk Bed
For all of those times when your friend is in bed AND awake, this bed desk will help him do almost anything else he could need to. He can eat off it, work on it, and the center panel slants up so that he can prop up reading material on it . The side baskets are great for storing computers, food, etc. If only you could buy your friend a servant to empty a bed pan—he'd never have to leave home at all. $35 [Winsome Wood]
---
9. His and Hers Hoodie Footie
30 Rock has made the Snuggie into a joke. It's not. It's amazing. Tacky and unfashionable you say? Who said anything about leaving the house? The hoodie-footie snuggle suit is the Snuggie multiplied by incredible. One single article of clothing—the only article of clothing your bed-loving friend will ever need around the house. Bunny ears optional. $price [Pajamagram]
---
9. Zombie Slippers
I know, it's the weekend, but sooner or later your friend is going to have to get up and walk around the house for something. Give him some slippers which mime what your friend actually is: undead. $20 [Think Geek]
---
Still haven't found the right present? Don't worry, we're here all month with a new gift guide every day—right up until the last minute. To see 'em all, head on over to #GiftGuide.