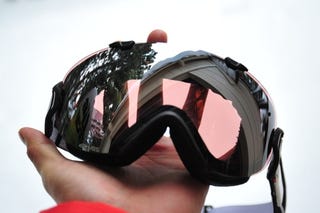 The Gadget: Rimless goggles with a locking lens plate for switching up the glass for sunny or cloudy days. A follow up to their I/O googles, but with improved foam sealing and shape.
The Price: $180
The Rundown: Smith Optics is my favorite goggle company. I usually use their sensor phenom lens on cloudy/storm days, and their full on mirror for sunny days. This goggle ships with both, in a clever zip up nylon box, so you're covered in all conditions. The original I/O had some seal issues around the nose (it, uh, didn't seal well on most people's faces, narrow or broad) but the IO/S (and the improved I/O) fixes that with a piece of foam slit above the nose, with more material for closure. (The S shape is for smaller faces, but is the same concept as the I/O) The shape of the original was also really round, so if you tried to put it on your face, the seal on the lens twisted off the frame. Less so with these, but try them on before you buy. Unlike old swappable lenses on cheap goggs, these lock into place by way of the strap holders and two switches on top. Very sturdy. And, Smith Optics almost never fog, unless you're a sweatball or in a swampy storm. I still prefer to run separate goggles for sunny and cloudy days, because I don't like handling my lenses any more than I have to, but if you can only have one set and these fit, I recommend them for their amazing versatility. [Smith Optics, Snowmodo]
Snowmodo is our snow sport winter meet up at Lake Tahoe, California, with prizes, discounts, tons of fun snow activities, a party and GADGETS. If you can make it please RSVP and find out more info by clicking on the banner below. I'll let you wear my hat (below).