It's occurred to me that I while I've been working on constructing Stormtrooper armor, I haven't actually gone into what I've been using to allow me to do the building. So, let's take a look at what tools are useful when it comes to armor construction.
There's a bit of a disclaimer here: this is just what I've been using. Other prop builders out there, feel free to chime in and let us know what you've found helpful. I'll include some links to what I've got as a sort of shopping list for tools if you're looking at building your own.
First off, one of the tools that's indispensable is a rotatory tool. There's several attachments that go along with this: cutting wheels, grinders and more. I primarily use this for cutting, but also for shaving down odd bumps and bits that just need to come off.
G/O Media may get a commission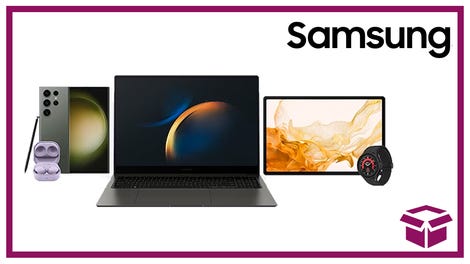 24 hour deals
Discover Samsung - Daily Deal
The next couple of cutting tools that I use are shears and a razor. I used the shears extensively when it came to trimming down the armor, and I used the retractable razor for some precision cutting for the cover strips.
The downside to the shears is that they leave marks - a good sanding is required to smooth down the edges, but it gets the job done. The razor took a little getting used to, but after several tries, it works very well.
Measuring is essential. I've got two metric / English unit rulers on hand: one small, one a foot long. For this particular project, a bunch of the measurements are in millimeters. The longer rulers is really useful for measuring out cutting lines.
Next up, sanding. A power sander is really helpful here: it can sand down and smooth out an edge quickly. I've got a larger one, but I've found that my smaller one is easy to use with one hand.
Of course, regular sandpaper is helpful as well. Keep a couple of grades on hand: coarse, medium and fine, which should cover all of your contingencies if you need to sand down something. I've been hand-sanding stuff when the power sander can't quite get around an edge or curve.
When it comes to attaching one piece of plastic to another, a strong glue is going to need to be used. I've used GOOP over the past couple of years. It's strong and doesn't come apart easily (but it's also not impossible to remove), and most importantly, it's clear - it won't turn a weird color (at least that I've found.)
When it comes to glue, this particular brand doesn't set all that quickly: it takes a couple of hours, and it requires some pressure in order to ensure a good fit. Over the years, I've accumulated a bunch of clamps that I've put to use for various parts. Having more than one size is really useful: smaller clamps can give you some precision, while larger ones can give you some additional pressure.
Rare Earth Magnets are also really useful, especially for large parts that clamps can't reach - I don't have any of those on hand for this project, though.
A couple of things that I didn't think to take a picture of, but which you should have on hand are safety equipment: safety glasses to protect your eyes, and ear protection for while you're using power tools. The handful of times that I haven't used them, I've generally regretted it.
Finally, having a dedicated work space for all of the assembly and work is essential. Here's mine. When I purchased my home, this was one of the things that clinched it: heavy-duty work benches, plenty of space that's out of the way from the rest of the house, space to store all of the tools, and plenty of light in which to work. This past weekend, I was able to put a new table to work, which gives me some extra space to store and work on things.
None of what I've been working on is possible without these things (or similar ones). If you're looking to get into prop building, some of these basics are needed, and fortunately, most can be found at your local hardware store.
---
Past installments: