Ryan Reynolds explains how long we're going to have to wait for Deadpool 2. Tom Hiddleston shoots down a Sherlock rumor while being very circumspect about Thor: Ragnarok. Meanwhile, his Thor co-star Chris Hemsworth says that J.J. Abrams has a Star Trek 4 idea. Hugh Dancy once again teases a Hannibal return. To me, my spoilers!
Pacific Rim 2
A now-deleted Instagram post seemed to reveal that Rinko Kikucki, Charlie Day, and Burn Gorman will be returning for the sequel. However, it also listed Karl Urban's name, and he denied it:
[/Film]
---
J.J. Abrams
Abrams told People Magazine he's out of the reboot business.
You know, I feel incredibly lucky to have gotten involved in things that I loved when I was a kid. In fact, even Westworld, which we're here for tonight, is one of them. But I don't feel any desire to do that again. I feel like I've done enough of that that I'm more excited about working on things that are original ideas that perhaps one day someone else will have to reboot.
G/O Media may get a commission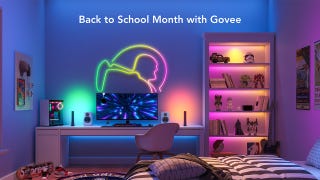 Back to School
Back to School Month with Govee Sale
---
Star Trek 4
Not really, though, because Chris Hemsworth says Abrams has a great pitch for Star Trek 4, which he also said was still happening:
I've spoken to J.J. Abrams, and he has an amazing pitch on the whole thing.
[MTV]
---
Avengers: Infinity War
In the same interview, Hemsworth says he's ready to start filing Infinity War— despite having not read the script.
[It's] a little nerve-racking a couple weeks out, isn't it? But this is the way Marvel does it.
---
Uncharted
The script is complete!



---
Han Solo
Donald Glover spoke to USA Today about gearing up to play Lando:
Not getting to eat anything enjoyable for the rest of my life. Lando's a big deal to me. It was literally the first toy I ever got. When you have something that's kind of iconic … where people pay attention to it, it's hard because you want to live up to the expectation. But all you can do is live up to your own. And Star Wars is really high. I really just want to have fun. The directors: (Christopher Miller and Phil Lord), they're amazing. I love the guy who is playing Han (Alden Ehrenreich). It's going to be a good time. It's going to be fun. I'm getting ready to just have fun with those guys.
And here's a video interview with Variety where he talks about not knowing how many movies he's going to be in and that he couldn't say if he did know:
---
Guardians of the Galaxy Vol. 2
James Gunn gave a few details about Ego, the Living Planet's relationship with his son Star-Lord.
To let somebody love you is a very difficult thing, especially when you're damaged goods. And all of the Guardians are damaged goods.

It runs the gamut of emotions for him, wanting to understand why his father wasn't around to quickly idolizing him and ultimately learning the reality of the relationship and comparing the man who sired him to the man who raised him.
---
Deadpool 2
Ryan Reynolds told MTV, "We're not going to start until we're ready." So, uh, there.
---
Monster Trucks
Here's a clip:
---
Logan
New photos that are actually in color:
---
Transformers: The Last Knight
Here's another TV spot for you to puzzle over:
---
Thor: Ragnarok
Here's a sly, spoilery quote from Tom Hiddleston:
I am in no position to question the Marvel powers that be. But let's put it this way: Doctor Strange has very intensely cerebral, time-bending powers, and at the end of Thor: The Dark World ... Loki's on the throne. What happened to Odin? Maybe Doctor Strange has to help out with that particular conundrum.
[MTV]
---
Sherlock
In the same interview, Tom Hiddleston confirmed he will not be appearing on Sherlock, contrary to recent rumors.
[TV Guide]
---
Once Upon a Time
Rose McIver will return as Tinkerbell.
[TV Line]
---
Hannibal
Hugh Dancy thinks the show could return in four or five years.
My feeling is that, knock on wood, if it came around again, it wouldn't be a bad thing for it to be four or five years later. That might actually be kind of interesting. How weird would that be, on a personal level, to find yourself back with those people? 'So… where did we leave off?'
[TV Line]
---
The Lost Boys
At TCA, Rob Thomas spoke to reporters about his plans for Lost Boys. The CW president said he hadn't seen a script, but Thomas has a plan. It includes each season being set in a new decade (with season one beginning with the '60s while avoiding the movie, season two being set in New York in the '70s, and season three set in the '80s, and season four doing '90s vampire grunge, and season seven getting to 2024), using different characters that the movies, having aging returning humans, and movie character cameos (even though they haven't contacted the stars of the original movie).
Thomas alsocredits the cancellation of The Vampire Diaries for the CW's interest.
I don't think I would've developed it if I didn't know that Vampire Diaries wasn't coming back. I would've doubted they would have put three vampire shows on the air, but I knew they'd put two.
---
Bates Motel
Austin Nichols to recur as major Psycho player, Sam Loomis, "a mysterious and charismatic newcomer to White Pine Bay who quickly antagonizes Norman Bates (Freddie Highmore) when he tries to involve the Bates Motel's owner in his web of lies."
[Deadline]
And her's a trailer for season three.
---
Arrow
Episode 5x15 is titled "Fighting Fire With Fire."
---
Santa Clarita Diet
Here are two promos done in the style of food commercials.
---
Star Wars: Rebels
A clip.
---
The Vampire Diaries
Photos and synopsis from 8x08, "We Have History Together."
Stefan (Paul Wesley) and Damon (Ian Somerhalder) attend an anger management support group looking for their next victim. Sybil (guest star Nathalie Kelley) is still alive and teaching a group of high school students who she'll later use as leverage to get Caroline (Candice King) to locate a historical artifact that can be used against her. Meanwhile, Stefan and Damon continue their commitment to Cade as they test the morals of a young doctor, Tara (guest star Alexandra Chando).
---
Timeless
Press release for 1x13, "Karma Chameleon."
Wyatt convinces Rufus to steal the Lifeboat for an unauthorized mission to prevent Wyatt's wife from being born. Lucy must cover for them in the present, as Agent Christopher discovers the ship is missing and Anthony Bruhl (Matt Frewer) makes an alarming confession.
---
Grimm
Synopsis for 6x05, "The Seven Year Itch."
Nick and Hank join Wu to investigate a bizarre murder in a local park. Elsewhere, Capt. Renard continues to deal with a ghost from his past. Meanwhile, Monroe and Rosalee visit the doctor to see if Diana's premonition is true. Back at the loft, Adalind finds a very weak Eve in the tunnels and mysterious drawings scrawled on the walls.
---
Legion
Four promos!
---
Additional reporting by Gordon Jackson. Banner design by Jim Cooke.