Sony got serious about home-theater Blu-ray at CES 2010, with a 3D, Wi-Fi, Netflix-powered monster with iPhone-app control. Sadly, the model we praised is now pointless. But two cheaper ones—the $200 BDP-S470 and the $250 BDP-S570—are suddenly hot.
There are three reasons we're posting this:
1) Because Sony just announced a new $200 Blu-ray model, the 3D-ready BDP-S470, which will cost only $20 more than the $180 BDP-S370. $20. What distinguishes the two is a firmware update, due this summer, delivering 3D playback to the S470. Literally nothing else, as you can see in the specs below. Both have the iPhone-app control and decent VOD from Netflix, Amazon and others. So why care about the 3D? Why not care, if it's only $20? Besides, if Sony can't upgrade the S370 to 3D, maybe it won't be able to give it other upgrades in the future? Maybe that $20 could cost you, I dunno, like Hulu or something. Think about it. Pay the stupid $20.
2) Because Sony also announced that it would give the Wi-Fi-equipped S570 the very same 3D capability, in that very same firmware update. As long as you're willing to wait till this summer for the update, you get basically everything the more expensive BDP-S770 gets, but you save $100 (or more). What will the S770 have now that the S570 doesn't? A backlit remote. Whoop-de-freakin'-do.
And 3) Because we don't get what's going on either. Why sell the bottom-line S370 or the high-flying S770 at all? Maybe they're for the suckers at either end; they're certainly not for anyone paying attention. More importantly, why didn't they announce the S570's 3D capability at CES, aka 3DFestapalooza 2010?? Why completely hide/forget what will likely will be their best-selling model, the S470? Either Sony has a crazy-like-a-fox strategy to confuse and saturate, or nobody was sure of the plan a scant month ago.
G/O Media may get a commission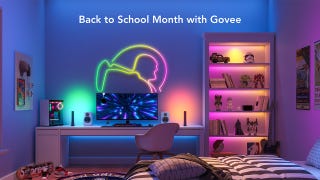 Back to School
Back to School Month with Govee Sale
The matter for you comes down to whether or not to spend $50 extra for Wi-Fi. (Update: It's Wireless-N.) Thankfully this weird model shake-up will benefit you, as long as you remember the two models in the headline, and forget about the rest.
Quick refresher of the three models shipping this month:
Specifications:

BDP-S570 Blu-ray Disc Player

Available in February for about $250

* Full HD 1080p single-disc Blu-ray Disc, DVD, CD, SA-CD player
* Blu-ray 3D ready (with firmware update available this summer)
* BRAVIA Monolithic Design
* BRAVIA Internet Video and BD-LIVE™
* IP Content Noise Reduction
* Built-in Wi-Fi® Wireless (802.11) with Wi-Fi Protected Setup (WPS)
* Entertainment Database Browser with Gracenote technology
* BD Remote (iPhone/iPod touch remote control – free app.)
* Photo/music/video playback via USB and DLNA® (with firmware update)
* DVD upscaling to 1080p with Precision Cinema HD Upscaling
* Dolby® TrueHD and dts®-HD Master Audio™ decoding
* Built-in 1GB Memory

BDP-S470 Blu-ray Disc Player

Available in February for about $200

* Full HD 1080p single-disc Blu-ray Disc, DVD, CD, SA-CD player
* Blu-ray 3D ready (with firmware update available this summer)
* BRAVIA Monolithic Design
* BRAVIA Internet Video and BD-LIVE
* Wireless LAN Ready (USB wireless LAN adapter sold separately)
* Entertainment Database Browser with Gracenote technology
* BD Remote (iPhone/iPod touch remote control – free app.)
* Photo/music/video playback via USB and DLNA (with firmware update)
* DVD upscaling to 1080p with Precision Cinema HD Upscaling
* Dolby TrueHD and dts-HD Master Audio decoding

BDP-S370 Blu-ray Disc Player

Available in February for about $180
* Full HD 1080p single-disc Blu-ray Disc, DVD, CD, SA-CD player
* BRAVIA Monolithic Design
* BRAVIA Internet Video and BD-LIVE
* Entertainment Database Browser with Gracenote technology
* Wireless LAN Ready (USB wireless LAN adapter sold separately)
* BD Remote (iPhone/iPod touch remote control – free app.)
* Photo/music/video playback via USB and DLNA (with firmware update)
* DVD upscaling to 1080p with Precision Cinema HD Upscaling
* Dolby TrueHD and dts-HD Master Audio decoding