More likely than not, you've owned at least one Sony product during your short time on Earth. Perhaps you rocked a Walkman, grew up gaming on PlayStation, or watched a favorite movie on... Betamax? You'll notice there's not a smartphone in that mix. But perhaps the Xperia Z3v—the v stands for Verizon—might convince you to pick one up.
What is it?
The Z3v is a Verizon-exclusive Sony flagship smartphone, and the first Sony handset on Verizon since the ill-fated "PlayStation Phone." It costs $200 on contract, and has the specs to match: a 5.2-inch 1080p screen, speedy Snapdragon 801 processor, 4K video recording, and waterproofing. But as far as design is concerned, the Z3v is basically the Z2 released in the spring. Considering that the Z3 was little more than a design refresh itself, the Z3v is kind of an awkward middle child between the two.
Why is it important?
The reason you never see anyone brandishing a Sony smartphone in the U.S. is because it's pretty hard to get your hands on one. Your choices have been T-Mobile or off-contract. For the average smartphone buyer, presence in carrier stores is still a huge factor in selling smartphones. If you can't park your device right next to Apple and Samsung, you're already facing an uphill battle.
G/O Media may get a commission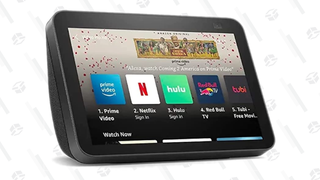 The Z3v is another way for people to try out Sony smartphones on the nation's largest carrier. And now might not be a bad time to make an acquaintance.
Design
Sony's Xperia smartphones have long resembled monoliths ripped straight from 2001: A Space Odyssey, and the Z3v carries on the same blocky design. In this case, the same exact design as the Xperia Z2, which was actually released globally in the spring. Since Americans never actually saw that phone in carrier stores, perhaps it's fresh enough. You also can't really have a phone called the Z2v after you've announced the Z3, now can you?
Inside those very rectangular dimensions, you'll find two panes of tempered glass encircled by a curved plastic rim, with flat aluminum panels set into the edges. Embedded along those metal sides are three separate port covers individually housing the microUSB port, microSD card slot, and SIM tray. These mini doors help protect the Z3v so it can sport some rather impressive waterproofing.
I've had mixed experiences with these H2O-proof hatches in the past. After only a couple weeks of using a Xperia Z1s, I unknowingly snapped off one of the doors while shoving the phone in a pocket, and that was it: no more waterproofing. Frustrating to be sure. On the Z3v, the design feels robust, but that doesn't mean I magically love the ports. I'm OK with covering the SIM and microSD cards: rarely do you need to get access to those things anyway. But the charger is something you need to get at every day, and HTC's new Desire Eye uses nanocoating to protect its charge port from unwanted hydration. That could cut back on the possibility of making you very sad after cannonballing into a pool with one of the port covers open.
That said, you could avoid ever having to open a port cover if you use the built-in magnetic charger. Spending some time with the absolutely wonderful Z3 Compact earlier this month, I mentioned something along the lines of "I only wish Sony had also managed to cram in wireless charging...so it didn't have tiny embedded charging pins breaking up the rim of its good-looking frame." The Z3v perfectly addresses my frustrations. Including Qi wireless charging just makes more sense for both user-friendliness and cohesive design. Also, I happen to think wireless charging is a particularly delightful form of dark magic.
The Sony Z3v compared to the Z3 Compact
The Xperia Z3v packs its hardware between two panes of tempered glass. This helps convey the elegance typical of Sony's products but little to ease my OCD cleanliness. Yes, I'm the guy usually sitting on trains taking a microfiber cloth (or more often my shirt) to my smartphone—only to get prints all over it moments later. Now multiply that by two. The glass back looks great, no question about it, but catch light just the right way, and your smartphone transforms into some kind of Jackson Pollock finger painting.
And it's not just a few smudges that dirties up the Z3v's otherwise eye-catching appeal: Verizon also litters the thing with branding. Not only does it kick Sony's logo off the top bezel but also completely replaces it on the back with a "Verizon 4G LTE" banner. Then there's also still a logo for the Xperia brand, a tiny logo for NFC, and the megapixel count right next to the camera lens. It's a shame really because all that needless flag planting takes away from the great simplicity Sony has here.
Despite its smudginess and loud logos, the glass setbacks pretty much end there. This phone feels solid when you hold it and it's not prone to slips because of its atypical choice of materials. In fact, the glass adheres to my hand better than my plastic Nexus 5, which eases my recurring nightmare of crashing this thing into the pavement.
Using It
The Sony Xperia Z3v arrives as one of many similarly sized Android smartphones. The Samsung Galaxy S5, HTC One (M8), Moto X, and the rumored Droid Turbo are all available on Verizon with the biggest size gap among screens being only 0.2 inches. Clearly these companies think people want smartphones around this size, a comfortable space right before entering phablet territory. But it also makes the Z3v that much harder to differentiate from the pack.
But what these handsets lack in display variety, they offer in vastly different software approaches and features (which is why we love Android so much). Where some may enjoy Motorola's augmented stock operating system or love getting lost in the infinite bells and whistles baked into TouchWiz, Sony's UI also comes with its own blend of strengths and weaknesses.
Strengths: anything that has to do with PlayStation. The PS4 is currently Sony's most popular hardware with millions of the small black boxes sitting in the homes of gamers everywhere. Which means that Sony's pre-installed PS4 app has the potential to be one of the more useful apps made by any Android smartphone maker. Right now, the app serves as little more than a central hub for your PSN account, letting you track your friends' gaming activity, act as a remote control, access the PSN store, and stare longingly at your collection of virtual trophies.
But with Sony's promise of bringing Remote Play to the Z3v, you'll now be able to game with PS4 performance right on the device. Yes, you could play Destiny without ever getting out of bed. If that's not the dream, I don't know what is.
Particularly since the Xperia Z3 line may be the absolute best smartphones in their weight class for consuming content. The Z3v's 5.2-inch 1080p screen provides enough pixel real estate to make console gaming on a phone worthwhile. Its dual front-firing speakers push audio at you rather than in any other nonsensical direction. Bigger bezels on the top and bottom of the device make holding the phone comfortable in landscape, and cut down on accidental touches too.
This is all brought to you by a great-looking 1080p IPS LCD screen, which means wide viewing angles and low power consumption. Even with my full 1080p television set 10 feet away, I unconsciously chose to binge watch American Horror Story and the peruse NHL highlights on Z3v instead. It just looks really pretty.
Where Sony takes a lot of its display know-how from its TV business, it's also pretty well-known for its cameras. Sony's 20.7 megapixel lens captures great images on the Z3v. With the physical hardware key included and huge selection of camera modes—with some I would conceivably use!—taking photos on this thing was pretty fun. You can even snap underwater, thanks to those port covers and dedicated shutter button.
Much like Microsoft's Lumia smartphones, often considered the best snappers in the biz, you don't get 20.7-megapixel photos: Sony takes 8-megapixel images and uses the rest of the sensor to oversample photos and improve quality.
Taken with the Sony Xperia Z3v
Also like a Lumia, I got great results...in most scenarios. Under normal lighting conditions, the Z3v's "Superior auto," worked great. But there were times, especially when trying to capture any kind of movement in low-light that the Z3v fell short.
The Z3v can also capture 4K content even underwater (if you so choose.) The physical camera key helps make the smartphone useful when wet because the capacitive screen doesn't work at all when completely submerged. You can assign the physical key different functions if you do find yourself taking the plunge, but it's probably best to do press record then dive.
Now for a few weaknesses. There's a loooooot of crap on this phone, and by crap I mean pre-installed shitty apps I don't need or want. Let's take a look: Amazon Kindle, Amazon Music, Amazon App Store, AR Effect, Audible, Background Defocus, Caller Name ID, Verizon Cloud, Lifelog, Messages+, Movie Creator, My Verizon Mobile, NFL Mobile, Smart Connect, Softcard, Sony Select, Update Center, Verizon Voicemail, Verizon Navigator, VZ Protect, What's New, Xperia Lounge and more. That's all before I even downloaded my first app. Also, good luck uninstalling it (hint: you can't).
Sony offers some TouchWiz-like features with windowed browsing and an on-screen calculator.
And a design perspective, Sony's operating system and its apps clash pretty noticeably with what Google is trying to accomplish with Android. To be honest, it all feels a little 2012. Not to say the interface isn't worth using —in fact, it's quite intuitive, but it's definitely not much to look at. With the Nexus 6 launching with the beautiful Lollipop operating system, and other Verizon-bound Motorola handsets getting the update very soon after, Xperia already feels behind the curve.
Like
The battery life on the Z3v is amazing. With a hefty 3,200 mAh battery, you'd have to try really, really hard to drain this phone in one day. My experience with untethering around 8am and using as my daily driver (emails, texts, phone calls, video, photos, GPSing) I was easily able to get through a full day and even a couple hours on a second. If you neglect to charge, you can also activate Stamina Mode, Ultra Stamina Mode, or even preset the phone to kick into Low Battery mode when you're below a certain percentage. Long story short, your battery woes are over.
With the brief amount of time I was able to spend with Xperia's Remote Play feature at Sony's Z3v launch event (the actual service isn't available until November), it definitely seemed like it could sell some people on this device—especially the PlayStation devoted. However, I wasn't able to test on my admittedly shitty home network. Sony requires a $40 mount to connect it to your DualShock controller and a "high-capacity connection." If your network is somewhere on the spectrum between "kind of laggy" and "throw your router out the window," it might not do you any good.
I'm a huge fan of the display. It looks great, and after about a week I was used to the size (even though the Compact is still more to my liking). The responsive Snapdragon 801 processor with expandable storage and 3GB of RAM all inside a waterproof wrapper hits a lot of must-haves on my list.
Note: Capacitive touch is still crappy when wet.
No Like
The Z3v is great and everything, but the actual Xperia Z3 looks much better. I prefer the rounded edges and thinner footprint. That's not to say the Z3v looks bad, but it's a shame to buy a brand-new phone with a design that's 6 months old. As you probably know, six months can be a lifetime in the tech space.
The operating system looks fine, but if this thing will be going up against a fleet of Verizon Motorola phones, it's hard to believe many would prefer Sony's heavily-skinned approach. That's not to mention Motorola's reputation for quickly updating Android smartphones. For comparison, Xperia users are still waiting for Android 4.4.4.
Should I Buy It
I can only see one kind of person buying this phone — a PlayStation superfan. Of course, anyone could buy this phone and be happy with the purchase, but man—there are just a lot of great smartphones to choose from around this 5.2-inch size and at a $200 price on contract.
The Z3v doesn't stand out where it really needs to. Imagine a Verizon sales floor with the Sony Xperia Z3v sitting right next to a Moto X, Nexus 6, or the upcoming Droid Turbo, and I don't see many people picking up an Xperia over the competition.
That's a bummer because this is a really well-made phone with awesome abilities like Remote Play and rugged waterproofing, and for the right gaming-minded customer it's a perfect match. But more often than not, people will probably look elsewhere.
Sony Xperia Z3v Specs
• Network: Verizon
• OS: Android 4.4.4 with Sony Xperia UI
• CPU: Snapdragon 801
• Screen: 5.2-inch 1920 x 1080 Full HD IPS LCD (424 PPI)
• RAM: 3GB
• Storage: 32GB with up to 128GB microSD expansion
• Camera: 20.7MP rear / 2.2 MP front
• Battery: 3200 mAh