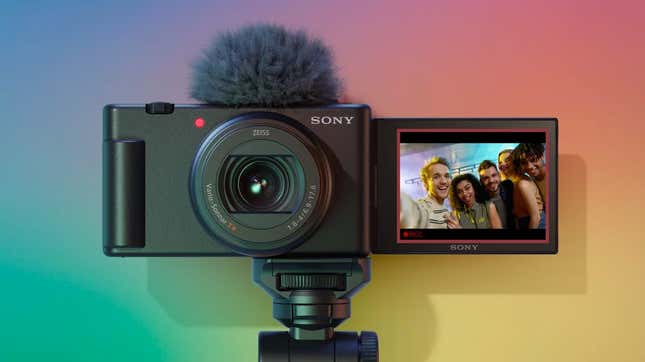 There's been some debate as to whether or not there exists enough of a market to warrant a mirrorless camera that focuses on video features targeted at content creators. But three years after the debut of the Sony ZV-1, and several other models in between, Sony is introducing an update to the original with the ZV-1 II, which features an even wider angle lens, among other requested upgrades.
Like the original, the new ZV-1 II (or ZV-1 MKII, or ZV-1M2) features a fixed lens (you'll need to step up to the Sony ZV-E10 if you want to use your own glass) but Sony has improved its capabilities. The original offered a 24-70mm zoom range, but the new version shifts that a little lower to 18-50mm. There's some sacrifice on the telephoto end, 70mm down to 50mm, but when zoomed out to 18mm, the ZV-1 II will now be able to accommodate more people in frame.
It's an impressive optical feat for a camera of this size with a fixed lens, but it does come with one other sacrifice. The ZV-1 had an aperture range of f/1.8-2.8, but the ZV-1 II is now f/1.8-4, so you won't be letting in as much light when fully zoomed in on a subject.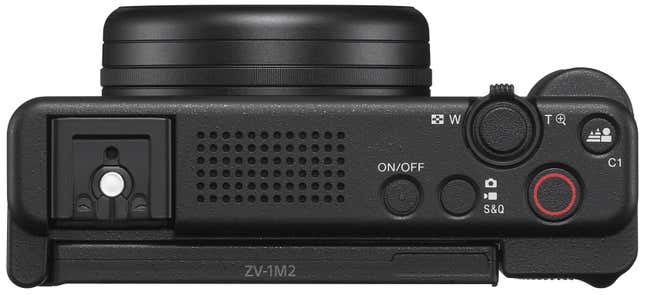 The 20.1-megapixel ZV-1 II carries over a lot of the features and the same overall design of its predecessor, including a dedicated button that forces the camera to focus on objects closer to it for those making videos demonstrating products, as well as a bokeh button that stops down the aperture as far is it can go (while adjusting other settings to compensate) in order to blur out the background behind the on-camera subject.
There's still no viewfinder, but the built-in microphone on top now offers three settings for its pickup pattern: focusing on what's in front of the camera, what's behind the camera, or both, which is ideal for those who like to give walking tours while carrying a camera and providing narration as to what's being seen. It also still accommodates external microphones, but only through a 3.5mm audio jack: you can't connect another audio source digitally, or through a wireless connection like Bluetooth.
Despite only being three years old, the original ZV-1 still relied on a microUSB port for those wanting to connect it to a computer and use the camera as an upgraded webcam for live streaming. With the ZV-1 II, that has been rectified with a USB-C port on the side of the camera.
The Sony ZV-1 II will be available starting in June for $900, which is $100 more than its predecessor.