The RX1r Mark II is what you get when you put some of the most advanced camera sensor tech in the smallest possible footprint. This 42 megapixel tiny monster is a follow-up to 2012's RX1 (and RX1r), and it is one formidable—and expensive—photographic tool.
When the RX1 came out people were not sure of what to think about a $3000 compact camera. It was out of reach for most, but clearly excelled in taking extremely high quality pictures. The RX1r Mark II looks mostly the same as the original and costs even more at $3300. For that extra dollar it brings got a few new facets that make it even more overkill than before. At the top of the list is a 42 megapixel sensor, similar to the one in the A7r Mark II which we were very impressed with. Just as cool is a new pop-up OLED viewfinder, which will make the camera even more appealing for enthusiasts. The rear now LCD tilts, improving over the completely flat display of the original.
On the inside is the top tier Bionz X processor, and improved 399-point hybrid autofocus system. I got to toy with the camera earlier, and it definitely felt way snappier to focus than the original.
G/O Media may get a commission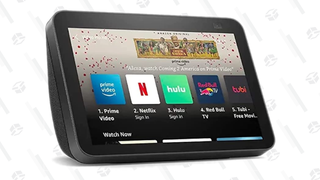 The lens on the RX1r II is the same as before, a 35mm f2 Zeiss lens. Many people see this kind of camera and wonder why the hell you would pay so much for one lens option when you can buy an interchangeable lens camera and have more choice. Well, one reason is size. You simply cannot make a full-frame camera this small with interchangeable lenses because of how the elements must pair with the sensor and body. This very precise construction also makes for very well-honed optics. Expect sharp results corner-to-corner.
There is something else that is very unique about the RX1r II, and that's an optical variable low-pass filter. A who now huh, you say? I'll explain.
Certain fine detail patterns in a scene can distort a photo in weird ways, creating something called moiré patterns. It looks like shit. This often happens more often with high resolution cameras. To mitigate this, most cameras have a low-pass filter which slightly blurs the image to erase the distortion. But people who salivate over the highest possible level of detail in their photos dislike the slight blurring, so manufactures have opted to leave the low-pass filter out of their latest cameras. Either you get the highest possible quality with risk of moire, or sacrifice a bit of quality knowing you'll never see those ugly distortions.
The RX1r Mark II bucks the trend by including an OLPF, but the user can switch it on or off at will, and even choose different levels of strength. You can also shoot bracketed shots with varying levels of low-pass, and choose which one looks the best to you.
This is a niche feature to be sure. Most people don't know about low-pass filters, or care. But it's really cool that Sony is tackling this problem that does irk experienced photographers, and their solution seems very effective.
The RX1r Mark II is unconscionably expensive, at $3300. The only people who will buy it are rich people or those who see a very specific and absolute need for an extremely small camera of the highest quality. But even though the price is steep, I'm glad a product like this exists, because it's just so cool.
---
Contact the author at mhession@gizmodo.com.