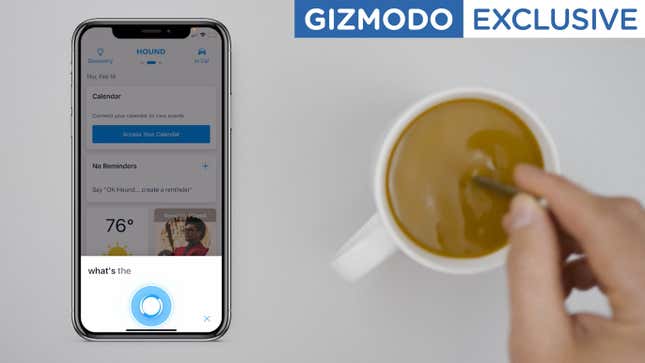 SoundHound, a voice AI company, laid off nearly half of its remaining staff last week—roughly 200 people—in a major company-wide downsizing, according to three employees who lost their jobs and an email from the CEO viewed by Gizmodo. What's more, the former SoundHound employees are in for a rough landing. Their severance package includes no healthcare and just two weeks of severance, and that's only if SoundHound can raise more money, the three laid off staffers told Gizmodo. If the company can't secure additional funding, the former employees said they don't know what will happen to them.

Nobody's Really Watching Reels
An ex-employee summed up the state of affairs in one word: "Pitiful."
"Im actually quite shocked by the way the layoffs were handled," one of the laid off employees told Gizmodo. "I was expecting a 17 year old company, which is now a public company, to at least provide bare minimum severance."
The severe cuts come just two months after another round of layoffs that saw 10% of the company's workforce eliminated and others burdened with salary reductions. SoundHound's workforce numbered 450 prior to the layoffs, but staff has been cut more than 50% in just three months, according to the former employees.
In his email to staff, SoundHound co-founder and CEO Keyvan Mohajer described a period of rapid growth in 2021 but said changing market conditions were forcing it to re-evaluate its financials and accelerate its path to profitability in 2023.
"When we set course in early 2021 to become publicly listed, high tech companies like SoundHound were the darlings of the investor community," Mohajer wrote. "Companies who could achieve high growth, despite high costs, were seen as engines of a future economy. However, as a result of changing economic conditions, including high interest rates, rising inflation, and fears of recession, companies with our profile became much less desirable."
SoundHound did not respond to Gizmodo's multiple requests for comment.
Mohajer added personal reflection on meetings with investors to his email: "As I reflect on the feedback I received from the investor community during countless meetings over the last several months, a recurring theme was that they loved our technology, vision, perseverance, talented team, and business strategy."
Mohajer finished with a line that's sure to be cold comfort to both the remaining employees and those he let go: "But they were concerned that SoundHound does not have the heart to let go of its people."
The CEO seems to have found the "heart" to lay off his people.
Though many other of the estimated 107,000 tech workers who lost their jobs as part of the recent tech downturn were provided comfortable exit packages, the laid off SoundHound employees speaking with Gizmodo said that wasn't true for them. In their case, the former employees said they would receive only two weeks severance and no health care, with one employee adding SoundHound human resources said the severance was contingent on the company raising additional funding. The employees asked to remain anonymous so as not to jeopardize what severance they could receive.
SoundHound's trajectory is a familiar one in the tech industry this year. Companies as large as Amazon, Snap, and Meta scaled up their workforces in 2020 following the onset of the coronavirus pandemic only to face major economic headwinds in late 2022 and 2023. Amazon nearly doubled the size of its layoffs from 10,000 to 18,000 employees last week.
Founded in 2005 by a group of Stanford graduates, SoundHound has become a major provider of AI voice software used by a variety of household names. Music streaming service Pandora, for example, uses SoundHound's platform to let customers pause, play and skip songs using only their voice. Snap uses SoundHound's tech to provide real-time automatic captioning services in its Voice Scan camera search feature. The company also has a pair of mobile apps called SoundHound Music and Hound, which are used for music discovery like Shazam and voice search assistance, respectively. SoundHound went public via a SPAC in early 2022. The company's customers include Mercedes-Benz, Snap, Netflix, and other brands spanning multiple industries.
"It's really disappointing to see SoundHound's once bright future ruined by executive decisions made in the wake of going public," one of the laid off workers told Gizmodo. "While the outcome of going public was not easily foreseen when the process was begun, as it became clear that far less cash would be raised than anticipated steps should have been taken to preserve cashflow rather than the unbridled hiring which took place."
The major layoffs come less than two months after the company reportedly moved to cut around 10% of staff. In addition to the layoffs, an unknown number of staff at the time also experienced salary cuts, some as high as 20%, according to one of the former employees.