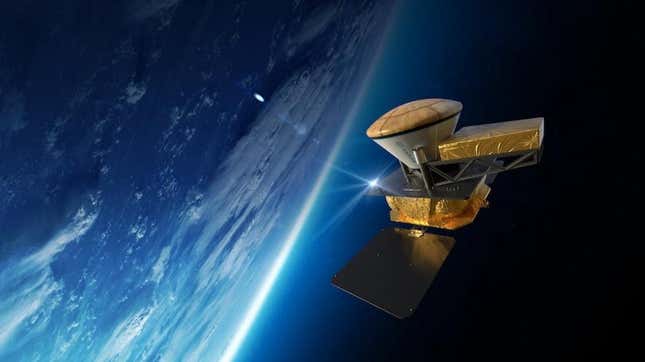 SpaceX's Falcon 9 rocket lifted off this week while carrying 72 small satellites, including the first in-space manufacturing spacecraft with a mission to produce pharmaceutical drugs in orbit and return them back to Earth.
Astronomers Could Soon Get Warnings When SpaceX Satellites Threaten Their View
Varda Space Industries' first space factory is operating in orbit after launching on board a Falcon 9 rocket from California's Vandenberg Space Force Base on Monday, according to a press release. The spacecraft itself was built by Rocket Lab and is designed to provide power, communications, propulsion, and attitude control to Varda's 264-pound (120-kilogram) capsule, which is designed to manufacture and carry the products on its way back to Earth.
The California-based startup wants to manufacture products in space that can benefit from being created in the microgravity environment and delivered back to Earth at a fast rate. Varda's vision is aided by the increased access to space over the past couple of years, making it easier to launch its capsules into orbit.
The first capsule sent to space will attempt to produce pharmaceutical drugs while in the microgravity environment and return those products in the re-entry capsule. The spacecraft is set to spend about three months in orbit and send around 90-130 pounds (40-60 kilograms) of finished product on a trajectory toward Earth.
Varda was founded in 2020 (one of its cofounders was a former SpaceX engineer) and aims to use space to create better products for Earth. The microgravity environment provides some benefits that could make for better production in space, overall reducing gravity-induced defects. Protein crystals made in space, for example, form larger and more perfect crystals than those created on Earth, according to NASA.
The startup raised $42 million less than a year after its inception. Varda ordered four Photon spacecraft from Rocket Lab for its in-space pharmaceutical manufacturing capsules, the second spacecraft is currently undergoing assembly, integration, and testing, according to the company. If all goes well for its first mission, the Varda capsule will return to Earth soon, packed with a payload of space drugs.
For more spaceflight in your life, follow us on Twitter and bookmark Gizmodo's dedicated Spaceflight page.