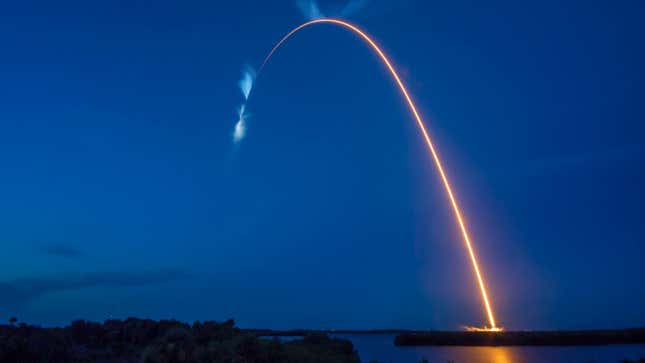 Update: March 15 at 9:31 a.m. ET: The Falcon 9 lifted off at 8:30 p.m. ET on March 14, carrying 6,200 pounds of cargo to the ISS. The Dragon is expected to dock at the orbital outpost on March 16 at 7:52 a.m. ET.
Astronomers Could Soon Get Warnings When SpaceX Satellites Threaten Their View
Original article follows.
NASA and SpaceX are gearing up to launch a cargo capsule carrying research and supplies for the crew on board the International Space Station (ISS). You can watch the rocket liftoff live right here.
SpaceX's 27th commercial resupply mission (CRS-27) will launch on Tuesday at 8:30 p.m. ET from Launch Complex 39A at the NASA's Kennedy Space Center in Florida. Meteorologists with the launch center's Weather Squadron are predicting an 80% chance of favorable weather conditions for liftoff, NASA wrote in a blogpost on Tuesday.
The event will air live on NASA's website, as well as the space agency's YouTube page. You can also tune in through the feed below, which is scheduled to begin at 8 p.m. ET.
SpaceX's Falcon 9 rocket will carry the Dragon spacecraft on board, delivering it to orbit so that it can rendezvous with the ISS. Dragon is packed with more than 6,200 pounds equipment and supplies for the orbiting space station, as well as 60 new science experiments, according to NASA. Some of the supplies launching with CRS-27 will be used for a 3D bioprinter that launched to the ISS in November 2022, in what will be a fascinating attempt to build a full-sized meniscus in low Earth orbit.
Also launching on board the Dragon spacecraft is NASA's HUNCH Ball Clamp Monopod, a student-built project that could make it easier to film in space, and the Japanese Space Agency's Tanpopo-5 investigation that studies how life survives in space and on alien planets. Dragon will also carry two cubesats for the Educational Launch of Nanosatellites (ELaNa) 50 mission to low Earth orbit.

More: NASA's Latest Request for Cash Includes Big Plans for a Deorbiting ISS 'Space Tug'