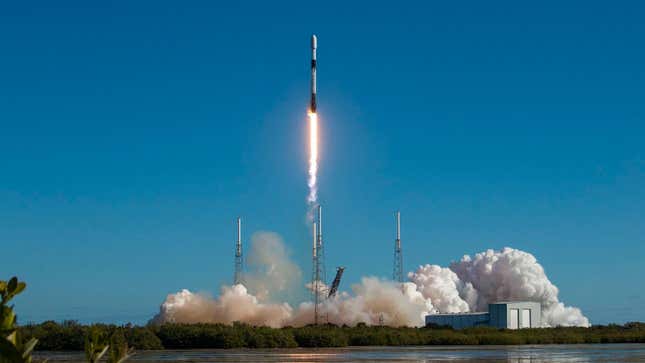 SpaceX's sixth dedicated rideshare mission lifted off from a Florida launch pad on Tuesday, delivering a whopping 114 payloads to low Earth orbit. It's a promising start to 2023, as the company strives for 100 orbital launches in a single calendar year.

Astronomers Could Soon Get Warnings When SpaceX Satellites Threaten Their View
The Transporter-6 rideshare mission took flight on Tuesday morning as a SpaceX Falcon 9 rocket lifted off from Space Launch Complex 40 at Florida's Cape Canaveral Space Force Station. The first stage booster returned to the base some eight minutes later, performing its 15th successful vertical landing. That ties a record for booster reusability, according to the company.
This is the second largest single deployment for the company, the largest being 143 satellites launched aboard the Transporter-1 mission in January 2021. It's also the 200th successful launch for SpaceX and its sixth dedicated rideshare mission.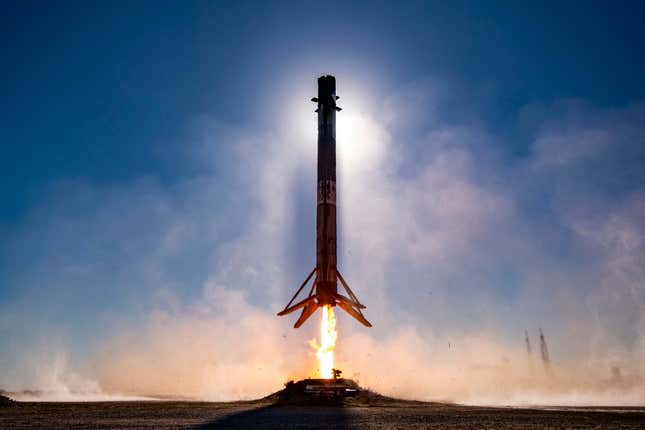 The 114 payloads included in the mission are set to roll out across 82 deployments, of which 78 have already been confirmed. "Teams are continuing to review data for the remaining payloads, though it may take customers some time to provide additional information on the status of their payloads," SpaceX said in a tweet. Several third-party space tugs are responsible for these ongoing deployments. The Transporter-6 payloads includ tiny picosatellites that can fit in the palm of your hand through to microsatellites weighing upwards of 220 pounds.

As reported in Teslarati, four different space tugs were included in the mission: Launcher's Orbiter, Epic Aerospace's CHIMERA, Momentus Space's Vigoride, and a pair of D-Orbit IONs. The Orbiter and CHIMERA space tugs are currently performing their first missions. Space tugs, which deliver satellites to higher orbits, are part of an emerging trend; satellite companies can leverage the low cost of Falcon 9 launches and still send spacecraft to high orbits, such as geosynchronous Earth orbit (GEO) or even to the Moon and beyond.
Three dozen Planet SuperDove Earth-observing satellites were included in the mission, adding to the company's current fleet of 200 satellites. Gama, a French startup, sent its first solar sail prototype, Gama Alpha, to space. Satellogic, Open Cosmos, Alba Orbital, Skykraft, and EOS Data Analytics were among the many companies that took part in the rideshare mission.
SpaceX established a new record in 2022, performing 61 orbital launches in a single year. All but one of these launches were performed by a Falcon 9 rocket, the sole outlier being the launch of a Falcon Heavy. Company CEO Elon Musk said SpaceX will aim for 100 launches in 2023, which will require the company to work at a pace of two launches per week. For virtually every other launch provider in the world, this remains impossibly out of reach, but for SpaceX, such a launch cadence is possible owing to its highly reliable and reusable Falcon 9 rocket.
The SpaceX launch manifest is indeed a busy one, with some noteworthy launches happening later this month, including the scheduled launch of OneWeb internet satellites on January 8 and two missions for the U.S. Space Force, one of which will involve the Falcon Heavy. Looking deeper into the year, there's the Polaris Dawn private mission and the potential launch of Starship on its first orbital mission. Like Musk himself, SpaceX is poised to hog a lot of media attention in 2023.

More: SpaceX Could Help Bring Back 3 Astronauts Stranded on the ISS