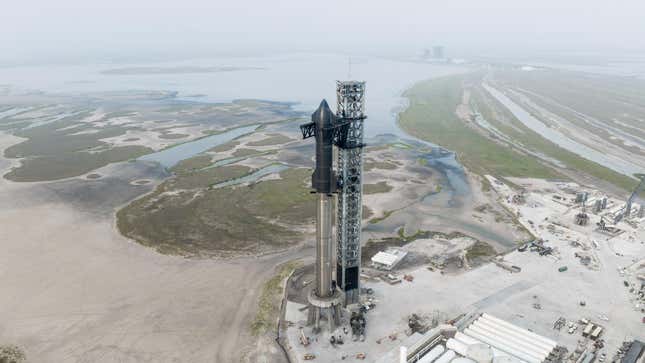 The SpaceX Starship rocket's orbital test flight has been in the works for months, but it looks like it might finally be happening in a little over a week. No, we really mean it this time.
Astronomers Could Soon Get Warnings When SpaceX Satellites Threaten Their View
On Monday, SpaceX CEO Elon Musk wrote on Twitter that Starship could launch during the third week of April. Starship has been declared "ready for launch," Musk wrote in an earlier tweet on Sunday. The company completed a final flight readiness test over the weekend, which showed that its massive heavy-lift vehicle was ready to fly for the first time, Ars Technica reported.
SpaceX may be targeting April 17 for Starship's orbital test flight, with backup dates from April 18-21, according to the Federal Aviation Administration's Operations Plan Advisory. But, as Musk indicated in Sunday's tweet, SpaceX is still waiting on "regulatory approval" in the form of a launch license from the FAA. Anonymous sources told Ars Technica that the FAA may be granting SpaceX its licensing this week but added that there was no guarantee it would happen.

Last week, the 394-foot-tall (120-meter) rocket was fully stacked on its launch pad at the company's Starbase facility in Boca Chica, Texas. "Team is working towards a launch rehearsal next week followed by Starship's first integrated flight test ~week later pending regulatory approval," SpaceX said Thursday on Twitter. During the launch rehearsal, which could take place sometime this week, SpaceX engineers will fuel the rocket's first and second stage as though to prepare them for launch, but the rocket's engine will not actually ignite.
If it all comes together in time, SpaceX could finally see its Starship rocket fly for the first time. The company has been eagerly awaiting the rocket's inaugural flight for nearly two years, conducting a series of limited static fire tests of the booster's engines. In February, the company performed the first full-scale static fire test of the Starship system, which SpaceX officials declared as the "last box to check" before the rocket's first orbital launch attempt.
During its orbital test flight, the rocket will blast off and the upper stage will perform less than a full orbit around Earth before reentering the atmosphere and splashing down in the Pacific Ocean near Hawaii.
If it is successful, SpaceX is hoping to put its megarocket to work, delivering its next-generation Starlink satellites to orbit. SpaceX also has a $2.89 billion contract with NASA; the plan is to use Starship to land humans on the Moon by late 2025 as part of the space agency's Artemis 3 mission.
It's true Musk has thrown out launch dates for Starship's test flight before that never materialized, but SpaceX seems to have most of the requirements in order this time around—save for that coveted launch license.
For more spaceflight in your life, follow us on Twitter and bookmark Gizmodo's dedicated Spaceflight page.