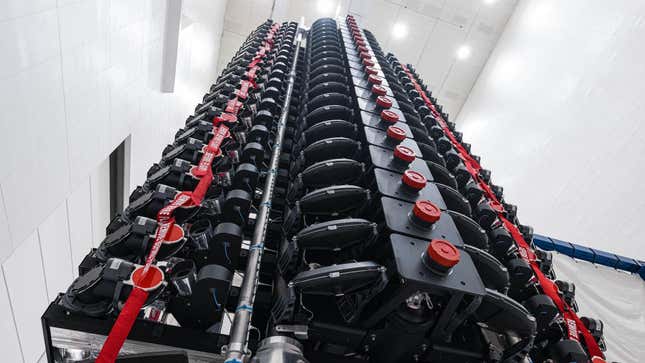 The newly launched Starlink V2 Mini satellites appear to be in trouble, Elon Musk confirmed yesterday. The SpaceX CEO said some units will likely have to be deorbited and destroyed in the Earth's atmosphere, while the remaining units stay in space for further testing.

Astronomers Could Soon Get Warnings When SpaceX Satellites Threaten Their View
On Wednesday, SpaceX CEO Elon Musk wrote on twitter, "Lot of new technology in Starlink V2, so we're experiencing some issues, as expected." He added that some satellites "will be deorbited, others will be tested thoroughly."
Musk was responding to ongoing speculation by experts who have been monitoring the orbit of the V2 Minis, noting that some satellites were lowering their altitude while others were in a more eccentric orbit than others. SpaceX did not respond to Gizmodo's request for more information after we reached out last week.
"I think they are debugging some issue with the new sats, and we'll see in a few weeks if they resume orbit raising," Jonathan McDowell, astrophysicist at the Harvard-Smithsonian Center for Astrophysics, wrote on Twitter.
SpaceX recently unveiled the first batch of 21 next generation Starlink satellites, launching them on board a Falcon 9 rocket on February 27. The V2 Minis are miniaturized versions of SpaceX's full-sized, next generation Starlinks. Equipped with more powerful antennas and high-speed frequencies, the V2 Minis are meant to help SpaceX increase the capacity of its internet megaconstellation.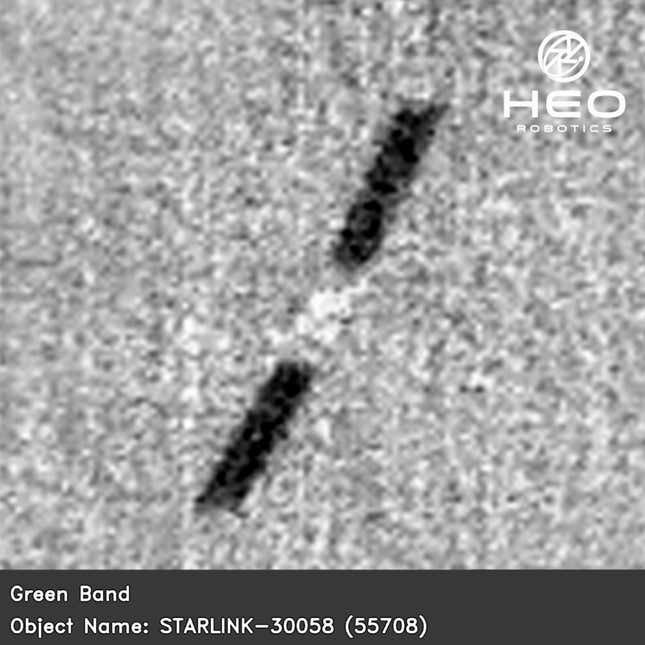 The V2 Minis are designed to temporarily fill the gap for the increasing demand on SpaceX's Starlink network until the company can launch the full-sized version of its next-generation satellites. Unfortunately, the full-sized V2s can't fit inside a Falcon 9 rocket. Instead, SpaceX is waiting on the launch of its Starship megarocket that's designed to handle larger payloads.

Musk said the issues with the V2 Minis were to be expected, but the fact of the matter is that SpaceX chose to launch 21 satellites, as opposed to just a few. It's not clear how many units need to be deorbited and how long that might take, but any added space junk in low Earth orbit is not what we need right now. SpaceX is planning to launch a second batch of the V2 Minis by the end of the month, reports SpaceNews, leaving us wondering if the company plans to go through with the launch given these issues.
Shortly after their launch, HEO Robotics captured a fuzzy image of one of the V2 Minis in orbit. But it didn't take long after that for the new satellites to start acting weird. It is, however, to be expected from the inaugural launch of a new type of satellite.
 For more spaceflight in your life, follow us on Twitter and bookmark Gizmodo's dedicated Spaceflight page.