Multimedia is not a natural fit for every type of tablet magazine. It is an exceedingly natural fit for a music magazine. Spin Play, the new iPad version of the well-known music mag, tells you about new music and lets you listen to it. How thoughtful!
What is it?
Spin Play, $2 per issue, iPad. It's a leaner, more straightforward take on a digital publication than some we've seen—there are no interactive infographics or crazy control schemes—but that's probably a good thing. If you're familiar with Spin, this incarnation will be familiar: there are some longer features, shorter capsule profiles, album reviews, a handful of movie reviews, and a laundry list of new songs you simply must check out. But what's nice about it is that now you don't have to search those songs out on your own. Tap the music icon and they play. Tap the video icon, where available, and a video plays. They keep playing as you poke through the magazine, too, which is nice, though you can stop them at any point (or advance to the next track without the article-specific icons) through an always-present playback bar at the top of the layout.
Issues are a definitely-reasonable $2—they come with roughly 60 streaming songs and 30 videos per issue—or you can plunk down $8 for a year-long subscription.
Who's it good for?
People who like music, duh. Oh and people who get a headache from those confusing tablet mags.
Why's it better than alternatives?
Spin's a well-known music publication, and the issue I perused (April) introduced me to a good deal of stuff that was right up my alley. $2 a pop is definitely a good value, as is $8 for a year's worth of issues, even if you just scan through 'em once. Music is a beautiful thing. Maybe the most beautiful thing! So it's a good investment.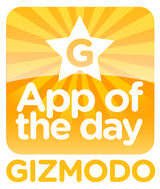 How could it be even better?
Why are there so few photos? It'd be nice if there were more photos. And when you're trying to listen to a song on the monthly best tracks list it makes you tap once to bring up the playlist and then search around for the desired song on the playlist. That's kinda annoying. Oh AND they should make it easy for you to earmark songs you like into a list that you can send to yourself for further investigation. I'd say there were like 10 songs I wanted to follow up on after I finished the issue, but I had no way of figuring out what they were other than retracing my steps and taking note on the second pass.

Spin Play | iTunes
We're always looking for cool apps—for iOS, Android, Windows Phone or whatever else—to feature as App of the Day. If you come across one you think we should take a look at, please let us know.

For more apps, check out our weekly app roundups for iPhone, iPad, and Android