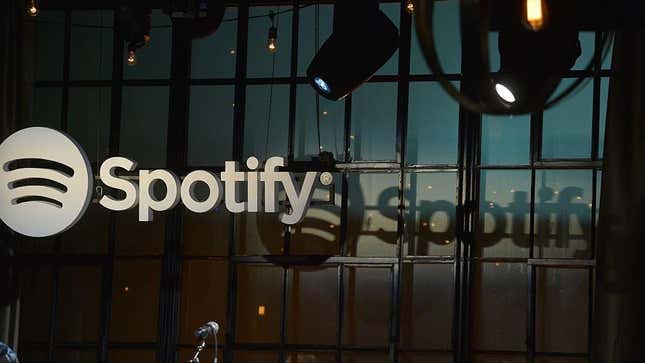 Spotify informed its employees on Monday that it will be cutting jobs this week, making it the latest in a wave of mass layoffs following hiring surges during the height of the covid-19 pandemic. CEO and Spotify co-founder, Daniel Ek, announced the change in a memo to staff, saying the company was forced to cut costs due to necessary "organizational changes," adding the decision is "in an effort to drive more efficiency, control costs, and speed up decision-making."
Meta's Apparent Firing Goof
The company said in an email to Gizmodo that at the time of its quarter three report, it had 9,808 employees, and confirmed it will now be laying off 6% of its workforce, amounting to about 600 employees.
The news comes after Ek told staff that the company would slow hiring by 25% in June of last year but said at the time that he didn't plan on carrying out any layoffs, the Wall Street Journal reported. In a memo, Ek said Spotify would "continue to still hire and grow," and that "we are just going to slow that pace and be a bit more prudent with the absolute level of new hires over the next few quarters."
He has now backtracked, saying in a recent memo to staff, "In hindsight, I was too ambitious in investing ahead of our revenue growth," citing the company's OPEX far exceeded revenue growth by two times the amount. In the long term, Ek said those numbers wouldn't have been sustainable "in any climate, but with a challenging macro environment, it would be even more difficult to close the gap."
As advertisement revenue has substantially decreased across all tech companies, Ek said he hadn't expected it would affect Spotify, believing that the global scale at which the company functions would have protected it. Although the company has taken cost-cutting measures over the last year, the savings haven't been enough, leaving Ek with the difficult decision to reduce staff.
The layoffs are expected to come this week, with the first round taking place on Monday, in addition to restructuring upper management levels. Ek announced that Spotify's Chief Content Officer, Dawn Ostroff has decided to leave the company but will stay as senior advisor to oversee the transition in the short term.
Ek told employees in the memo that "while it is clear this path is the right one for Spotify, it doesn't make it any easier—especially as we think about the many contributions these colleagues have made."
Employees are set to receive a severance package including approximately five months' pay, continued healthcare coverage during that time, pay for any unused vacation time, immigration assistance for those whose visa is connected to their employment, and two months of career support for outplacement services.