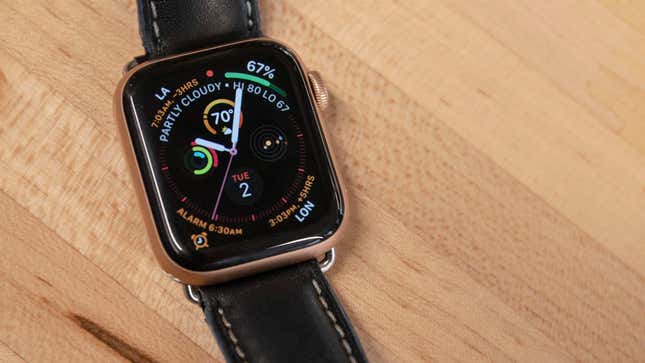 Spotify's long-awaited Apple Watch app is already in the hands of beta testers, according to a Reddit post and some screenshots uploaded to Imgur today. Spotify's online forums have been bombarded with requests for Apple Watch support for years, but until today it's never seemed like the integration ever had much momentum.

Vizio's Latest TVs Go All Quantum
For its part, Spotify hasn't said shit just yet. A spokesperson sent the following over to Gizmodo:
We're always testing new products and experiences, but have no further news to share at this time.
However, Redditors on r/apple say they've installed the app, which apparently doesn't do a lot in its current state. It appears to function more like a remote, with no option to download songs onto the device for offline use—a key feature for anyone trying to listen to Spotify songs, say, during a run without wanting to shell out more for a Watch with cellular support.
For Apple Watch owners, the pent-up demand is about choice. Early on, the Apple Watch supported both mp3s and offline Apple Music listening, but Spotify is still the more popular streaming service and has never made it to the Watch. And for Spotify users, this omission makes Apple's wearable that much more a sidekick to the iPhone than a fully independent device. It's a bummer, and maybe that's changing sometime soon, eventually.
Spotify's Watch app can't just be a remote and Spotify knows it. The Apple Watch already lets users control whatever's playing on their iPhone as long as it's nearby. Assuming the beta test is legit, next we'll see talk of more important features, like offline playback and support for streaming through the Watch's cellular chip. But let's pick up the pace already. Only so many of us are holding out for Pandora's upcoming, "built-from-the-ground-up Apple Watch app."
There's always Garmin, I guess.