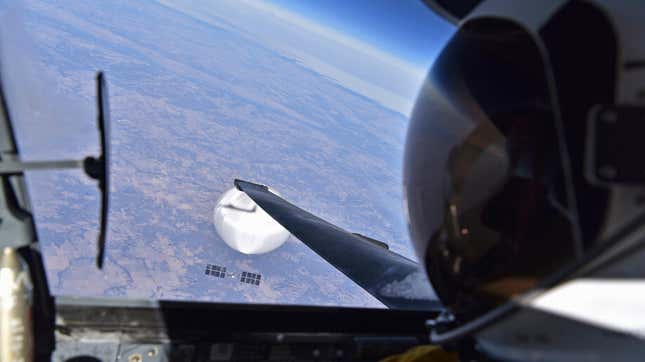 Balloon hysteria in America might strike again. After some hullabaloo involving mysterious spy payloads drifting into American airspace earlier this year, the U.S. military says it's tracking yet another balloon.

You Could Soon Get Cash Back for Your Canceled Flight
NBC News broke the story, citing three U.S. officials familiar with the situation. According to the outlet's sources, the balloon flew over Hawaii, but seemingly did not fly over any sensitive areas. The U.S. military has reportedly been tracking the balloon since late last week and has deemed the object as no threat to air traffic or national security, and claims that the balloon isn't emitting or receiving any signals. Sources told NBC News that the balloon is free-floating under its own power and is moving slowly toward Mexico. The owner of the balloon is currently unknown.
"The balloon did not transit directly over defense critical infrastructure or other U.S. Government sensitive sites, nor did it pose a military or physical threat to people on the ground," a Department of Defense spokesperson told Gizmodo via email. "Based on these observations, the Secretary of Defense concurred with the recommendation of his military commanders that no action need be taken against the balloon."
Rogue balloons drifting above our heads most recently caught the attention of our country in February of this year, when the Pentagon began tracking a mysterious object was spotted floating over the U.S. China wound up claiming ownership of the balloon shortly thereafter and promised the country wasn't spying with it. The U.S. military eventually shot the balloon down off the coast of South Carolina. Just a short time later, another balloon appeared over Latin America that China also claimed. Last month, U.S. officials claimed that the so-called Chinese Spy balloon that flew over the country did, in fact, collect sensitive data and transmitted it back to China.
This article is part of a developing story. Our writers and editors will be updating this page as new information is released. Please check back again in a few minutes to see the latest updates. Meanwhile, if you want more news coverage, check out our tech, science, or io9 front pages. And you can always see the most recent Gizmodo news stories at gizmodo.com/latest.