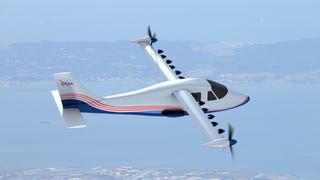 Last year, NASA casually announced its intention to disrupt the aviation industry by sticking fully electric commercial passenger planes in the sky in 20 years. In a small step toward that goal, space agency director Charles Bolden has just announced plans for the X-57, the first all-electric addition to the famous…
It's been a while since we last reported on the British Skylon space plane — a reusable launch vehicle that will be powered by a two-in-one air-breathing rocket engine that can boost the plane to Mach 5.5 and a height of nearly 30 km (18 miles). The latest news is that the theoretic Sabre Engine ain't so theoretic…
Why do some people survive plane crashes and others don't? Having an entire aircraft at your disposal to deliberately crash under controlled circumstances, as they do in a new Discovery Channel documentary, would seem a great way to answer that question.
Space engineers are excited by the prospect of designing and sending tiny 'cubesats' into orbit — small-scale satellites that are cheap to build, easy to put into space, and can perform highly specialized tasks like clearing out space junk. The problem, however, has been in figuring out a way to reposition these…
Between the ship-crushing ice floes, polar bear attacks and maddening quiet, exploring the Great White North in the 19th Century was not a recommended endeavor. But still hundreds of intrepid adventurers tried—and many died. But one Swede thought he had the answer: simply float above the tundra in a gas-filled…
We all know the Virgin Galactic WhiteKnightTwo can actually fly. Now, Wired has an exclusive video of the plane in action, further squashing any skepticism of the plane.
Putting rest to fears that the Phoenix Lander might be DOA, the lander wagged its robotic arm on Thursday. NASA was worried that a stuck piece of plastic casing could prohibit the 7.7 ft titanium appendage from extending, making it impossible for the Phoenix to carry out crucial drilling experiments.