You might think your office has lousy air-flow, but what about this working stiff? Artist Jason de Caires Taylor is filling the ocean-floor with freaky sculptures. But these aren't the weirdest things we've submerged in hopes of saving the reefs.
We featured a bit of de Caires Taylor's art in 2008, but here's a bunch more images. You can also view tons more at his website.
According to the National Post, de Caires Taylor's underwater sculpture park, featuring 400 life-size casts, is aimed at luring some of the 800,000 tourists who visit Cancun's marine park annually away from the natural coral reefs. Amateur divers can do tons of damage to these super-fragile underwater structures, by kicking up sand or knocking off the coral. He also hopes the low-acidity cement figures, which are designed to be anti-corrosive and mimic rock, will transform over time into artificial reefs. The artist tells the National Post article:
I wanted to make an impressive landscape where you can swim through a sea of faces. The park managers were looking for an alternative to manage the tourists. The idea was to concentrate everyone in one place.
G/O Media may get a commission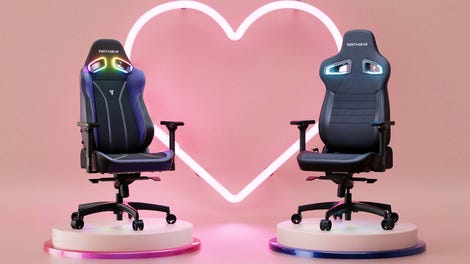 Up to $150 off
Vertagear Gaming Chairs
Strange figures aren't the weirdest things that have been dropped onto the ocean floor to help save the coral reefs or generate new ones. Back in the early 1970s, someone tried dumping 2 million tires onto the ocean floor in Florida, in the hopes that coral would grow on them and they would provide a haven for marine life. Instead, the tires wound up scouring the ocean floor, killing natural coral and devastating marine life. In the understatement of the decade, a professor of ocean engineering tells USA Today, "I look back now and see that it was a bad idea."

Photo by AP

But if the 1970s tires were a bad idea, that didn't stop people in New York from deciding a couple of years ago that dumping a ton of old subway cars into the ocean to create a new artificial reef was a splendid idea:

Photos by Reuters.

At least the statues will get cooler, and stranger, looking as the ocean eats away at them and grows stuff on them. Come to think of it, the subway cars will probably be pretty demented-looking in a few decades as well.