Joss Whedon hints at some hinky stuff in store for Hawkeye and the Hulk in Avengers: Age of Ultron. Peter Jackson feels like he could always return to Middle Earth, if given the chance. And Jeremy Irons explains why he took the role of Alfred in Batman v. Superman. Spoilers now!
Top image: Doctor Who
Avengers: Age of Ultron
In an on-set interview, Joss Whedon revealed that he'd had the plan for Avengers: Age of Ultron even before he was sure he'd take the job directing the sequel:
Before I took the first job, I said, well, I don't know if I'm right for this or if I want it or you want me, but in the second one, the villain has to be Ultron, and he has to create the Vision, and then, that has to be Bettany. It took me three years before I could tell Paul that I'd had that conversation, but after that, I stopped. I was like, that would be cool if you have Ultron, and you have Vision and Paul played him.

And Scarlet Witch and Pietro, definitely. They're from my era, they're very different, their powers are different, it's not all punching, it gives a different palettes and we can do more interesting things. It's fun; those things were all absolutes. But then I didn't actually want to make the film necessarily. I was ragged from the first one, and so I just turned off my brain. I was like, do not think of cool ideas for the next one. Just get through this. But after a few months when they talked about, um… This is now something that makes sense in my life; do I have anything to say?

And so my agent calls, I was in London, and he called me and said there's a deal that's worth talking about- time to start to think about whether there's a movie. And I'm going, all right. I went to a pub and sat down with my notebook, and about forty-five minutes later, my notebook was filled. And I texted my agent "yup" and I have so many things to say and I was kind of surprised. It took me unaware. It was very beautiful.
Whedon also talked about the advancement of the Hulk's personality:
[Hulk's] monologue about his childhood is very poignant and lacks pronouns. No. Um, you know, the talking thing is something that I sort of pitch it and I take it away. It's moment to moment. Done wrong, it could kill ya. So, I'm pretty leery about that. But Banner has a significant role, and the Hulk, we really held back on him for a long while in the first one. And said, there's something terrible coming that you'll love. And what just what makes the Hulk so hard to write is that you're pretending he's a werewolf when he's a superhero. You want to — you want it vice versa. You want to see him, Banner doesn't want to see him, but you don't want Banner to be that guy who gets in the way of you seeing him. So the question is, how has he progressed? How can we bring changes on what the Hulk does?
G/O Media may get a commission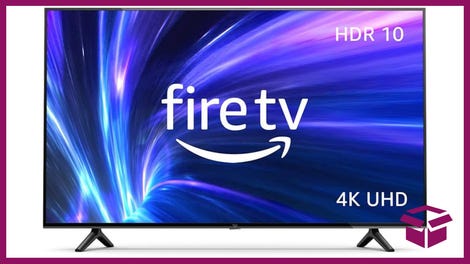 42% Off
Amazon Fire TV 50" 4K Smart TV
He added that there will be information about where Hawkeye's been since the last film, adding, "'Cause something's up with that boy. That's all I'm gonna say." [Slashfilm]
Suicide Squad
According to Latino Review's sources, Viola Davis has been given the role of Amanda Waller in Warner Bros.' Suicide Squad. And now they have to work out a filming schedule that works with Davis' How to Get Away With Murder filming. [Latino Review]
Tolkien
Peter Jackson answered a hypothetical question, about what could happen if more Middle Earth stories became available to adapt:
If I had to start tomorrow, I would say no, because I definitely would appreciate a break to clear my head and get my little New Zealand stories done, which is where my passion and my heart is heading now. But ask me in two or three years, and I'd probably say yes. It would be hard to see another filmmaker go into this world, because I certainly have an emotional ownership of it.
[Variety]
Batman v. Superman
Jeremy Irons explained why he took the role of Alfred:
I mean, it's very important that if I am to bring money to small independent films, when they're trying to raise money, that I'm as widely known as possible. And audiences have short memories. So I do one of those pictures, if there's a really good script and an interesting director. And Zach Snyder is an interesting director. I think it'll be a big movie, and do me no harm, and help me when I want to do smaller films, which are maybe more interesting for me.
And he reiterated, again, that his Alfred is not going to be the usual:
Oh he'll be quite different. He has an interesting history. He's a very competent man. He's the sort of man I think anyone would like to be married to. He can sort of do everything: change light bulbs, blow up bridges if he has to.
The Damned
Legendary Pictures has bought the rights to Andrew Pyper's novel The Damned. The Book will be released in February, 2015, and is an "elevated supernatural thriller." [Coming Soon]
Strange Magic
Here's the poster for Lucasfilm's upcoming animated film. [Coming Soon]
---
Doctor Who
Steven Moffat said that he is open to having Jack Harkness and/or River Song return to the show one day:
It's never, ever closed off. It's all about 'Do you have a story that's worth it? Unless you've got a story that is absolutely informed and invigorated by their presence, just bringing a character back in an ordinary story won't do.
As for how they might return, well, Moffat has opinions about how to do that:
Both River Song and Jack Harkness are massive characters in 'Doctor Who' mythology. Their returns would have to be seismic, not routine.

Giving them anything less would be a disservice to the characters and the actors who brought them to life. Besides, it's better to let them be missed than wear out their welcome, right? Sometimes you have to know when a story's over, you do. One of the things you always want to say is 'leave them wanting more.'
[Zap2It]
Moffat also revealed that the first episode of season 9 would be called "The Magician's Apprentice" at an early screening of the Christmas special, "Last Christmas" at BFI. [Doctor Who News]
Shannara
Manu Bennett (Arrow) will play Allanon, a druid who is the last of his kind in the world of Shannara. He is described as "a wise, perceptive and serious man who knows something incredibly important has begun when the wise tree Ellcrys starts to die. He enlists Wil (Austin Butler) to fulfill his destiny and save the four lands."
It's a regular role, so the question I have is what that means for Deathstroke in Arrow. [The Hollywood Reporter]
American Horror Story
Sarah Paulson talked about the importance of Jimmy (Evan Peters) to the show and her characters, in particular:
Jimmy, as played by Evan Peters, is just the heart and soul of the show. The one thing he has, and has always had from the beginning, is an enormous heart. He's a real beacon of light for them, and Dot is completely in love with him. But he's worthy of all that. He's a real man. He accepted them right away for who they are, and they had no frame of reference for that. They feel very connected to him because he's always been so good to them. He's always looked out for them.

TVLINE | So how might they react if something bad were to happen to him, say, in jail?

Say it ain't so! Bette would survive, but if anything happened to Jimmy, I don't know if Dot would make it. She loves him with too much purity, and he's too pure a soul to her, to imagine anything horrible befalling him. But like I said, this is American Horror Story, so no one's safe.
[TV Line]
Agent Carter
Here's a new promo. [via SpoilerTV]
And a new poster. [People]
---
Salem
Here's a season 2 promo. [SpoilerTV]
Grimm
Go here for photos from episode 4.09, "Wesenrein." Below is the synopsis:
Nick and Hank must save Monroe from the Secundum Naturae Ordinem Wesen while Juliette considers life as a Hexenbiest. (Airs 9th Jan 2015)
Gotham
Here's the official synopsis of episode 1.11, "Rogues' Gallery":
MONDAY, JANUARY 5

[EDITOR'S NOTE: Audio descriptions (AD) for tonight's episodes of GOTHAM and SLEEPY HOLLOW are available on the SAP Audio Channel.]

"GOTHAM" - (8:00-9:00 PM ET/PT) CC-AD-HDTV 720p-Dolby Digital 5.1

DET. GORDON REPORTS TO DUTY AT ARKHAM ON AN ALL-NEW "GOTHAM" MONDAY, JANUARY 5, ON FOX

Det. Gordon's assignment at Arkham Asylum gets off to a rocky start when the murder of a guard ignites an investigation, leading him to meet Dr. Leslie Thompkins (guest star Morena Baccarin, "Homeland"). Meanwhile, Cobblepot continues to build his army in the all new "Rogues' Gallery" episode of GOTHAM airing Monday, Jan. 5 (8:00-9:00 PM ET/PT) on FOX. (GTH-111) (TV-14 L, S, V)

Cast: Ben McKenzie as Detective James Gordon, Donal Logue as Harvey Bullock, Jada Pinkett Smith as Fish Mooney, Sean Pertwee as Alfred, Robin Lord Taylor as Oswald Cobblepot/The Penguin, Erin Richards as Barbara Kean, David Mazouz as Bruce Wayne, Camren Bicondova as Selina Kyle/the future Catwoman, Zabryna Guevara as Captain Sarah Essen, Cory Michael Smith as Edward Nygma/the future Riddler, Victoria Cartagena as Renee Montoya, Andrew Stewart Jones as Crispus Allen, John Doman as Carmine Falcone

Guest Cast: Morena Baccarin as Dr. Leslie Thompkins, Drew Powell as Butch Gilzean, David Zayas as Maroni, Allyce Beasley as Dorothy Duncan, Isiah Whitlock Jr. as Gerry Lang, Kyle Massey as Mackey, Christopher Heyerdahl as Jack Gruber, Kevin McCormick as Aaron Helzinger, Anthony Grasso as Ganza
Additional reporting by Charlie Jane Anders and Abhimanyu Das