QSES1381000H_NextBigThing_60_Titled_Spec5
Baristas/creative types with penchants for standing in long lines: behold the new Samsung Galaxy S II with giant, Super AMOLED Plus screen, thin silhouette, and dual-core processor that render all other smart phones obsolete, old school, and ossified. It's here, it's jealousy-making, and it's all Samsung.
Let us learn together.
Media consumption headquarters
Entertainment-wise, you can't get any better. The dual-core processor makes live streaming, playing games, and shooting/sharing pictures and videos easy. The Media Hub lets you download classic or just-released movies and with Next Day TV you can catch up on last night's episode of The Office. Best part? Every download is optimized such that you can start watching while it's still downloading. Because waiting for stuff to download is the most boring thing in the universe.
Overshare, please
The Samsung Galaxy S II has everything you need to broadcast your photos and videos. With a rear-facing 8MP camera and LED flash, you can shoot in 1080p Full HD so every shot comes out perfectly. And the Samsung AllShare technology lets you wirelessly stream your work and your music directly to your TV, computer, and other DLNA Certified® devices.
G/O Media may get a commission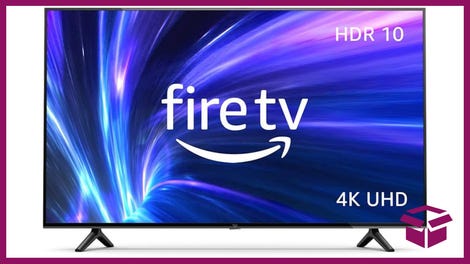 42% Off
Amazon Fire TV 50" 4K Smart TV
Aggregation nation
Besides AllShare for your photos, videos, and music, you can also use the Kies Air app to wirelessly manage your phone's contacts, music, and more, right from your computer with no software installation needed. There's also Social Hub, which reduces the stress of checking all your inboxes by aggregating all your Twitter, LinkedIn and Facebook feeds, emails, texts, IMs, at-replies, and more into one convenient inbox.
Tell it what to do
Sure, opposable thumbs are great and all, but why bother typing your phone into submission when you could just boss it around with the right words? With Voice Talk, you can make phone calls, send texts, launch apps, get directions, find the best the Internet has to offer, and more.
Enjoy it all in direct sunlight
Unlike a game of Dungeons & Dragons, your life doesn't only occur in poorly lit, secluded areas—you need to be able to see your screen at all times. The Samsung Galaxy S II has a Super AMOLED Plus display, the brightest screen you can find on a smartphone. That way, your YouTube videos, round of AirAttack HD, and photo collection are just as vibrant in dark rooms as in the desert in the summer. And since you can see everything, reorganizing your home screen to your personal preferences is beyond easy. The Samsung Galaxy S II is so sensitive that you can tilt it to make your giant screen zoom for an even closer view or flip it over to silence all your incoming notifications.
Click here to get out of line and get the next big thing into your creative little hands. Pssst...pass it on...it's a Samsung Galaxy S II.