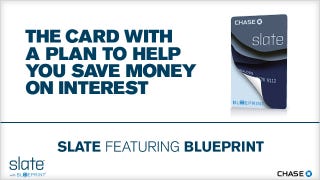 Ready or not, the holidays are here-which means it's time to start figuring out how you're going to pay for that seasonal cheer (Hey, that rhymed!). Fortunately, there is the Slate card from Chase. Slate® comes with Blueprint®, which helps you avoid interest on everyday purchases and pay off large holiday purchases faster.
For example, say your favorite elf has been pining away for a big-screen TV upon which to watch the Elven Winter Olympics, or whatever-with Blueprint you can design a simple plan to pay of that TV faster... 'Tis the season to not freak out about your credit card bill!
Head here to learn how Slate with Blueprint can help you pay off your purchases faster, save money on interest, and get all of your holiday shopping done stress free.