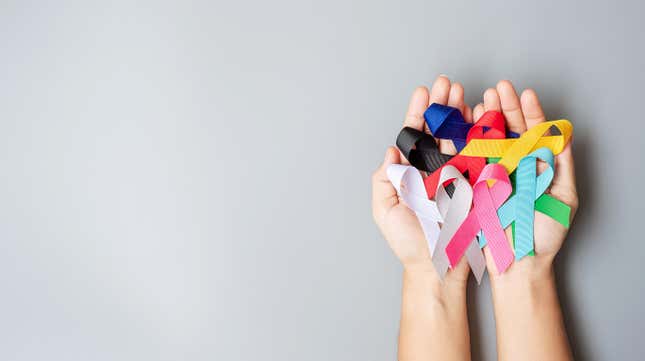 Here's some potentially happy news: Depression and anxiety might not raise the chances of cancer after all, new research this week has found. The study, a review of existing research, found no significant link between either condition and an increased risk of cancer in general, or many of the most common types of cancer.
Vizio's Latest TVs Go All Quantum
The research was conducted by scientists from Europe and Canada, as part of a large collaboration called the Psychosocial Factors and Cancer Incidence consortium. They hoped to help settle a longstanding debate over the role of depression and anxiety in causing cancer. While some studies have found a positive tie between the two, others haven't.
The team analyzed data pooled together from 18 past studies in the U.K., Norway, and Canada that prospectively followed the long-term health of over 300,000 adults combined. These studies measured people's depression and anxiety status (either through an official diagnosis or reported symptoms) and kept track of reported cancer cases for up to 26 years.
All in all, the researchers found no significant association between having depression or anxiety and a higher risk of cancer in general. When they looked at specific types, they also found no connection to breast, prostate, colorectal, and alcohol-related cancers. They did find a noticeable link between having the two conditions and lung or smoking-related cancers in particular, amounting to a 6% higher associated risk. But after they accounted for other relevant risk factors such as body mass index, alcohol use, and smoking history, this link was substantially weakened. The team's findings were published Monday in the journal Cancer.
The research suggests that having depression or anxiety doesn't exert much of a direct influence, if at all, on our overall risk of cancer. But having these conditions might still make us more likely to engage in other behaviors that could raise our odds of certain cancers, such as smoking or drinking more—a potential connection that warrants more study to untangle, the authors say.
"Our results may come as a relief to many patients with cancer who believe their diagnosis is attributed to previous anxiety or depression," said lead author Lonneke van Tuijl, a researcher at the University Medical Center Groningen in the Netherlands, in a statement released by Wiley, publishers of Cancer. "However, further research is needed to understand exactly how depression, anxiety, health behaviors, and lung cancer are related."