On April 10, 1940, British submarine HMS Tarpon and its crew of 50 were sent to Norway to intercept Nazi merchant vessels. They were was never heard from again. Now, after 76 years, the sub has finally been found. An investigation of the remarkably well preserved vessel shows it didn't go down without a fight.
The wreck was discovered earlier this year by Gert Normann Andersen, who runs a Danish war museum, and Innes McCartney, a British marine archaeologist. The shattered remains of the vessel, a 275-foot (84 meter) T-class submarine of the Royal Navy, was found in the Danish section of the North Sea, about 50 miles (80 km) from the harbor town of Thyborøn.
The discovery solves a longstanding mystery as to the exact location of the wreck, but historians know exactly what happened to the HMS Tarpon.
The submarine was dispatched from Rosyth, Fife, in order to attack German merchant ships that were supplying arms to Nazi-occupied Norway. German war records show that the British sub attacked the Q-ship Schiff 40/Schürbek, but its torpedoes missed their mark. The German ship then managed to pick up the Tarpon on its sonar, and its periscope was spotted. The Schürbek dropped batches of depth charges in a sustained attack that lasted the duration of the morning. Finally, a calculated series of depth charges struck the ill-fated submarine, causing debris to float to the surface. 50 British crewmen were killed in the attack.
G/O Media may get a commission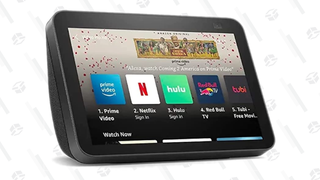 Remarkably, the wreck of the Tarpon still bears witness to this account. Danish divers who recently visited the site observed open hatches, shattered glass in the periscope, and severe destruction below the tower where the depth charge struck. McCartney said the damage was so severe behind the conning tower that "it would have flooded in seconds." Also, two of the sub's torpedo tubes were empty, showing that the Tarpon did in fact engage the Schürbek in battle. And incredibly, the divers observed a crater on the seabed, which was formed by one of the powerful depth charges.
Today, the Tarpon sits almost upright under 130 feet (40 meters) of water. The challenge now, say its discoverers, is to protect the historic site from threats, such as fishing trawlers and illegal metal reclaimers. In respect for the dead, no further diving missions are planned.
[Guardian]