Jurnee Smollett teases the future of her Black Canary movie. Could there be an all-women-starring Fast & Furious on the way? There is, somehow, a return for Sausage Party on the cards. Plus, more looks at the next The Simpsons: Treehouse of Horror special. Spoilers now!

Untitled Fast & Furious Spinoff
During a recent interview with Business Insider, producer Donna Langely revealed she's interested in bankrolling a Fast & Furious spinoff with an all-female cast.
I would love to see a female Fast. So would Vin [Diesel]. We have so many great and amazing female characters in our franchise and now there's the new addition of Brie Larson to add to the incredible roster. I would love to see us do a female Fast.
---
Black Canary
Jurnee Smollett would neither confirm nor deny her Black Canary movie begins filming next year on a recent episode of The Cut's in Her Shoes podcast.
Can't say a thing. I can't even confirm or deny what you just said.
---
Man of Steel 2
Meanwhile, Henry Cavill promised "an enormously joyful Superman" in Man of Steel 2 during his recent appearance on the Happy Sad Confused podcast.
How you guys expressed it is exactly how I feel. The character means so much to me. It's been five years now, and quite rightly, otherwise I probably shouldn't deserve to wear the cape but I never gave up hope and it's amazing to be here now talking about it again. There is such a bright future ahead for the character. I'm so excited to tell a story with an enormously joyful Superman.
G/O Media may get a commission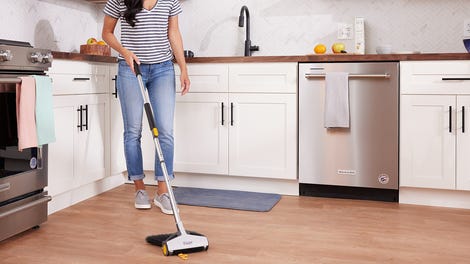 BOGO 50% Off
Flippr - BOGO 50% Off
---
The Pale Blue Eye
Vanity Fair has our first looks at Christian Bale, Gillian Anderson, and Toby Jones in the gothic-horror movie The Pale Blue Eye. Click through for more.
---
Black Panther: Wakanda Forever
Rihanna also shared a brief excerpt from "Lift Me Up," her song from the Wakanda Forever soundtrack on Twitter.
Relatedly, Shuri antagonizes Namor in the latest TV spot.

---
Deep Fear
College students exploring the Paris catacombs discover a Nazi bunker housing some sort of monster in the trailer for Deep Fear, streaming exclusively on Screambox on November 1.



---
Secret Invasion
An official GIF posted to Tenor seemingly confirms Emilia Clarke plays alien/mutant-hybrid Abigail Brand in Secret Invasion.
---
Nancy Drew
According to Spoiler TV, the CW's Nancy Drew plans to end with season four.
---
Sausage Party: Foodtopia
Seth Rogen revealed a TV series based on his 2016 animated film Sausage Party is now in development.
---
Mystery Science Theater 3000
Mystery Science Theater 3000 will also enjoy its first-ever Halloween special this Friday with a presentation of the 1961 film The Mask in 3D.
---
The Simpsons: Treehouse of Horror XXXIII
Comic Book also has photos from this Sunday's Simpsons Halloween special. More at the link.
---
Kung Fu
Pei-Ling gets exorcised in the trailer for next week's episode of Kung Fu.
---
Chucky
Elsewhere, Chucky meets Sister Ruth face-to-face in next week's episode of Chucky.
---
La Brea
Gavin meets the leader of The Building in the trailer for next week's episode of La Brea.
---
Stargirl
Stargirl threatens to reveal her identity to Icicle, Jr. in the trailer for next Wednesday's episode, "The Monsters."
---
The Handmaid's Tale
A task force enters Gilead in next week's episode of The Handmaid's Tale.
---
Cabinet of Curiosities
F. Murray Abraham performs an autopsy while Kate Micucci discovers the secret horror of moisturizing lotions in trailers for the next two episodes of Cabinet of Curiosities.



---
Lockwood & Co.
We also have a clip from Joe Cornish's adaptation of Jonathan Stroud's Lockwood & Co. on Netflix.
---
Servant
Finally, Apple TV+ has released a trailer for the final season of Servant, premiering January 13.
---