So we haven't really noticed it, but the laptop has been broken for years. That's why the Surface—minus Book nomenclature—seemed so important when it dropped a few years ago. And Microsoft just proved how boring and futile laptops have become, by showing us a laptop that's exciting. When is the last time you were legitimately stoked about a laptop? Like truly really pumped?
Well having just played with the new Surface Book, I can say, "it's time to get excited," and not just about Microsoft's flashy new laptop, but about the future of laptops in general.
To recap, the Surface Book is Microsoft's first ever homegrown laptop. It sports a 13.5-inch screen packed with 6 million pixels. It's got powerful Intel Core guts, Nvidia GeForce graphics, which are somehow shoehorned body that weighs 1.6 pounds (tablet portion) or 3.3-3.5 pounds including the keyboard. It's an eyepopper, with a premium magnesium design. Its price will knock you out of your seat as well. It starts at $1500, though, that's for the less fancy configuration. If you want discreet graphics, get ready to pay $1900 and up.
G/O Media may get a commission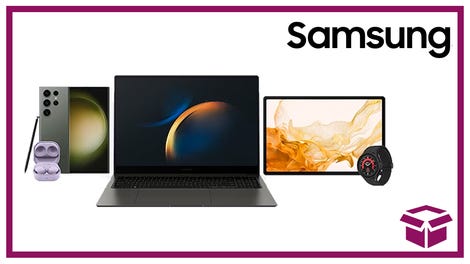 24 hour deals
Discover Samsung - Daily Deal
We've been through the many advantages of Windows 10, so I won't recap the pen-ready annotation features or any other software bits right now. Additionally, I should note I was playing with a Surface Book under terrible internet conditions, so it was hard to test out any of Microsoft's crazy performance claims: Is Surface Book really twice as fast as a MacBook Pro? Hard to tell, but I didn't notice any lag.
Plus, the Surface Book is all about the hardware. This is a bold statement made of matter.
Yes, this is a laptop with real keys. Why is that so impressive? Well in part because of the lengths to which Microsoft has gone to make the computer with a real keyboard something that's flexible in the way the Surface was, while also sturdy and powerful in the way a contemporary laptop should be.
So how about that keyboard? It feels fantastic. This is not some janky substitute tablet-cover-keyboard-combo. This is a real chicklet keyboard, that's satisfying and robust to type on. I wish I was blogging on those buttons right now, yes I do!
That matters because this keyboard does more than a real keyboard does, owing to the really snazzy hinge mechanism that's on the device. You can use it in regular keyboard position, and you can also flip the keyboard completely on its back int "clipboard" mode, or detach the keys entirely. In order to flip the keyboard all the way over you need to detach it and then reattach it backwards.
So how does that all-important detach work? There's a little button up by the backspace key. Hold it down for two seconds, and you'll get a little notification flag in the bottom right corner of the screen, which tells you that it's ready to pop out. When it's time to reattach the screen to the keyboard, just hold the connecting parts close to that plane where it's supposed to lock in, and powerful magnets pull the two pieces together.
The lock and unlock here is very smooth. My only comment is that detaching the keyboard entirely, and reattaching backwards isn't something you're going to want to do while standing up on the fly. It's just a little to clumsy for that. The whole shebang weighs 3.5 pounds and isn't the skinniest laptop we've ever encountered. And that weight isn't evenly distributed as it might be on other computers.
As I noted in my announcement post earlier, the hinge on this device is incredibly important because it needs to be both sturdy and structural, while also providing the flexibility that the Surface Book's concept requires. It passes the latter test. It certainly flexible. But in standard "let's do word processing" position, the assembled laptop isn't quite as sturdy as you would expect from a device that wasn't designed to be detachable.
You see, the beefy beautiful screen that's loaded with all of those pixels sits upright, but it vibrates pretty vigorously with even a little bump. It shakes like a truck with busted struts. When you adjust the screen it doesn't move exactly where you put it. Instead it kinda bounces there. You can imagine that this might get annoying if you're using moving a laptop around a lot, which you know, is the whole damn point.
This should give you a little pause! The selling point behind Microsoft's $1500 laptop is that there are no compromises. None! It doesn't compromise on the guts, or the screen, or on having a real keyboard. If you can't use it with the exact utility that you get from a top laptop—like, ahem, the MacBook Pro—then the whole concept is for not.
In a lot of ways, the new Surface Book feels like the first Surface or the first iPad, or the first iPhone for that matter. It's the beginning of a design and engineering journey. It's not all the way perfect yet.
That's going to sound more negative than I want it to. This laptop is legitimately exciting, and probably the coolest gadget I've seen in the fall. I'm thrilled to take this baby home and try it as soon as I can, even if it's not quite the second coming of laptop quite yet.
Photos by Michael Hession