Everyone wants to go to Iceland to get that perfect selfie for their dating profile and briefly feel what it's like to exist in an actual paradise. But last month, a man who is suspected in a heist of $2 million-worth of bitcoin mining gear only wanted to get out. After pulling off a daring prison break, however, he's again in police custody, and he'd like to go back to Iceland, please.
For months, Icelandic authorities have been searching for clues relating to a string of heists in which thieves managed to make off with around 600 expensive computers used for mining cryptocurrency. Eleven suspects have been been questioned in connection with the crimes, but the case remains unsolved and the stolen goods haven't been found. Sindri Thor Stefansson was being held at a minimum security prison as the suspected mastermind behind the burglaries when he decided to escape and hop on a flight to Sweden that just happened to be carrying Iceland's Prime Minister, Katrin Jakobsdottir. For five days he traveled around Europe keeping his head down as he saw his mugshot regularly appear in the media. He was apprehended in Amsterdam after two people on the street recognized him and pointed him out to a cop.
Stefansson, who spoke to the New York Times on a phone call from the Dutch prison, has now given us some more details about how he pulled off the jailbreak and the regrets he now has. The Times explains that Iceland's Sogn prison is a pretty decent place, as far as prisons go. Inmates have their own rooms with a flat-screen television, and they're allowed to keep their cellphones and access the internet. A wire fence rises a few feet above the ground and surrounds the compound. From the report:
Mr. Stefansson wouldn't have needed a running start to jump it. The night he bolted, he started browsing for international flights on his cellphone at about 11, he said in the interview. After booking one under an assumed name, he opened his window and left. He claims that he walked a mile to Route 1, the road that rings the island, and hitchhiked 59 miles to Keflavik, a town near the airport. (The police maintain that an accomplice drove him.) From there, he called a cab.

Once in Stockholm, he traveled via train, taxi and ferry to Germany through Denmark. There he met "individuals" who drove him to Amsterdam. He enjoyed just three hours of freedom in the Dutch capital.
Oh. So, this guy isn't some sort of criminal genius after all. He just... walked out. But wait, he did a lot of getting around as a fugitive, and if he's behind the heists he must be part of a large criminal network that can move a huge amount of stolen goods, right? His record certainly doesn't suggest it. He has been in trouble with the police for driving under the influence and stealing some money from slot machines at a bar. Oh, and he got busted for growing some weed at his house. He told the Times he earns his living building websites and apps.
What's even crazier about Stefansson's situation is that he was practically a free man when he made a run for it. He was not under arrest when he was being held at the Sohn prison. A judge ordered that he be held for questioning but the order expired. Police convinced Stefansson to sign paperwork agreeing to stay in custody ahead of his hearing. After doing so, he regretted it and decided to take off.
G/O Media may get a commission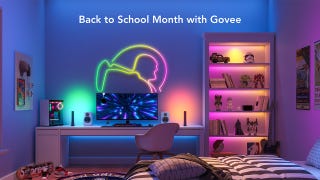 Back to School
Back to School Month with Govee Sale
Now, he laments the decision. He said the conditions in the Amsterdam prison where he's being held aren't great, and "Icelandic prisons are a hotel."
But there's good news for the inmate, he's expected to be extradited back to Iceland for questioning on Friday. And the even better news is that breaking out of prison doesn't appear to be a crime in Iceland. Jon Gunnlaugsson, a former judge on Iceland's Supreme Court, told the Times, "Our system supposes that a person who has been deprived of his freedom will try to regain it." If a prisoner gets out, well, that's the state's fuck up. All of this may sound insane to Americans. In our country, we think prisons are supposed to be these unspeakable torture chambers, but the reality is having your freedom taken away sucks. Iceland has one of the lowest crime rates in the world. People are not beating down the jailhouse doors to get some free meals and a flat-screen TV.

Bitcoin miners have flocked to Iceland to take advantage of the cheap energy costs and cool climate. But if the whole cryptocurrency thing gets targeted by the world's governments in the future, I can't think of a better place to be arrested.