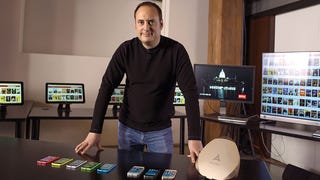 Dish wants to be a mobile phone carrier. Dish wants it bad. And Steve Perlman—the genius behind QuickTime, WebTV and OnLive—has spent over a decade working on tech that could allegedly leapfrog our current cell networks. So guess who just teamed up to potentially revolutionize the mobile internet? Yep.
Pushing Daisies' Anna Friel plays Diana to Eragon and Downton Abbey star Ed Speleers' Actaeon in Metamorphosis, a short film inspired by Titian's paintings about the mythology hunter who spies the naked, bathing goddess.
Remember the old days when a goddess could just turn a peeping Tom into a stag and see him devoured by dogs? Well, that doesn't happen in Melanie Atwater's funny short film Moon Goddess. In fact, cursing the peeper doesn't seem to deter him one iota.
If you've picked up an HTC Trinity, Artemis, or TyTN/Cingular 8525, you probably noticed that the only headset port is the 11-pin mini USB kind. Pretty gimpy if you want to use your Shure or your V-Moda Vibe headphones to listen to music. Brando's got the HTC stereo converter shipping December 27, which allows you…
HTC's newest phone in their keyboard-less line looks and feels a lot like the HTC Artemis (left), the WM5 smartphone with a GPS built-in. But instead of allowing you to navigate from your phone, the HTC Love (right) lets you download and play back music. Totally different markets here.
Mobility Today has a gallery of the HTC Artemis, a GPS-enabled Windows Mobile smartphone that we saw reviewed here. You can see the 2-megapixel camera, the BlackBerry Pearl-like jog ball, and the slim slot.
If you're not familiar with HTC, it's a company that makes various smartphones both under their own name and for service providers to brand as their own. Their latest, the PDA/phone Artemis, continues their tradition of great phones in a PDA body.
The video does at least complement all the Artemis coverage we've done as of late.
The HTC Artemis is HTC's first cellphone with on-board GPS, saving you the hassle of having to attach an external GPS unit for driving directions. No slide-out QWERTY on this one, but it does have a 2-megapixel camera, WiFi, microSD, TI OMAP 850 200MHz CPu, Bluetooth, FM Radio, and 64MB of on-board storage.
USB DMB Tuners don't need to be ugly—case in point, the UbiBro Artemis Q. Looking like a sexy nun with its white and black glossy finish, the USB Tuner seems more like a miniature phone than a TV tuner when it's docked in the included receiver. Watch and record programs on the road in style. Non-South Koreans need…