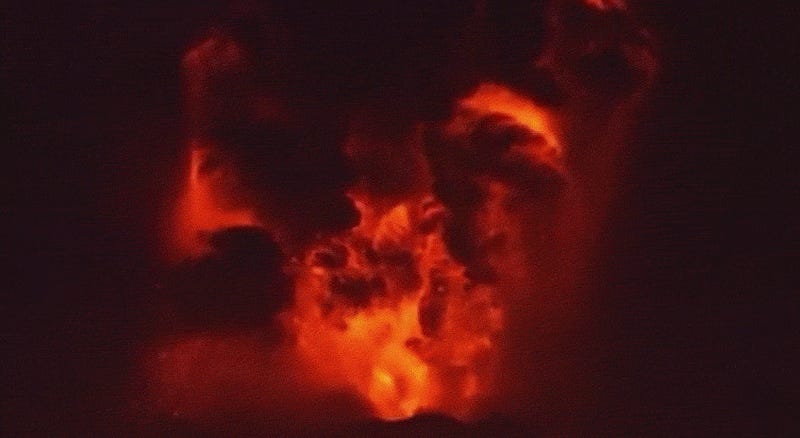 Calbuco, a stratovolcano in southern Chile, began erupting yesterday at 7pm local time. First spewing massive ash clouds then, at 10pm, erupting explosively as its fragile structure collapsed inwards. Here's all the stunning imagery and video; we'll keep it updated as this develops. You can see it from space!
The increasingly active Turrialba volcano in Turrialba, Costa Rica erupted three times Thursday (including the one pictured here), followed by a smaller burst on Friday. Costa Rica's main airport in San Jose was briefly closed, and schools near the volcano suspended classes.
The Indonesian volcano Kelud exploded with a powerful eruption on February 13, killing three people and prompting the evacuation of 100,000 people. The eruption sent a large plume of ash 10 miles (17 kilometers) high into the sky, drifting west across Java and over the Indian Ocean, causing the shutdown of several…
The situation in Sumatra is getting worse: Mount Sinabung erupted eight times in just a few hours on Sunday. The volcano's continuing eruptions cover everything with ash and now officials have reported rocks raining down over a large area, forcing thousands to flee their homes. These new images show the ongoing drama.
On June 4, southern Chile's Puyehue volcano erupted for the first time in 50 years. It's been spewing giant ash clouds ever since. Enough ash, it seems, to make the Nahuel Huapi Lake in neighboring Argentina an unrecognizable, soot-covered abyss, as you'll see in the above video of one diver's attempt to sift…
The dangerous ash from Iceland's Eyjafjallajokull volcano brought European air traffic to a halt. For a while, the skies over the north of Europe were almost empty of airplanes. Then, the ash went away and the beautiful mayhem resumed. [Twitter]