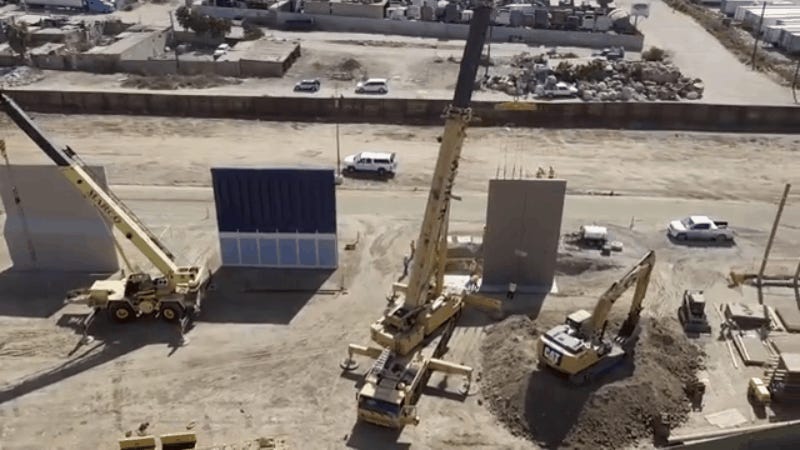 US Customs and Border Protection recently released video of President Trump's border wall prototypes in San Diego. And we couldn't help but notice something strange from the video. It shows a bird's-eye view of the wall from the perspective of a drone. And the drone is much, much higher than the wall.

On Monday, we looked at some of the complaints filed with US Customs and Border Protection (CBP) about the treatment of travelers at the US border. People regularly have their electronic devices searched, often for no good reason at all, leading to an invasive and violating experience. And today we have more horror…
Traveling to the United States can be a huge hassle. Even if you're an American citizen, Customs and Border Protection (CBP) can pull you aside for extensive and invasive "secondary screening." And by all accounts, this process has gotten worse since Donald Trump was elected. But it was horrible even before Trump…
Americans who say their phones and laptops were seized by US border agents filed a lawsuit in Massachusetts on Wednesday arguing that their First and Fourth Amendment rights had been violated.

Sidd Bikkannavar is a natural-born US citizen who works at NASA's Jet Propulsion Lab. He's also a prolific traveler who found himself reentering the United States right as the controversial immigration ban took effect. For unexplained reasons, he was detained and border agents demanded access to his NASA-issued phone…
Back in September, I published a list of everything that had been seized in Florida over the summer by US Customs and Border Protection. There were plenty of things you'd expect, like drugs, Cuban cigars, and illegal meat. But there were a few things that I wanted to learn more about. Like why CBP seized someone's…
In the 1950s, NORAD started "tracking Santa" to ensure that he could pass safely into the US without fear of being mistaken for a Soviet bomber. But here in 2016, it seems like getting approval from the military isn't enough to prove that Father Christmas isn't a terrorist. Santa has to go through Customs now.
The Freedom of Information Act allowed the ACLU to view documents concerning the Customs and Border Protection's searches of laptops and other electronic devices at the United States' international borders. They discovered that third parties view and copy some data.
Your laptop, mobile phone or camera can still be seized at the U.S border without suspicion of wrongdoing, but new guidelines require border protection and customs to take a maximum of 5 and 30 days each to complete searches.