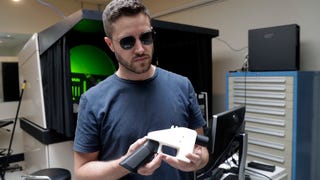 The DEFCAD file repository of 3D-printable gun blueprints is live. There, you can buy the plans to print parts for anything from an AR-15 to the plastic Liberator pistol. Defense Distributed, the controversial organization that wants to enable easier access to firearms, started selling these files on Tuesday morning,…
A U.S. district judge in Seattle extended a ban preventing Austin, Texas-based Defense Distributed, which designs and releases digital blueprints for small arms that can be produced by 3D printers and CNC-milling machines, from continuing to do so until a lawsuit by 19 states and the District of Columbia is resolved.

Five years ago, a lot of people thought Cody Wilson was a wild-eyed fanatic. The New Yorker described his rhetoric about making blueprints for 3D-printed guns available to anyone on the internet as "divorced" "from any practical reality." Yet here we are in 2018, and Wilson's company, Defense Distributed, is still in…
Have a look at the gun above. It's an M1911 pistol, the standard issue sidearm for the United States Armed Forces for nearly a century. The semi-automatic weapon can hold up to 11 rounds and fire as fast as one can pull the trigger. And that specific gun above, it was made with a machine you can buy on the internet.…
A couple years ago, when a 25-year-old law student in Texas said he was going to 3D-print a gun, nobody took him seriously. Then, he actually did it. And then, a lot of people started doing it. Now, it's so easy that some protestors are going make a gun inside the Texas State Capitol with a special gun machine. This…
In a statement to TechCrunch that was conspicuously devoid of live-tweeting, helicopter chases or any underwater components, Kim Dotcom announced that he has instructed the Mega staff to delete any public copies of the blueprints for this week's fully 3D-printable gun.
In just two days, blueprints for the world's first (almost) entirely 3D printed gun have made their way onto the hard drives of over 100,000 potential quick-draws around the world. And the idea of this many people gaining non-regulated access to lethal weapons this quickly should be sending us into a mass, hysterical…