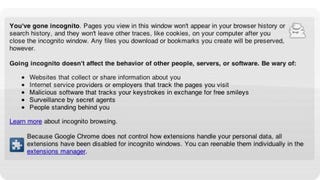 The 'incognito' or 'private' mode offered by all the major browsers is usually associated with shadier Web practices. However, it's more useful than you might realize, even beyond self-use. Here are three totally above-the-belt ways incognito mode can make your life better.
The holidays are over but gag gifts can be forever. This medical alert bracelet ensures that doctors know how to treat you if you were to suffer a medical emergency. No, you're not allergic to anything. No, you don't have an emergency contact. You just need a professional to delete your browsing history. Let's face…
Porn Browser | pôrn ˈbrouzər |
noun
1. browser mode ostensibly to make viewing secure information more safe, but only ever actually enabled to cover up embarrassing pornography | Oh no, I forgot to pop open a porn browser before engaging in self-love.
2. a setting used even by those individuals who are open about…
Ed Brubaker and Sean Phillips, the creative team behind Criminal and Sleeper, have done it again. The newly collected miniseries Incognito, released this week by Marvel's Icon imprint, is a brutal exploration of the thin line between villainy and anti-villainy.
In the last day, Apple has started approving quite a few "new" browsers in the app store, seeming to contradict their long-standing "duplication of functionality" prohibition. The catch? They're all Safari at heart.
We've posted our first impressions of Google Chrome, and after extended use most of them have held up. Chrome is fast, feature-rich and stable, not to mention highly usable. But Google's in-house innovations (the multi-threaded engine, Javascript handling and task manager, mainly) make up a tiny portion of the user…