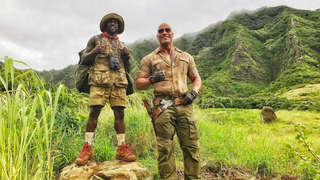 As Jumanji has started to wrap up production, Dwayne Johnson's continued to bless us with his Instagram. While we're still on the fence about the movie itself, Johnson's on-set pranks against co-star Kevin Hart are a sight to behold. He always looks like he's having way more fun than anyone else.

After Karen Gillan's skimpy jungle wear showed up in the Jumanji set photo last week, there were constant promises that it would make sense once you saw the film. These new plot rumors actually do explain the outfit, but there's only one way they might manage to justify it.
When news broke that Sony Pictures was going to remake Jumanji, we were suitably confused. Didn't the first movie with Robin Williams kind of just get it right? Well, now we have an idea of how filmmaker Jake Kasdan plans on differentiating his version: by casting Dwayne Johnson and Kevin Hart.
The internet, and all the social media apps tethered to it, are amazing examples of our freedom of speech. You can pretty much post what you want, when you want, and that's amazing. But on Instagram, that can lead to a lot of digital detritus filled with blurry landscapes, questionable selfies, and endless pictures…
The Captain Underpants books are among the most banned reading material in the world. They're brilliantly subversive and weird, and a refreshingly dotty spin on superhero lore. And now, they're becoming an animated movie, with Ed Helms as Captain Underpants himself.
Who wouldn't want Kevin Hart yelling accurate but somehow disparaging directions at them while they're trying to drive? No one. So Waze made a deal with Universal Pictures to get celebrities talking at us while we're lost.
On last night's Saturday Night Live, host Kevin Hart attempted to join Rick's group while hiding a nasty zombie bite. While Rick, Carl, Darryl, and Maggie try to figure out whether their new potential recruit is turning zombie, Hart plays on their fear of being thought racists, which outweighs their fear of zombies.…