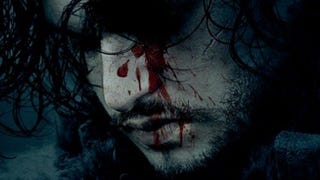 The saga of Jon Snow's status in Game of Thrones season six continues. Over the past year we've heard denials, confirmations and more (and written an unsightly number of words about hair length) about whether or not Jon Snow is returning for season six. Now Kit Harington has chimed in to confirm he is back. Sort of.
Kit Harington, whose pouting face and glossy locks appear weekly on Game of Thrones, stopped by Jimmy Kimmel Live last night. And so they brought on a trio of Jon Snow impersonators to do their best for the man himself. One read a box of Frosted Flakes, in character; another read some Sherman Oaks real estate…
Ah, Pompeii. It's become a cliché for unwitting, inescapable doom, the fragility of life in the shadow of uncaring nature. And in Pompeii, opening today, Paul W. S. Anderson turns this tale of an ill-fated city into an accidental comedy that happens to have a volcano in it to absolutely no one's surprise.
Jon Snow is about to go from knowing nothing to knowing pretty much everything if Fox has its way. Variety discovered the shortlists for the upcoming Fantastic Four reboot, which include Kit Harington as Reed Richards, Saoirse Ronan as Sue Storm, and Chronicle's Michael B. Jordan as the Human Torch.
Jon Snow may have known nothing at the start of Game of Thrones, but he's learned a lot in the past three seasons. And Jon's in a tough spot as season four begins. When we caught up with actor Kit Harington, we asked him how Jon will regain the trust of his friends. We also talked to Esme Bianco, who played Ros.