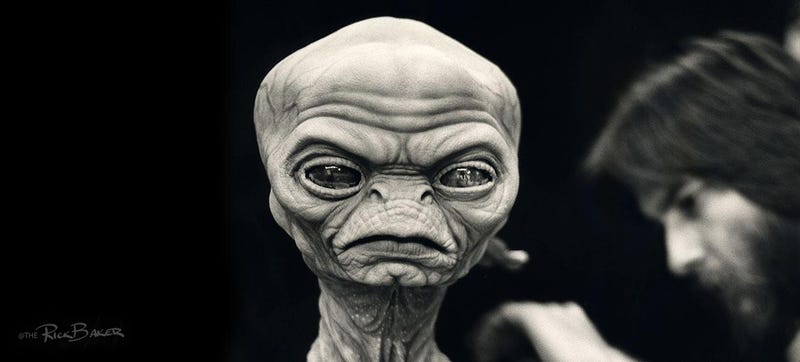 I never liked E.T. I must be the only kid in the planet who hated that freaky thing when it came out. But these initial designs by the amazing Rick Baker—the true ancestors of the iconic marooned alien—would have scarred my brain forever. He recently published them in his Twitter account.
And speaking of a movie that terrified me as a child and I loathe to this very day, special effect guru Rick Baker has just apparently released some of the early designs of the aliens from Night Skies, an unmade Steven Spielberg movie whose designs led directly to E.T.
Boris the Animal, the monstrous villain of Men in Black III, had some creepy touches, including the weird teeth and the spidery things coming out of the palms of his hands. But he could have looked a lot nastier, judging from this early concept art by Kevin Chen, based on designs by superstar creature designer Rick…
The man behind the creatures in such classics as Videodrome, An American Werewolf in London, Thriller, Gorillas in the Mist , Men in Black and Planet of the Apes is getting a little love from Hollywood. Rick Baker is being honored with a star on the Hollywood Walk of Fame. The ceremony will take place on Nov. 30th…
Pretty much the one thing we remain excited about in Men in Black III is the fact that monster creator and movie legend Rick Baker was involved. We knew he was going to make beautiful retro alien creatures — and from the looks of this massive gallery, he didn't disappoint. Behold the world of wonders Baker had made…
Even though Men In Black 3 has had its fair share of troubles, one thing it's always had going for itself is makeup master Rick Baker. And now you can look at some of the vintage sky beasties he's dreamed up for this time traveling movie.