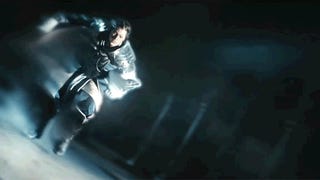 Middle-Earth: Shadow of Mordor comes out tomorrow. While Tolkien fans will be delighted to finally play a Lord of the Rings game that's actually really, really good, others might be disappointed that Sauron doesn't make much of an appearance. Turns out: he's in Mordor, you just have to pay more to get to him.
There was only one and now it's gone. One firepit to rule them all, now in the hands of some lucky etsy customer. I really hope it was Sauron, decorating Mordor with things found on Pinterest.
It took 50,000 interlocking bricks, but sculptor Kevin J. Walter was able to recreate Sauron's fortress of Barad-dûr out of LEGOs, presumably to keep out some wee DUPLO Hobbits. You can see more photos at Kevin's Flickr page.
Muslim extremists are hugely into the work of J.R.R. Tolkien, says British satirist Chris Morris, who studied terrorism for three years before directing Four Lions. "They see themselves as the force for good and Sauron is basically George W. Bush."