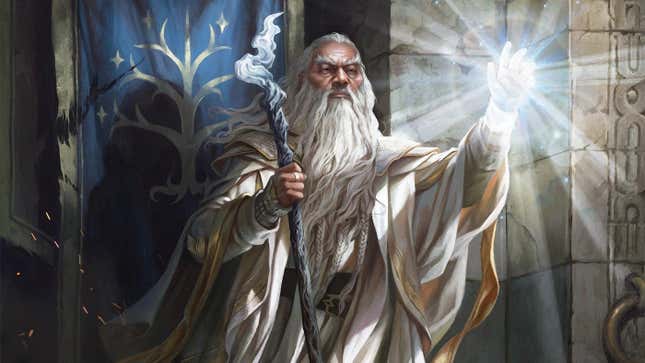 Middle-earth is about to join the multiversal planes of Magic: The Gathering. While the next set in Wizards of the Coast's Universes Beyond crossover sub-theme is still a few months away, we're already getting a look at some of the icons of Tolkien's fantasy world coming to the set.

Revealed by IGN this week, Wizards of the Coast has given us our first look at some of the cards coming in Universes Beyond: The Lord of the Rings–Tales of Middle-earth. The set, a full release akin to Wizard's prior in-house collaboration with Dungeons & Dragons rather than collaborations like the recent Warhammer 40,000 Commander decks, will feature new renditions of Frodo, the Fellowship, Sauron, Gollum, and the myriad other heroes and villains of Middle-earth rather than being based on any specific prior adaptation (sorry, movie fans, no Viggo Mortensen to be found here).
Click through to see all of the cards revealed so far—including Gandalf, the One Ring itself, and a very clever take on Magic's land cards, as well as more Gandalf art from unseen cards.