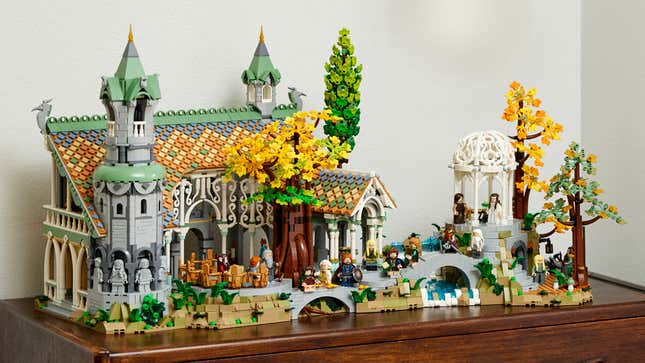 Take a really close look at the reflection in the gold ring that Lego teased on Twitter yesterday and you'll see that the company actually shared an early sneak peek at today's big reveal: an absolutely stunning 6,167-piece recreation of Rivendell reflecting the elaborate locale we've seen on screen.
This isn't Lego's first Lord of the Rings set. Back when Peter Jackson's movies were in theaters, Lego did release a collection of LOTR sets and minifigures, but the largest one was a 1,300+-piece recreation of the Battle of Helm's Deep that, by today's Lego standards, was relatively small. The collection also included a tiny 243-piece recreation of the the Council of Elrond, which, understandably, left LOTR fans disappointed. But it's hard to imagine anyone being disappointed in this latest release, at least until they see its price tag.
Let's take a closer look at some of the set's details.