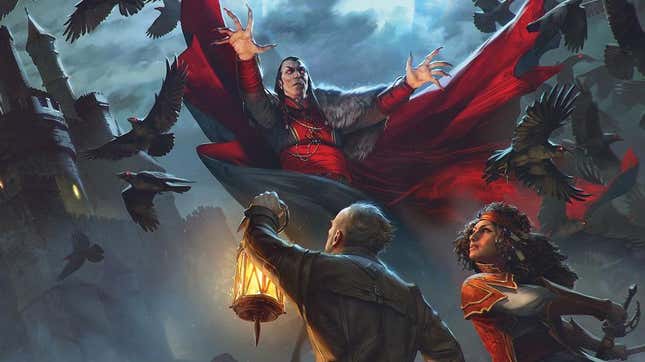 Early in today's Hasbro earnings call, Chris Cocks—the CEO of Hasbro and former president of Wizards of the Coast (2016-2022)—spoke about the Dungeons & Dragons Open Gaming License, though he focused more on talking around the issues rather than directly engaging with them. No specifics were given; instead of delays, there were "challenges." There's been progress, excellence, and creativity driving growth, but no explanation of what those things are—typical business word mush for a call like this.
Rainn Wilson Would Be the Best Dungeon Master for Dungeons & Dragons | io9 Interview
Cocks did address the OGL controversy in the initial overview of the meeting, saying "we misfired on updating our open game license." He added some platitudes and said, "our best practice is to work collaboratively with our community, gather feedback, and build experiences that inspire players and creators alike." Lastly, he mentioned that there had been changes, but again, no indication of how those changes affected the community: "We have since course, corrected and are delivering a strong outcome for the community in-game."
Later on in the call, when one of the investors asked if the OGL would affect Q1 returns, Cocks mentioned that cancelled D&D Beyond subscriptions were "relatively minor" for both the profit and loss predictions for Wizards and D&D. (We'll have to wait to see the Q1 earnings before drawing our own conclusions about whether this is true or not.) He went on to say that Wizards is "in conversation" with the folks that left, and many are "very open to restarting their subscriptions." There was little mention of the community's reaction to the controversy.
The call did confirm that DDB has been a great investment for the company, citing a 20% user growth—the original estimates for the DDB userbase were around 10 million when Hasbro took over, which means that there could be as many as 12 million users on DDB now. When taking that into consideration, it does feel as if the unsubscription campaign—which was effective in sending a message to Wizards of the Coast—might not be that impactful to the bottom line of the subsidiary overall.
Within the Wizards brand umbrella, Cocks and fellow Hasbro exec Deborah Thomas also spoke about the franchising opportunities with D&D. Feature film Dungeons & Dragons: Honor Among Thieves, AAA game Baldur's Gate 3, and the upcoming live-action TV show next year are all being seen as huge growth opportunities for investors. This is where the company thinks it'll catch up on last year's under-performing markets.
Cocks also confirmed that Magic: The Gathering became Hasbro's first billion-dollar IP. While Magic: The Gathering head designer Mark Rosewater said as much in an earlier Tumblr post, this is the first time that the company has said so on official channels. Because of the massive returns on MTG, a lot of time was spent on the issues surrounding the game, including supply chain delays which caused a compressed publishing schedule for the card sets back in 2022, which led to a devaluation claim from Bank of America in late 2022. Cocks said the company was "too aggressive" in its pricing.
Cocks also mentioned that the company was back on its regular, quarterl y set publishing schedule, and that the company expected to move MTG Arena into a more user friendly game design in Q3. The company is also looking into getting a "true multiplayer" experience within MTG, citing the popular four-person commander games as a place for possible growth.
In the words of a good friend, nothing will radicalize you faster than listening to an investor's call at 8:30 a.m. It's a reminder that companies really do only care about money—and it is, frankly, soul-sucking, though it's also unsurprising that nobody addressed culture or community. Ultimately, it feels like Wizards is putting out the message that it's progressing slowly but steadily, citing one and low two-digit profit increases over the year; the Q1 earnings will eventually give us a better idea if Wizards is really doing as well with that post-OGL goodwill campaign. The company made nearly $6 billion in net revenue last year, so I'm not sure we'll see the impact of the loss of two months of revenue (if that) from DDB unsubscribes.
---
Want more io9 news? Check out when to expect the latest Marvel, Star Wars, and Star Trek releases, what's next for the DC Universe on film and TV, and everything you need to know about the future of Doctor Who.