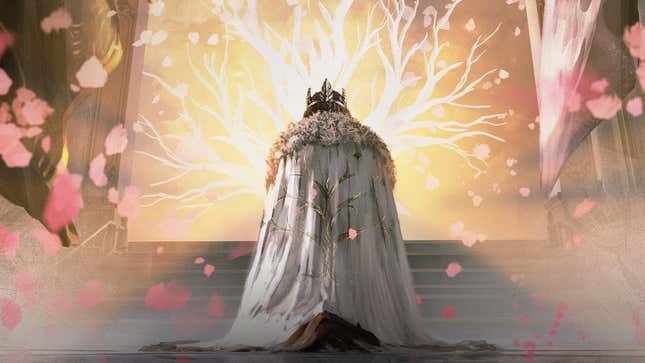 Next month Magic: The Gathering heads to Middle-earth for an all-new set based on the world of The Lord of Rings. While we'd previously gotten hits at some of the new artwork coming in the set, lead art director Ovidio Cartagena has now lifted the lid on even more of Tales From Middle-earth's glorious new art.
Created in collaboration with Middle-earth Enterprises, the new artwork for Tales From Middle-earth was commissioned over the course of three years while the set was in development.
Some interesting standouts include Rohan and the Rohirrim as red aggro attackers, a special rule that allows nine Nazghûl cards to appear in a single deck, and a ton of green/white synergy with Aragorn and Gondor-themed cards. Across all the cards is a new mechanic—temptation. Befitting its duplicitous nature, the Ring of Power can tempt a creature card and an emblem will be put into play; that creature will become the Ring-Bearer. Each time the temptation activities, the Ring emblem, much like a saga in current Magic rules terminology, will continue to activate new abilities.
There's also a massive 18-card interconnected scene where, if you line up all the cards, they depict a single image. Taylor Jacobson illustrated the Battle of Pelennor Fields, the last great battle for freedom in Middle-Earth as the forces of Rohan rode to the aid of Minas Tirith's besieged forces. You can see the full art included in this the slideshow. Additionally, there will be a Secret Lair drop alongside the Magic: The Gathering, Universes Beyond: The Lord of the Rings: Tales of Middle-Earth set. Yes. That is the full name of this set.
Click through to see the new cards revealed from the Lord of the Rings set from Magic: The Gathering, ahead of its full release on June 23.