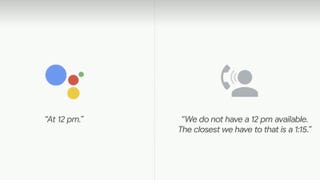 Earlier this week at the Google I/O developer festival, the company debuted Duplex, its eerily accurate human voice system that impersonates a bumbling intern making calls on your behalf. According to Google, Duplex is able to schedule appointments and book restaurant reservations by making actual phone calls for you.…
Siri has been known to produce some absolutely bizarre answers to requests from time to time, but iPhone users recently discovered perhaps the strangest—and definitely the most explicit—response yet.
The age of digital assistants is already here, and with them, we have easy-to-use disembodied voices that attempt to answer our every beck and call. However, sometimes those answers aren't exactly things you'd want a child to hear (Warning: NSFW audio), so Amazon went and created a version of Alexa specifically meant…
Surprise, surprise, turns out Apple's debut foray into the world of voice assistant-enabled speakers isn't quite living up to the company's initial expectations. According to a Bloomberg report, the company has lowered the number of Homepods being manufactured by one of its partners, Inventec Corporation, and is…
Facebook "has decided not to unveil" its line of connected home speakers, which boast digital assistant and video-chat capabilities, at its developer conference in May because too many people have wised up to the fact said products will probably turn their homes into Mark Zuckerberg-surveilled Panopticons, Bloomberg…
On Sunday, White House press secretary Sarah Huckabee Sanders used her official government Twitter account to complain that her two-year-old had allegedly ordered a $79.99 action figure by "yelling 'Batman!' over and over again at her Alexa-enabled Amazon Echo.
Right now you can download and install a leaked version of Microsoft's Cortana voice assistant for Android. Suffice it to say, I am whelmed.
Starting in June, you'll be able to download Cortana as an app on your Galaxy or iPhone even if you'd rather die than use Windows. The rumors are true: Microsoft is giving the non-Windows crowd a taste of its powerful voice assistant, bringing Cortana to Android and iOS.