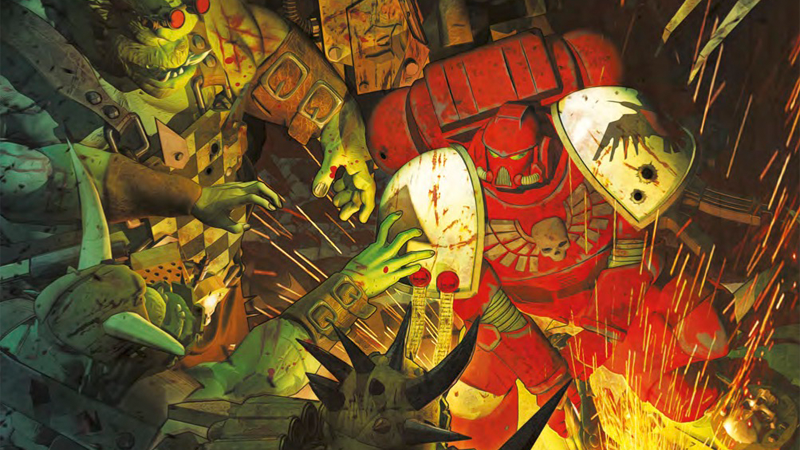 The grim future of Warhammer 40,000 has waged its away across tabletop games, video games, books, and more. But now one of its most beloved iterations is coming to comics in the form of a new miniseries based on the classic RTS video game series Dawn of War—and we've got a look inside the first issue.
Or, to be more specific, that small, sculpted models of said Space Vikings stop being depicted as wearing fur. Or, to be even more specific, PETA UK have written to Games Workshop, makers of Warhammer 40,000 and its myriad table-top gaming models, asking them to cease depicting imagery of its myriad characters wearing…
It's been 30 years since the Space Marines—the ever-popular stars of Games Workshop's grimdark Warhammer 40,000 universe—first graced the tabletop game. To celebrate three decades of big guns (and even bigger shoulderpads), the company is releasing a gorgeous model of the original Space Marine design.

In the grim darkness of the far future, there is only war... and comic books, apparently. Yes, Warhammer, Games Workshop's ludicrously over the top tabletop game, is one of the wackiest, macho universes in science fiction—and after a long hiatus from comics, the series is getting a new swath of books from Titan Comics.

Yes, Warhammer Fantasy was home to many ridiculously badass heroes and villains. But Warhammer 40k, its sci-fi sister game set in a grim darkness where there is only war? Basically, the entire universe is made up almost solely of over-the-top buttkickers. Here's just 15 of some of its most ludicrously badass…
Games Workshop has been trying to own the term "Space Marine" — but would their Space Marines be able to pwn the Spartans from Halo? And Heinlein's Starship Troopers? What about the Colonial Marines from Aliens, or Doctor Who's deadly clergy? Which space army would defeat all the rest?